Herbs for Wildfire Smoke

---
---
With fires and smoke once again engulfing the west coast I want to share the herbs for wildfire smoke I've relied on to bring relief.

I've split my recommendations into three different ways that herbs can help: for calming anxiety and tension, modulating inflammation and supporting heart heath, and for lung and respiratory health. Herbs don't like fitting into categories anymore than we do and so you'll see there's no strong line between them. For example, tulsi can both support our nervous system and modulate inflammation. Linden is commonly relied upon for heart health, to soothe anxiety and for our lungs (truly an underrated herb!).

In whatever way you are seeking support from herbs, I hope these recommendations help you and your loved ones during these challenging times.


Please share widely. And if you're experienced using herbs, I'd love to hear about your herbal allies and recipes in the comments. Let's learn and take care of each other!

If you're new to my site, be sure to stay in touch! When you sign up for my weekly newsletter you get my Herbal Jumpstart Course, which helps you to choose the best herb for you through the lens of herbal energetics and the taste of herbs.


When we think of herbs to help with smoke, most of us first think of the lungs. Yes, we'll get to the lungs, but by far the herbs that I reach for most often are soothing and relaxing nervines.

Whether you are on evacuation notice or you are watching the news with a sinking heart, these herbs can soothe our frayed nerves, relax tension and hold our hands as we face these challenges.

Here's a couple favorites.


Chamomile (Matricaria chamomilla)

I'm known for my love affair with chamomile. I used to dismiss this common plant but the more I turn to it for help, the more I'm amazed. Taken as a strong tea (or tincture) this herb is like getting a warm hug from a loved one. It relaxes tension and calms anxiety. I especially consider it during these times because it's readily available. If someone is suddenly evacuated from their home and without access to a large and nuanced apothecary, chances are they will find chamomile tea bags at the nearest grocery store.

I recommend a strong brew that is steeped for ten minutes for best effects. For bulk herbs, that could be as much at 10 grams of chamomile per mug of tea or as many as 5 teabags. Start low and increase amount and steeping time until you get the desired effects.

Chamomile also makes a comforting bath. To do this I make an even stronger tea, about two cups of the flowers infused in a 1/2 gallon of water, steeped for twenty minutes and then strained. And then add that to bathwater. This can also work as a foot bath if you don't have access to a tub.

Read more about chamomile benefits here.


Tulsi (Ocimum sanctum)

Aromatically grounding and calming, tulsi supports our nervous system in both the short term and long term. It can be taken as a tea, cold infusion or tincture. It's also one of my favorite herbs to infuse into oil (oil massages are another soothing way to calm the nervous system).

I grow tulsi and love to harvest it fresh and then infuse it into cold water overnight. When I do this the resulting floral water has aromatic, sweet and mucilaginous qualities (more on mucilage in the lung section).

Read more about the health benefits of tulsi here, including studies specifically done that showed benefit for people with general anxiety.


Other Relaxing Nervines

Often with relaxing nervines the best results are when you find the herb(s) that resonates with you. As your relationship with that herb grows, so does its ability to soothe and comfort.

If you are evacuated or otherwise in need of herbs quick, look for anxiety blends at your local herb or health food store. Once, during a particularly dramatic evacuation I picked up the Anxiety Soother formula by Herb Pharm at a local store. That was a powerful blend that immediately helped to calm me down.

Other herbs to consider:

While wildfires are raging chances are you'll also be dealing with heat and inflammation. Heat specifically due to the temperatures, and increased levels of inflammation due to stress and wildfire smoke inhalation.

This inflammation, while often affecting our lungs, has also been shown to negatively affect the cardiovascular system. With this in mind it makes sense to turn to our heart and cardiovascular herbal allies during this time.1,2


Hawthorn (Crataegus spp.)

Hawthorn berries, leaves and flowers are commonly found in my daily herbal brews, but especially so during times of smokey skies. This is a beloved heart tonic, something we can all reach for to strengthen and improve our cardiovascular health. Hawthorn can be enjoyed as a tea, tincture and syrup. I like to simmer the berries and use a hot water infusion for the leaves and flowers.

Here's a recipe for hawthorn ice pops, which can help cool you down and modulate inflammation while being delicious.

Read more about hawthorn here. (I also have a chapter about Hawthorn in my first book, Alchemy of Herbs).


Schisandra (Schisandra chinensis)

I've been slowly falling in love with schisandra over the years and it's ideally suited to aid us in these times. It protects the heart and lungs. It modulates inflammation. And it's an adaptogen that is used as a building and nourishing tonic. It can be taken as a powder, decoction or a tincture. I also like to use it as a cold infusion for a refreshing summer drink, but the decoction will be a stronger preparation.

Here's a recipe for schisandra pastilles.

Here's a recipe for a tulsi and schisandra cold infusion.

Read more about schisandra benefits here.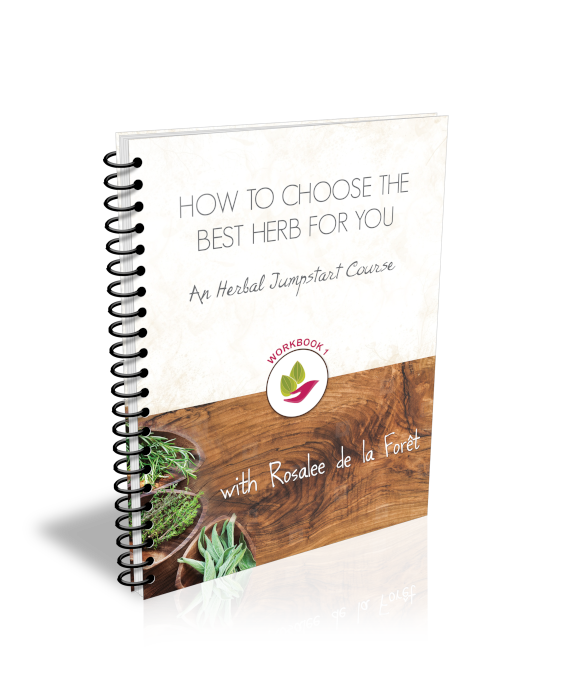 Choose the Best Herb for You!

The secret to using herbs successfully begins with knowing who YOU are.

Get started by taking my free Herbal Jumpstart e-course 

By signing up for my free course you'll also be joining my weekly newsletter where I send my best tips and herbal recipes. I never sell your information and you can easily unsubscribe at any time.
Other Considerations

Eating colorful foods high in antioxidants is especially important for modulating inflammation. Look for fresh vegetables and fruits with dark red and purple colors especially.

One of my favorite ways to hydrate, support my liver and heart, and modulate inflammation is beet kvass. I came across this sort of randomly when I started getting beet kvass from a local farmer during a time of smokey skies. I'd had beet kvass many times, but that time in particular it was like an ambrosia of the gods. Whenever I take something and my whole body rings out in a "YES" sensation, I assume it's exactly what my body needs. So it was with beet kvass. You can easily make beet kvass at home (there's lots of easy-to-follow recipes online). After asking my local farmer how she made hers she said she likes to include lemon rind (the zest, not the white pith), so that's how I make mine now too.

The following herbs are also important allies for modulating inflammation and/or supporting heart health.

In Traditional Chinese Medicine the lungs are said to be one of our most sensitive organs. When you consider that your lungs are a constant filter, it's no surprise. If you've spent any time in a place with smokey skies, then I don't need to tell you how sensitive the lungs (and entire respiratory system) can be.

Tight lungs, difficulty breathing, scratchy throat and eyes, watery eyes and sinus congestion are all common symptoms of excess smoke inhalation. Prolonged exposure to hazardous air or being sensitive to the smoke can lead to more serious symptoms.

If you experience any difficulty breathing get to emergency care.

When smoke fills the sky I start drinking herbal tea blends formulated especially for lung health no matter how scant my exposure. As I write this I am looking out my office window to the smokey haze, I can hear my air filter running in the background, and even though I plan to stay inside most of the day, I will be drinking my tea!

When smoke is in the air my lungs are dry, tight and irritated. What I've found most helpful are herbs that are general lung tonics (like mullein) as well as demulcents to soothe dry and irritated tissues. Unless there are signs of stagnant congestion I don't use herbs like osha and elecampane as these can be overly drying and increase irritation.


Mullein (Verbascum thapsus)

Mullein leaf has long been loved for soothing the lungs and quelling coughs. It is a mild relaxant to the lungs and also a mild demulcent. It soothes inflammation and dryness – often the causes of irritation for people with smoke exposure. In addition to the leaf, mullein flowers can have an added benefit to these dry irritated conditions. I often combine it with another demulcent such as mallow (Malva neglecta) or marshmallow (Althaea officinalis).

Mullein leaves are almost always in my smokey-sky tea blends (see below for recipes).

Read more about the benefits of mullein here.


Plantain (Plantago spp.)

Plantain is famous for soothing bee stings, but it is also a wonderful herb for lungs that are irritated due to heat, dryness and particle inhalation (such as smoke). I always combine this with other herbs, mainly marshmallow.

Read more about plantain here.


Mallow (Malva neglecta) / Marshmallow (Althaea officinalis)

These lovely demulcent herbs coat and soothe inflamed mucous membranes throughout the body. When your lungs are dry, parched and irritated, these mallows will soon become some of your favorite herbal allies. I add them in small amounts to all my tea blends when it's hot and dry outside.

Read more about marshmallow here.

There's an entire chapter on mallow in my second book, Wild Remedies: How to Forage Healing Foods and Craft Your Own Herbal Medicine.


Linden (Tilia spp.)

This year especially I've grown to love linden and its demulcent and lung soothing ways. I've been drinking tea blends with linden all summer and now that the smoke has arrived I am even more impressed with this sweet tree. Linden also has relaxing nervine gifts and is commonly used to address dry coughs as well as heart health. I'm telling you, this is an amazing herb!

Read more about linden here.

Other lung tonic herbs to consider:

With smoke in the skies I turn to herbs for comfort, for modulating inflammation and for supporting my lungs. I most often drink teas (but most of the herbs mentioned above can be taken as tinctures).

The following tea blends are perfect for dry and irritated lungs caused by smoke inhalation, dry air or fine particle inhalation. They can be drank daily to support overall lung health.


Relax and Restore the Lungs Tea


1. Place all of the ingredients in a quart jar (or quart-sized tea press). Pour just-boiled water over the herbs, stir well, and then cover. Infuse for 30 minutes or as long as overnight.

2. Strain well through a coffee filter or a couple layers of cheesecloth to avoid the small irritating hairs on the mullein leaves. Drink within 24 hours.


Support Your Heart and Soothe Your Lungs


1. Place all of the ingredients in a quart jar (or quart-sized tea press). Pour just-boiled water over the herbs, stir well, and then cover. Infuse for 30 minutes or as long as overnight.

2. Strain well through a coffee filter or a couple layers of cheesecloth to avoid the small irritating hairs on the mullein leaves. Drink within 24 hours.


Longterm Lung and Nerves Support


1. Place all of the ingredients in a quart jar (or quart-sized tea press). Pour just-boiled water over the herbs, stir well, and then cover. Infuse for 30 minutes or as long as overnight.

2. Strain well through a coffee filter or a couple layers of cheesecloth to avoid the small irritating hairs on the mullein leaves. Drink within 24 hours.


Click the Image Below for a Printable PDF of the Recipes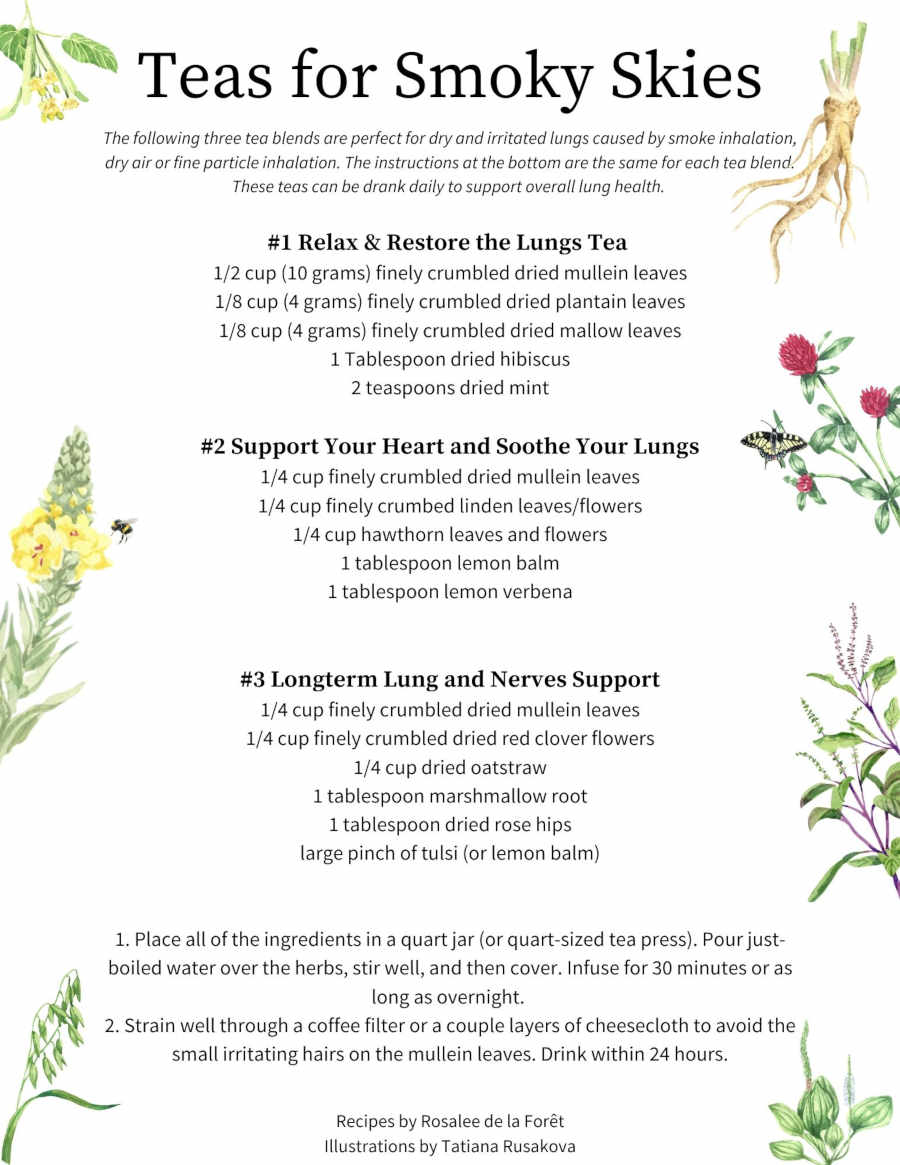 Citations for Herbs for Wildfire Smoke

1. https://www.ucsf.edu/news/2017/10/408766/many-no-long-term-health-impacts-wildfire-smoke-more-studies-needed
2. https://newsroom.heart.org/news/wildfire-smoke-associated-with-more-er-visits-for-heart-stroke-ailments-among-seniors