The Hawthorn Herb

---
---
On a recent trip to Ireland I fell in love with hedges. Lining the roads and fields, these boundaries of stone walls and plants are teeming with life. The shrubs of the Hawthorn herb were some of the most prominent plants along the hedges, sometimes growing close to the stones, other times shooting far beyond the original stone fence. I walked along those hedges for miles and miles, infatuated with the abundance of hawthorn's red berries, the gnarly and textured branches, and the many haphazard spines. I snapped photo after photo, thinking to myself, "What a beautiful world we live in to have such abundant heart medicine growing just outside people's front doors."

In European traditions, the hawthorn herb is immersed with mystery and folklore. In the spring its branches are filled with white to pink blossoms that attract countless pollinators. The scent of the flowers has been described as everything from death and decay to divine and erotic. Depending on the location, hawthorn is often found blooming in late April and early May and has long been associated with Beltane, the cross quarter holiday between the spring equinox and summer solstice.
The Hawthorn Herb for the Physical Heart

Hawthorn is easily our most beloved herb for the heart. And while we can classify it with a handful of medicinal herbal actions, such as anti-hypertensive, anti-anginal, or anti-cholesterolemic, a better understanding is that the hawthorn herb nourishes and protects the heart. As a result, hawthorn's virtues benefit a wide variety of heart-related problems.

Modern research has focused on hawthorn's effects on the physical heart. Large long-term and short-term studies have shown that the hawthorn herb offers many benefits for people who already have mild to moderate heart disease. Studies have specifically shown improvement for ankle edema, general cardiac performance, reduced blood pressure, cholesterol, fatigue, pain with increased exertion, and palpitations.1,2,3,4,5 Researchers have concluded what herbalists have long known, that "hawthorn has a clear benefit for patients with mild to moderate heart failure."6

How does hawthorn provide so many benefits for the heart? Like most herbs, hawthorn works in many ways, some of which we may never fully understand. Here's what we do know.

Hawthorn is rich in flavonoids that are known to protect the cardiovascular system.7 Much of the heart disease in the western world is related to chronic inflammation. Regularly enjoying herbs and foods high in these flavonoids can protect the heart from oxidative stress.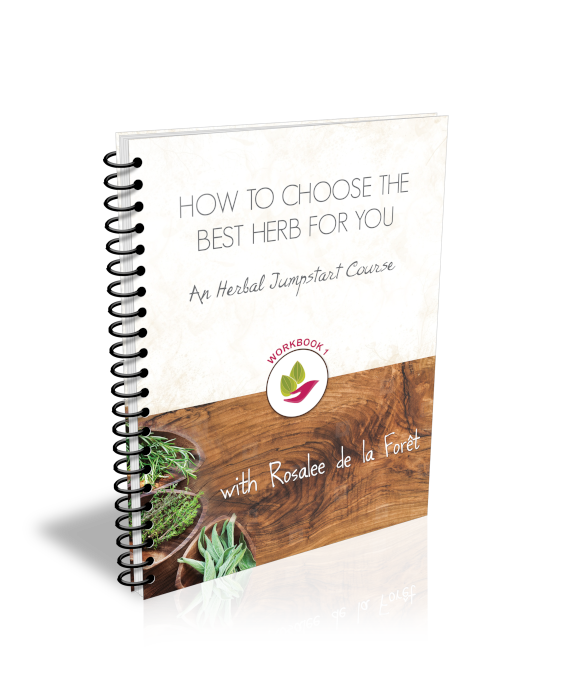 Choose the Best Herb for You!

The secret to using herbs successfully begins with knowing who YOU are.

Get started by taking my free Herbal Jumpstart e-course 

By signing up for my free course you'll also be joining my weekly newsletter where I send my best tips and herbal recipes. I never sell your information and you can easily unsubscribe at any time.
The Hawthorn Herb for the Emotional Heart

Hawthorn not only protects the physical heart in ways that we can objectively measure, such as blood pressure and cholesterol levels, it also nourishes and soothes the spiritual and emotional heart. Herbalists regularly use the hawthorn herb as a general relaxing nervine, as well as for heartbreak and grief.

Rebecca Altman recommends a combination of hawthorn, rose, and devil's club to work with connections to the past, associations with ancestry, and diving into that which is unseen.
The first herb I think of in connection with the health of our dear hearts is the sacred hawthorn tree, beloved of the mischievous faeries and all who believe that a life devoid of magic is not really worth living.
- Robin Rose Bennet, The Gift of Healing Herbs
The Hawthorn Herb for Digestion

While hawthorn presently is most famous for its benefits for the heart, it was historically more often used for digestion. In Chinese Medicine the traditional indication for hawthorn berries was for indigestion caused by food stagnation, especially in relation to too much greasy food and meat.8

Pedanius Dioscorides (c. 40-90 CE) and Adam Lonicer (1528-1586 CE) both used the berries for diarrhea.9 In his book, Planetary Herbology, Michael Tierra recommends the green fruit for diarrhea and the roasted and charred fruits for both diarrhea and dysentery-like disorders.10


Botanically Speaking: The Hawthorn Herb

There are over 280 species of hawthorn trees growing around the world. Many are interchangeably used. The most commonly used species are Crataegus monogyna, C. oxyacantha, and C. laevigata. Hawthorns can easily hybridize, making definitive identification difficult.

This section describes Crataegus monogyna.

C. monogyna is native to Europe, Asia, and parts of Africa. It has been widely distributed across the world.

It can grow as a shrub or a tree reaching 15 to 45 feet tall.

The bark and branches are brown and the wood is very hard. It was historically prized for making a variety of tools.

Thorns ranging from 1/2 inch to 1 inch long are found along the branches.

The leaves grow from 1 to 1 1/2 inches long and are oval and deeply lobed.

The flowers bloom from April to June depending on location. As typical of the rose family, the flowers have five white petals and many stamens. The flowers grow in clusters and are about 1 cm in diameter.


In late summer to fall the berries (or haws) ripen to a deep red. Each haw (technically a pome fruit) contains a single seed. The fruits persist well into the winter and are important foraging for wildlife.
Hawthorn Uses
Hawthorn leaves, flowers and berries (haws) can be used as medicine. All three are commonly used as medicine for the heart, and they can be prepared separately or in combination with each other.

The berries can be infused into honey, made into tea, cooked down to form a condiment like ketchup, or made into jam. They can also be extracted into vinegar or alcohol.

The leaves and flowers make a nice tea or a nourishing herbal infusion and are noticeably astringent. The leaves and flowers can also be extracted into alcohol. Watch my video on the Benefits of Hawthorn Flowers here.

In Chinese medicine it is specifically the berries that are used for stagnant digestion.

Dosage Suggestions:

Hawthorn berries are a food-like herb that can be consumed in larger amounts, as you would a food. For best results with the berries, leaves, or flowers, use it daily and long-term.

The therapeutic doses for hawthorn are as follows:
As tea: up to 30 grams of berries, and up to 30 grams of leaves and flowers, per day
As tincture (fresh berries): 1:1, 40–60% alcohol, 5 mL, 3 to 5 times per day
As tincture (dried leaf and flowers): 1:5, 30% alcohol, 5 mL, 3 times per day

Explore more Hawthorn Uses in Sue Kusch's article here, including some yummy recipes!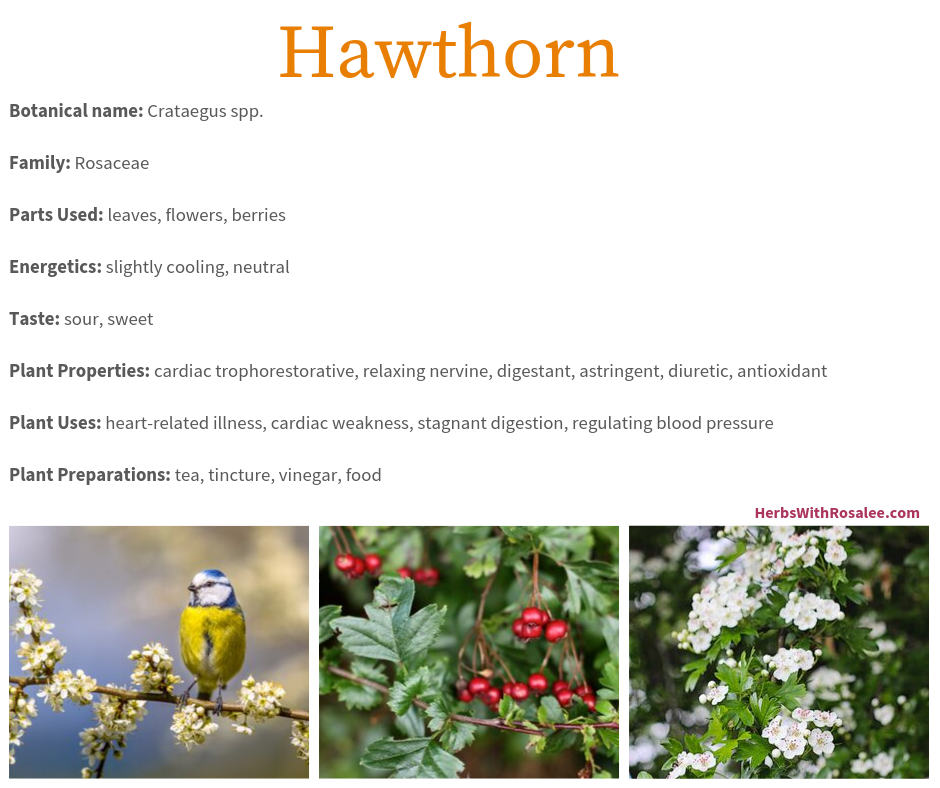 Hawthorn Side Effects
People taking heart medications such as digitalis and beta blockers should consult with an experienced practitioner before taking hawthorn herb.
Large dosages of the leaf and flower may cause stomach upset in some individuals. If this happens, decrease the amount.
Hawthorn herb should not be used with people who have diastolic congestive heart failure.
Citations for the Hawthorn Herb

Click to show/hide.