Rosemary Health Benefits
---
---
Right after teaching my first herbal intensive in southern France, I headed south to the famous Mediterranean coves, called Calanques, near Marseilles. By the time I arrived, in early June, the rocky limestone soil was dry, with only the hardiest of plants peeking through. Undeterred by the sparse plant life, I set off on a short trail that steeply climbed up a hill. At the top, I was gifted a beautiful view of the deep-blue Mediterranean Sea.
After catching my breath, I quickly realized I had a treasure at my feet; rosemary was growing in dense patches all around me. I reached down and rubbed the leaves and was immediately rewarded with its powerful scent. Standing on a hillside on the coast of the Mediterranean, I was easily able to imagine what inspired its genus name, Rosmarinus, which means "dew of the sea."
Science has recently taken an interest in rosemary to boost cognition and as an antioxidant. In fact, we could easily call rosemary the "queen of antioxidants." But herbalists have long celebrated rosemary for its gently warming and dispersing effects, which bring benefits to the heart, digestion, liver, and mood.
Rosemary is a small, woody evergreen shrub whose native habitat stretches across the Mediterranean region, where it thrives in harsh conditions and rocky soils. It's a member of the aromatic mint family (Lamiaceae), and its pleasing scent and taste have inspired humans through the ages. Besides being a common culinary ingredient, the plant was used as perfume and mentioned by Shakespeare in numerous plays. The common English name, rosemary, is sometimes associated with the Virgin Mary. It's said that on her family's flight to Egypt, a rosemary bush sheltered and protected them. When Mary laid her cloak upon the bush, the white flowers turned blue and thus became the "rose of Mary."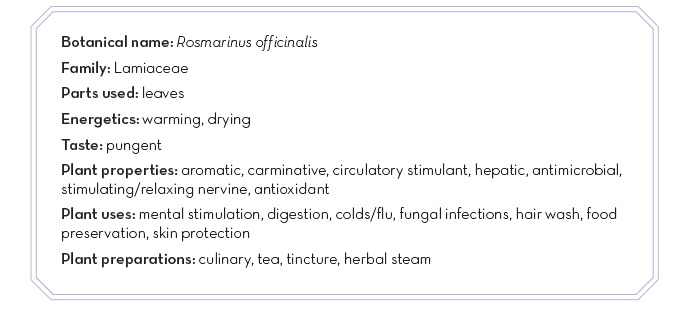 Benefits of Rosemary and Its Energetics
Rosemary blends really well with various meats. Before the widespread use of refrigerators, rosemary was rubbed into meats to prevent them from spoiling. Modern research has shown that rosemary does, in fact, prolong the quality and shelf life of meats through inhibiting the growth of bacteria.1
Rosemary also has the ability to reduce the risk of cancer from eating meats cooked on high heat. High-heat cooking methods, such as pan frying or grilling, creates compounds that have been shown to alter DNA and lead to cancer. In one study, researchers added rosemary extract to meats during cooking, and found that the high antioxidant content helped prevent the formation of these carcinogenic compounds.2 While it would be best to avoid meats cooked at high temperatures, this illustrates rosemary's protective effects, which assuredly go far beyond charred meats.
Rosemary Health Benefits for the Skin
Rosemary extracts have also been shown to be helpful against the sun's UV damage. We all know about the importance of covering up or using safe sunscreens to protect against sunburn, but in one interesting study researchers showed that taking an extract of rosemary and lemon internally decreased UV damage in humans. People taking these extracts saw good results after 8 weeks and even stronger results after 12 weeks.3 (Rosemary is used in the Elderflower Facial Serum on page 208 and Green Tea and Rose Facial Cream on page 246 of Alchemy of Herbs.)
Rosemary Health Benefits for the Heart
While not thought of as a primary herb for the heart, rosemary can be used to increase circulation and decrease inflammation in the cardiovascular system. British herbalist Jeremy Ross recommends rosemary combined with hawthorn for people with cardiac weakness alongside depression.4
Rosemary Health Benefits for Reducing Pain
Like most herbs used for decreasing pain, rosemary seems to work in a variety of ways. As we've already discussed, rosemary is high in antioxidants, which can decrease oxidative stress and inflammation. It has long been used for inflammatory pain such as arthritis. Herbalists recommend both taking it internally and using it externally over the affected areas. One scientific study has validated this use and showed that a proprietary extract of rosemary decreased arthritic pain in human volunteers. It also decreased their levels of C-reactive protein, which is a marker for systemic inflammation that leads to pain.5
Another study looked at the effects of inhaling rosemary essential oil. The researchers concluded that while it didn't directly relieve pain, it improved the patient's experience of it.6
Rosemary Health Benefits for Memory
Rosemary is famously called the herb of remembrance and has long been used as a symbolic way to remember a loved one or event, such as in weddings and funerals. It was traditionally used to improve memory, and herbalists often recommend that students smell a sprig while studying and then again while taking their exams. I've heard this tradition goes as far back as ancient Greece! Science has since validated that smelling rosemary essential oils reduces test anxiety and can significantly enhance memory.7, 8, 9
Not only does rosemary help with short-term memory, it may also have a role in preventing and addressing Alzheimer's, which affects an estimated 1 in 9 people in the United States over the age of 65 and nearly 44 million people worldwide.10 In one short-term study, as little as a 750 mg dose of dried rosemary had a significant beneficial effect on cognitive function in an elderly population.11 Another study showed that Alzheimer's patients experienced cognitive benefits by simply smelling the essential oil.12 Rosemary, along with a holistic protocol, shows promising results for addressing this debilitating disease.
Rosemary Health Benefits for Digestive Issues
Like other culinary herbs in the aromatic mint family, rosemary made into a tea can ease slow or cold digestion that is causing gas, nausea, cramping, or bloating. This herb is warming, and its milder energetic qualities allow it to be enjoyed in moderate quantities with fewer adverse effects versus the hot energetics of ginger, garlic, and cayenne.
One reason that rosemary is often paired with fatty meats like lamb—along with the delicious taste combination—is for its ability to support the liver and help digest fats.
Rosemary Health Benefits for Colds and the Flu
Delicious and warming rosemary herbal tea can bring welcome relief during the cold and flu season. Relieve a sore throat with sips of rosemary tea or a spoonful of rosemary-infused honey. Drinking hot rosemary tea helps to warm you up during the first stages of a fever, when you feel cold and are shivering.
It can also be a supportive herb in helping with stagnant congestion in the sinuses and lungs. (For this effect it combines well with ginger.)
Benefits of Rosemary Oil for Hair Growth
One randomized, double-blind study split 86 patients with hair loss (alopecia areata) into two groups. One group was given a blend of essential oils that included rosemary to rub into the scalp. The other group was given an oil without essential oils. After seven weeks, almost half of the people in the essential oil group showed improvement in hair growth, while only 6 percent showed improvement in the control group.13 To encourage hair growth, herbalist Lesley Tierra recommends a blend of 2 teaspoons of rosemary essential oil, 2 teaspoons of lavender essential oil, 1/2 ounce of cayenne tincture, and a pint of sesame oil. She suggests regularly massaging a bit into the scalp and letting it sit for a while.14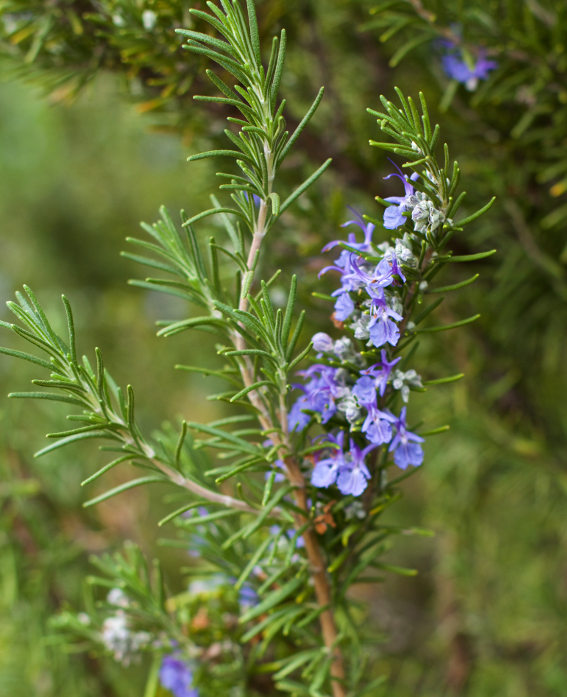 How to Use Rosemary
Rosemary is often used as an essential oil, and the leaves can be enjoyed both fresh and dried. The most important thing is that it has strong aromatics. See the recipe on page 154 of Alchemy of Herbs for the perfect cup of rosemary herbal tea.
Also read Sue Kusch's 15 Ways to Use Rosemary here.
Recommended Amounts for Rosemary Health Benefits
Using culinary amounts of rosemary is a great way to enjoy its flavor and improve digestion. The therapeutic amount for rosemary is:
As tea (dried or fresh): 2 to 4 grams, up to 3 times per day.

As tincture (dried herb): 1:5, 40% alcohol: 2 to 4 mL, 3 times per day.15
Special Considerations

During pregnancy and breastfeeding, it is safest to avoid rosemary in large doses. Normal culinary amounts are fine. The essential oil should also be avoided.16

Rosemary may lower blood glucose. Those taking insulin should continue to monitor their blood glucose levels.17
A very small percentage of people have skin dermatitis when exposed to rosemary.18
Citations for Rosemary Health Benefits
Click to show/hide.