Four Ways to Connect With Plants
---
---
Several years ago I was walking with someone who had been studying herbs for many years. As we rounded a corner I gasped in delight. There, before us, was a huge stand of elderberry shrubs. I ran over to greet the blossoming plant when I heard a question from the herbalist behind me. "Oooh, what is this plant?" 
It turns out that, while she had been using and recommending elderflowers and elderberries for years, she had no idea what the actual plant looked like - even though it was growing all over where she lived! 
I have to admit that, at the time, I was pretty judgmental about her lack of plant knowledge. But, as years have gone by, what I've come to realize is that we all study herbalism for different reasons. Some herbalists want to be clinicians and recommend already-made products to their clients. Others may simply want to make remedies using dried herbs they bought online. I do both of those things myself!
However, some of us walk a different path. For many of us, becoming an herbalist isn't only about knowing what to do with the end product, whether it be an herbal syrup, tincture, salve or even capsules; but we also walk this path to encompass the connection to the living plant, the process of harvesting and of making the medicine. 
When I first started studying herbalism I did not know any of the plants around me. I went to a class on making herbal lip balms and salves and when my teacher mentioned plantain I thought she was talking about the banana-like fruit that I ate practically every day when I lived in the Dominican Republic. (That was just the beginning of many newbie questions… and my love affair with plants). 
My own journey into the world of herbalism was simultaneously a big shift in my own reality. I went from being totally clueless about plants and thinking of the forest as a "wall of green" to being able to identify all of the plants around me. More than that, I began to make friends with the plant world. I knew which plants flowered first in the spring, which were used for medicine and which ones I could eat at every meal. 
For me, my path as an herbalist transformed me from someone completely oblivious to the natural world into someone intimately connected to the plants, the seasons and wildlife. Here are some tips on what helped me with that transformation. 
1. Take a Walk Every Day (even if it's just for five minutes)
Walking is one of the easiest, cheapest and most effective ways to connect to nature and to plants. By forming a habit of taking a walk every single day, even if it's just for five minutes, you can begin to cultivate your inherent connection to the natural world around you. 
I know it can be easy to stay in our homes, offices or schools throughout the day without spending any time in the open and fresh air. We can get busy running around, stuck in our to-do lists; or perhaps we come up with excuses (like bad weather, which I'm guilty of myself). Instead of getting caught up in your busy life, I recommend committing to a no-excuses daily walk. New habits stick best when you have the same "trigger" every day, followed by a reward. This could mean…
Waking up just a bit earlier, putting on your walking shoes right away, and heading out for a morning stroll. When you get home you can reward yourself with a hot beverage. 
Not a morning person? How about using lunchtime as a way to enjoy the middle of the day? After lunch take a leisurely stroll before heading back to your regularly scheduled day. This simple act can help you feel refreshed for the rest of the day. Reward yourself by inviting a friend to join you. 
Or make it a family/friend evening tradition. After dinner, head out for an evening promenade. 
I like to take my walks in the late morning, just before lunch. This gives me a break between my morning and afternoon and I get to work up an appetite before sitting down to eat. 
There are many health benefits to walking, such as moving lymph, supporting heart health, improving your mood and even improving productivity. However, I'm suggesting this walk as a first step towards increasing your connection to nature and as an initial habit to support the following…

2. Learn the Plants Growing Around You
Now that you are out and about on your walk, you have the opportunity to be spending time with the plants that grow around you or your work area. Even if you live in the city, plants are everywhere! Nearby parks can boast all sorts of trees, weeds and even ornamental plants. Don't have a park? Although not as sexy, abandoned lots and even sideway cracks often give way to some of our most beloved and intrepid plants, such as dandelion and yellow dock.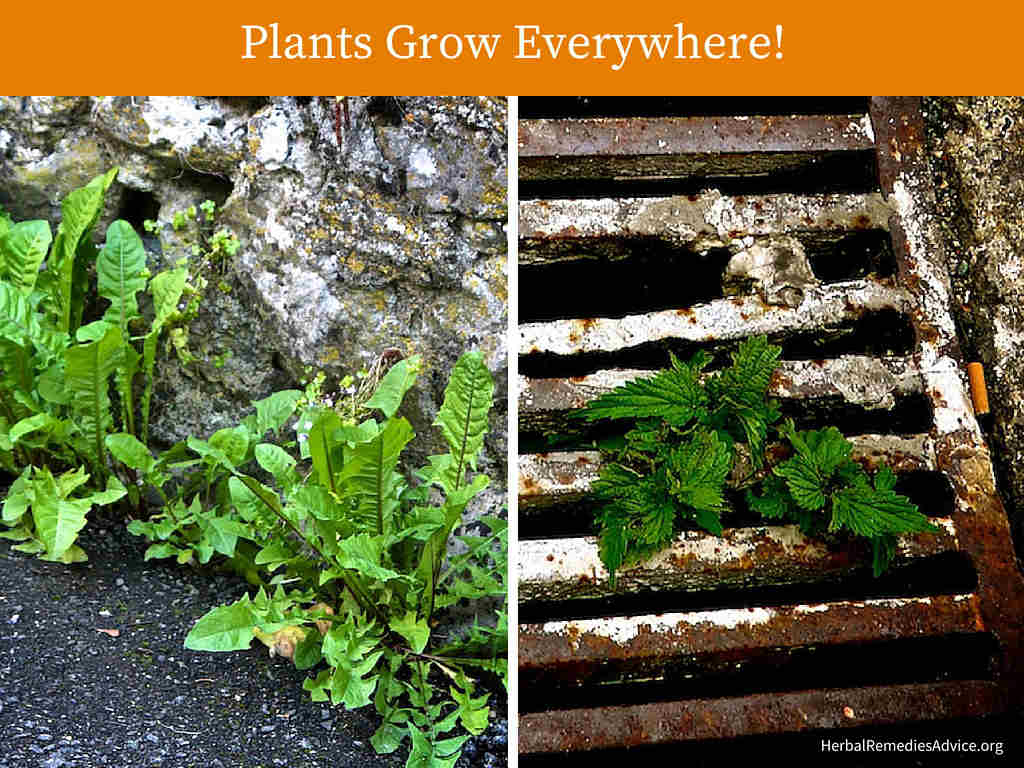 If you are able to get out a bit more, then take up hiking as a hobby and learn native plants. Check online to see if your area has a local chapter of the Native Plant Society. These chapters are filled with people who know a lot about plants and they often offer free hikes in the area. This is a great way to get expert help with identifying plants. 
Or, perhaps even better, you have local herbalists teaching classes in the area. Most herbalists add plant walks to their repertoire. Look them up and start taking classes! 
To help you identify plants I recommend getting a local plant field guide. Ask about good ones at the Native Plant Society or at your local bookstore. (Tip: When I first identify a plant I write in the margins when and where I saw it. It's fun to flip through my guides and remember my first encounters.) If you live in the Northwest U.S. you can see a list of my favorite field guides here. 
3. Grow Your Own Herbs 
Growing your own herbs is empowering, fun and really important work. Watching little leaves sprout from germinated seeds is an awesome experience that is endlessly fascinating. Tending and taking care of a plant to make sure it gets the right amount of water, sun and nutrients is a practical way to deepen your connection to plants. The obvious benefit of growing your own herbs is that you get to harvest and use them as food or medicine. I love drinking my tulsi tea knowing that I sprouted those seeds myself. 
There are also many really powerful herbs that either aren't available in commerce or are especially wanted when they are really fresh. Growing your own herbs means you can have fresh milky oats, St. John's Wort and chickweed, or a healthy supply of bee balm.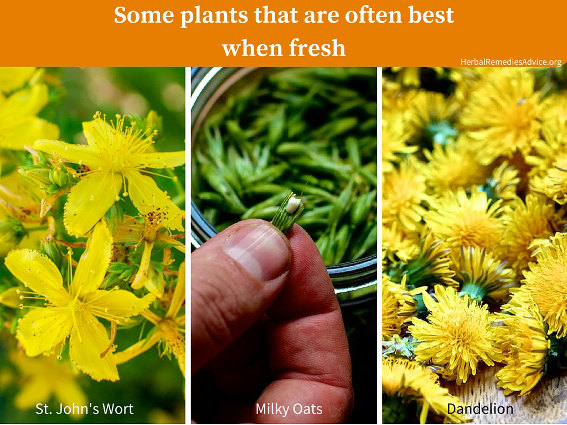 I especially love growing at-risk or endangered plants. Not only can I harvest and use them sustainably, it's also rewarding to have these precious plants growing near me. Goldenseal, Echinacea and blue cohosh are examples of endangered plants that you can grow. 
Don't have a lot of space? You can grow some culinary herbs in indoor pots (try basil or rosemary). Or you can create a container garden on your balcony or porch. 
Do you have a small garden space? You can grow a lot of herbs in a small space. I started gardening in a raised bed that was about 3 feet by 4 feet. That slowly evolved into a raised rock garden that is approximately 5 feet by 15 feet and I grow over thirty different herbs in that spot. 
Are you itching for a larger garden spot than you currently have? Look for community gardens in your area where you can rent a garden space. Don't have community gardens? Here are tips on how you can start your own community garden. 
Cultivating medicinal herbs without the use of pesticides is especially important in today's world. By growing plants and creating habitats for pollinators you are also helping to support the many insects we depend upon! 
4. Pay Attention to the Rhythms of Nature
In some ways this last tip is an expansion on the first tip of taking a daily walk. Many people walk every day but few people are present and aware while doing so. Your daily walk is about connecting to nature. Walking fast with your head down and your headphones on is not the way to accomplish this! 
I recommend combining walking with a healthy dose of curiosity and love of plants. Walking with awareness allows you to find joy and awe in the world around you. You get to see the first tiny sprouts of leaf transform into beautiful flowers that give way to seeds. Watching plants shift with the seasons connects you with the rhythms of nature. Over time you can start to see larger patterns in nature, including birds, animals, and the weather. 
I recommend keeping a simple journal of things you notice on your walks. I keep track of the first flowers I see in the spring, when the cottonwoods leaf out each year and when I see certain birds arrive for the season. I love comparing my seasonal notes each year to see the differences. I also can excitedly anticipate the changing seasons. When will the goldenrod bloom this year? When will the snow melt from the garden? Will the phoebes show up earlier or later this year?