Rose Hips Benefits
---
---
Shining like red jewels as they decorate a thorny briar, rose hips benefits are spread to the world around them. Birds, mammals and insects alike feast on their tart pulp, filling their bellies with bountiful nutrients. In return, through an ancient act of reciprocity, those same foragers spread rose seeds far and wide. Many species of wild roses are commonly found growing throughout the northern hemisphere. 
Rose Hips Benefits Include Being Nutrient-Dense
Rose hips are famously high in Vitamin C. When fresh off the bush they often have more vitamin C per weight than an orange. Vitamin C is a delicate thing though, and it begins to wane quickly after picking and is further degraded by drying or by heat. Contrary to popular belief, a decreased amount of Vitamin C doesn't make the dried or heated rose hips useless. Dried and/or heated rose hips are still rich with nutrients and bioflavonoids with many health benefits. 
Herbalist Susan Marynowksi points out, "Most Americans are getting plenty of Vitamin C in their diets, while we are sometimes deficient in the other nutrients provided by dried and/or heated plant preparations, such as minerals and flavonoids and polyphenols." The best way to ensure you are getting lots of Vitamin C is to eat a variety of fresh whole fruits and vegetables just after they have been harvested.
Rose Hips Benefits as Medicine
Rose hips are a powerful medicine for decreasing systemic and chronic inflammation. This is especially beneficial for your heart health and for decreasing arthritic pain. 
When taken daily in food-like amounts (40 grams per day), rose hip powder has been shown to improve blood pressure and plasma cholesterol, thus reducing cardiovascular risk factors.1
With their bioflavonoids and other antioxidants, roses are wonderful for modulating inflammation. This can be especially helpful when there is pain associated with inflammation. Studies have shown that regular ingestion of rose hips can decrease the pain and inflammation associated with both osteoarthritis and rheumatoid arthritis.2,3
Botanically Speaking
There are many different species of wild roses in North America, each with a unique take on the characteristic rose growing pattern. What follows is a general description of wild roses. Your own local species may vary.
Wild roses typically grow as a shrub in dense thickets that may reach three meters in height. Roses reproduce both by seed and by sending out suckers from the roots.
All wild rose flowers have five petals and numerous stamens. The flowers are commonly a shade of pink or, less commonly, white.
The deciduous leaves are oddly pinnately-compound with a varying number of leaflets, the most common being three or five or seven leaflets. The leaves grow alternately up the stem.
Wild roses have varying numbers of thorns, what botanists call prickles, that grow along the stem and sometimes along the leaf ribs.
So, what are rose hips?
A pollinated flower will slowly develop into a green fruit (called a rose hip, or rosehip) that gradually turns to yellow, orange, or red when ripe. Depending on the species and the time of year they are harvested, rose hips can have varying degrees of palatability, ranging from bitter or sour to bland or sweet.
Inside the fleshy fruit are many seeds covered in tiny hairs. The seeds are not edible and need to be removed before eating. If the seeds are not removed, as in some rose hips dried for tea, then the tea should be carefully strained to avoid throat irritation from the hairs.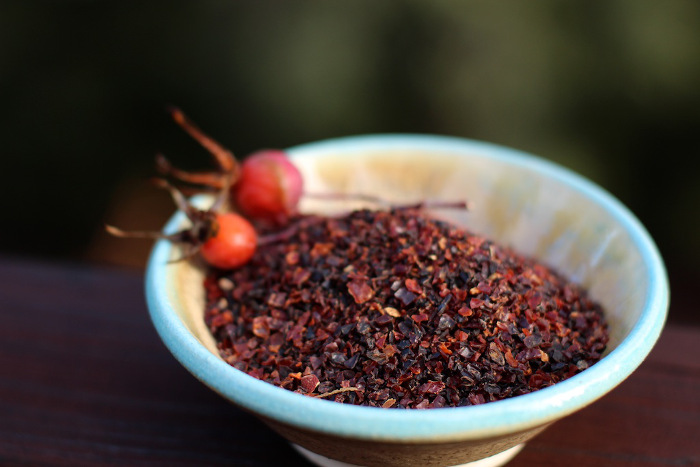 Where to Buy and When to Harvest for Rose Hips Benefits
Wild rose shrubs are a common plant growing around me and, in the autumn, they are an easy and bountiful harvest. 
Here are some things to consider when harvesting your own rosehips. 
Have you positively identified the plant? 
Is it locally abundant? Regionally abundant? 
How will your harvest impact other creatures? Who else eats these rosehips? Is the upcoming winter expected to be a hard one? 
Is the area you are harvesting from safe from contaminants? 
In what ways can you reciprocate your harvest? Plant more roses? Share your love of roses with others? 
How does your particular briar of rosehips taste? The taste can vary from sour, to bitter to bland to sweet. Taste can change from species to species or even from bush to bush. 
How will you prepare the rosehips? Are you going to leave them whole? Or do you need to separate the flesh from the seeds. If the latter, do you have the time and patience to do that? 
I love freshly harvested rosehips to make rosehip honey, to add to medicinal syrups and to dry whole for teas. 
I also love buying de-seeded rosehips from Mountain Rose Herbs. In fact, they may be my most common purchase at this online apothecary. De-seeded rosehips can be easily rehydrated and eaten in a variety of delicious ways. See the highlighted recipes at the end of this article for things like rosehip muesli, rosehip chia seed pudding and several medicinal herbal syrups. 
Plant Preparations for Rose Hips Benefits
Rosehips are a nice trail-side nibble, taking care to avoid the seeds and irritating hairs beneath the fleshy surface. To make removing the seeds easier, fresh rosehips can be frozen and then cut open to remove the seeds. The fresh fruit pulp can be used in cooking, infused into honey, or dried for later use. Rosehips can also be dried whole and used whenever you are making a preparation that will be strained to remove the irritating hairs on the seeds. Rosehip syrup and rosehip vinegar are delicious examples.
The seeds are commercially pressed to release rose hips oil that is highly favored for cosmetic uses. Click here to read Sue Kusch's article on the benefits of rosehip oil.
Dosage Suggestions:
Rose Hips Tea or Powder: 5-45 grams per day.
Special Considerations for Rose Hips Benefits
Avoid using roses that have been sprayed with pesticides. Almost all florist roses will contain traces of pesticides, as they are not meant for consumption.

Rosehip Recipes
Ready to feast on the many rose hips benefits? Here are some of my favorite recipes. 

Wild Rose Shrub
Tangy, sweet and oh so refreshing, this rose petal shrub is perfect for those hot summer months. This recipe uses both rose petals and dried rose hips. 
Elecampane and Rosehip Syrup Recipe
This simple homemade cough syrup is a powerful ally for congested coughs. It can be used both for acute coughs and chronic coughs. The rosehips further help to expectorate, plus they give the syrup a thicker consistency than regular honied syrups. 

Chocolate, Elderberry, and Rosehip Syrup Recipe
An antioxidant rich syrup that is lovely drizzled on pancakes, crepes or over ice cream. The perfect example of, "Let dessert by thy medicine!"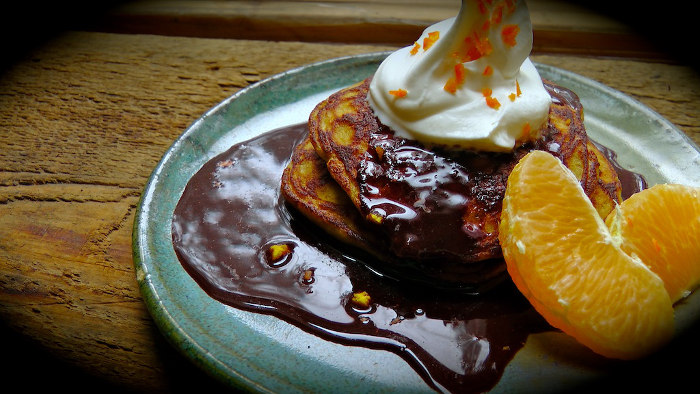 Rose Hip Chia Seed Pudding
This simple recipe makes a delicious evening dessert or a yummy breakfast. Make it in the evening for breakfast the next day or in the morning for dessert that night. I like to serve it by adding sliced bananas or berries in a small bowl and then adding the chia seed pudding over it. For breakfast it goes well with granola.
Rosehip and Apple Muesli
With a few minutes of prep the night before, you wake up to this hearty and delicious breakfast. Muesli is an oat-based breakfast that often includes nuts and dried fruits. To make it you combine the ingredients the night before and then soak it overnight. This makes the oats and nuts more easily digestible and allows the dried rose hips to rehydrate.
Spiced Rose Hip Cake

Deliciously aromatic with the fresh, tart flavor of rose hips, this rose hip cake is a delicious treat to enjoy with your favorite cup of tea (I love roasted dandelion root!).
Do you love rose hips? I'd love to hear your favorite ways to enjoy rose hips - please share in the comments below.
Citations for Rose Hips Benefits
Click to show/hide.