Rose Benefits

---
---
You don't need to be an herbalist to know that roses are for love and are a symbol of the heart. Everywhere that roses grow, we are enchanted with them. We are so enraptured by roses that we've bred thousands of different varieties in all colors and sizes and growth patterns.

When it comes to herbal medicine, the best roses often are found on wild hedges or heritage varieties. More specifically, these are roses that still maintain their delicate smell. Roses without smell or roses that have been grown with pesticides should be avoided. Be aware that florist roses are often doused with many chemicals.


Rose Benefits for Heart Health

Plain and simple, rose benefits the heart. Roses are given as a sign of love. And what better than a "love herb" as an aphrodisiac? The silkiness of the petals, the sweet smell that emanates, and the beauty of the flowers all awaken the senses and call out to the heart. It's no surprise that roses are often used for courting and large bouquets are often found at weddings and given for anniversaries. The same large bouquets that celebrate a loving union can also be found as a sign of love and respect at a funeral hall or memorial celebration.

While science may tell us that the heart is purely a physical organ incapable of emotion, roses know otherwise. Just as the heart experiences many emotions, roses aren't just for love. Herbalists also turn to roses for heartache and heartbreaks. In herbalist David Winston's famous Grief Relief formula you'll find rose petals in combination with hawthorn leaves and mimosa bark.

Wild rose softens the areas that we tense to protect ourselves, unraveling emotional tension patterns that get locked in the body. Rose naturally works in places where 'flow' is impeded. Rose unwinds the stuck-ness that is often rooted in old grief, old trauma.
Rebecca Altman, WonderBotanica.com
Simply smelling roses can uplift the heart. One study found that women with high risk for postpartum depression who regularly smelled rose oil had significant improvements in both anxiety and depression.1 Researchers who were curious about exactly how rose oil works found that it decreased breathing rates, blood oxygen saturation, and systolic blood pressure when applied to the skin.2
Rose Benefits for Healing Wounds
Rose petals and leaves are reliable astringents that can tighten and tone tissues. Astringents can be used on wounds to pull the tissues back together or to decrease excess secretions. They can also be employed when there is too much laxity in tissues, such as lax gums causing loose teeth or lax intestinal tissues from chronic illness or excessive diarrhea.

Canker sores (called aphthous ulcers) are one example of how rose can heal and soothe tissues. In one double-blind, placebo-controlled study, a mouthwash made with rose extract was shown to be effective at relieving pain, decreasing inflammation, and reducing the size and number of ulcers in those suffering from recurrent canker sores.3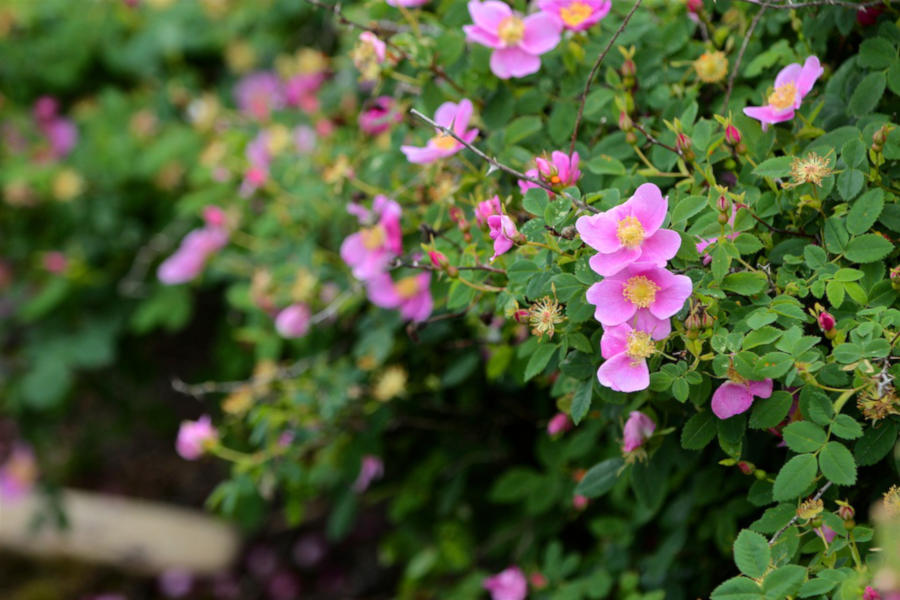 Rose Benefits: Botanically Speaking
There are many different species of wild roses in North America, each with a unique take on the characteristic rose growing pattern. What follows is a general description of wild roses. Your own local species may vary.

Wild roses typically grow as a shrub in dense thickets, which may reach three meters in height and be many more meters in width. Roses reproduce both by seed and by sending out suckers from the roots.

All wild rose flowers have five petals and numerous stamens. The flowers are commonly a shade of pink or, less commonly, white.

The deciduous leaves are oddly pinnately-compound with a varying number of leaflets, the most common being three or five or seven leaflets. The leaves grow alternately up the stem.

Wild roses have varying numbers of thorns, what botanists call prickles, which grow along the stem and sometimes along the leaf ribs.

A pollinated flower will slowly develop into a green fruit (called a rose hip) that gradually turns to yellow, orange, or red when ripe. Depending on the species and the time of year they are harvested, rose hips can have varying degrees of palatability, ranging from bitter or sour to bland or sweet.

Inside the fleshy fruit are many seeds covered in tiny hairs. The seeds are not edible and need to be removed before eating. If the seeds are not removed, as in some rose hips dried for tea, then the tea should be carefully strained to avoid throat irritation from the hairs.


Rose Benefits: Plant Preparations
What can't you do with roses? Rose petals impart their beautiful scent and healing gifts into a variety of preparations.

Fresh rose petals can be infused into honey, vinegar, or alcohol (tincture). The petals can be dried and used in teas. Both fresh and dried petals can be used in cooking. The petals can be infused into oil for a variety of topical applications, from massage oils to salves or creams.

Dosage Suggestions:

Rose Petals:
Tea: 5-28 grams
Tincture: 1:5 (dried) or 1:2 (fresh), 30-40%, 3-5 mL, three times a day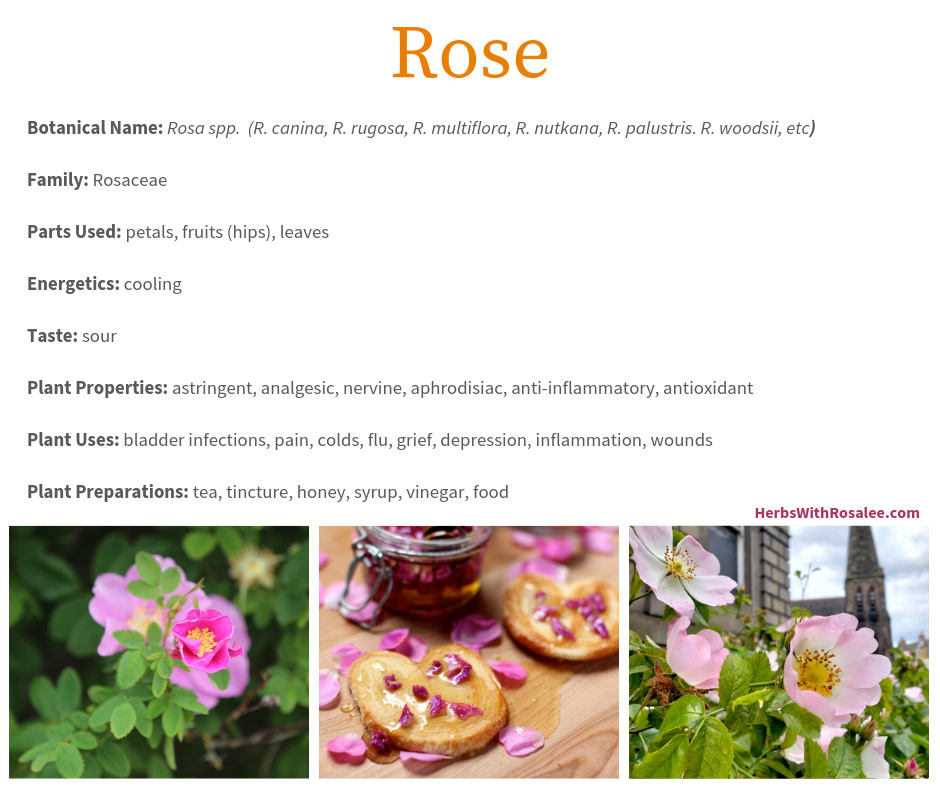 Rose Benefits: Rose Petal Recipes

Rose Petal Shrub - a delicious vinegar drink for hot summer days.

Wild Rose Petal Mead - an unforgettable drink I like to give to newlyweds.

Wild Rose Petal Honey - there's not a year that goes by that I don't make this!

Rosebud Tea - a delight for your heart.


Rose Benefits: Special Considerations

Avoid using roses that have been sprayed with pesticides. Almost all florist roses will contain traces of pesticides, as they are not meant for consumption.

Rose essential oil boasts an intoxicating scent and a steep price. It takes a huge quantity of roses to make a single ounce of essential oil. Most of the reasonably priced rose essential oils on the market actually contain a little bit of rose essential oil diluted in a carrier such as jojoba oil, and this is stated on the packaging. If you find a cheap product that claims to be rose essential oil, then it has most likely been diluted or adulterated with some other plant.


Additional Resources for Rose Benefits

Rose Benefits Citations
1. Conrad, Pam, and Cindy Adams. "The Effects of Clinical Aromatherapy for Anxiety and Depression in the High Risk Postpartum Woman - a Pilot Study." Complementary therapies in clinical practice 18, no. 3 (2012): doi:10.1016/j.ctcp.2012.05.002.  
2. Hongratanaworakit, Tapanee. "Relaxing Effect of Rose Oil on Humans." Natural product communications 4, no. 2 (2009): 291-6.   
3. Hoseinpour, Hassan, Sean A F Peel, Hassan Rakhshandeh, Ali Forouzanfar, Morteza Taheri, Omid Rajabi, Mostafa Saljoghinejad, and Keyvan Sohrabi. "Evaluation of Rosa Damascena Mouthwash in the Treatment of Recurrent Aphthous Stomatitis: A Randomized, Double-blinded, Placebo-controlled Clinical Trial." Quintessence international (Berlin, Germany: 1985) 42, no. 6 (2011): 483-91.