Season 9 Episode 12:
Tulsi Tea Benefits and Holy Basil Side Effects

---
---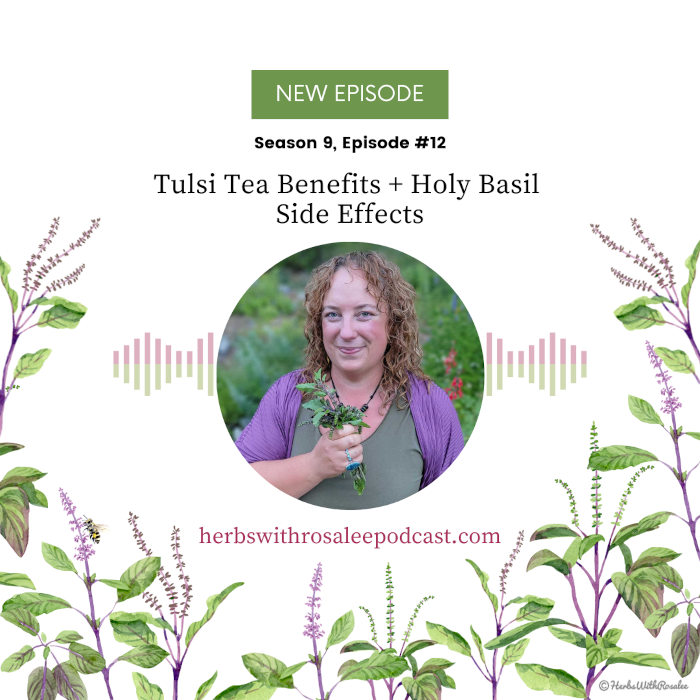 Would you prefer watching or reading this episode? If so, click here for the 'Benefits of Tulsi Tea' video and transcript.
Episode Summary
There are so many tulsi tea benefits! In fact, super-yummy tulsi tea is one of my favorite ways to enjoy holy basil. In this episode, I'm giving you my three most-loved tulsi tea recipes. I'm also sharing some important holy basil side effects you need to know about before making tulsi tea a part of your life.
(By the way, this is the second half of a two-part series on holy basil. In case you missed it, you can listen to the Holy Basil Benefits episode here)
After listening in to this episode, you'll know:
► How to grow and harvest your own holy basil (tulsi)
► How to recognize high-quality dried holy basil if you'd rather not grow it yourself
► Who should not take holy basil
► Two important tips for working with holy basil if you're diabetic
► Three ways to make tulsi tea (plus lots of tips so you can enjoy the maximum tulsi tea benefits!)

► Two ways to work with holy basil externally that might surprise you
What You'll Learn from This Episode
[01:09] Introduction
[03:08] How to identify, grow and harvest holy basil (Tulsi) 
[05:34] Holy basil (Tulsi) side effects
[06:23] Tulsi tea benefits, tips, and recipes
[12:12] Herbal tidbit



Download Your Recipes Cards!

Connect with Rosalee
Resources Mentioned