Benefits of Tulsi Tea

---
---
There are so many benefits of tulsi tea! In fact, super-yummy tulsi tea is one of my favorite ways to enjoy holy basil. In this episode, I'm giving you my three most-loved tulsi tea recipes. I'm also sharing some important tulsi tea side effects you need to know about before making tulsi tea a part of your life.
(By the way, this is the second half of a two-part series on holy basil. In case you missed it, you can click here to read about the health benefits of tulsi)
After listening in to this episode, you'll know:
► How to grow and harvest your own holy basil (tulsi)
► How to recognize high-quality dried holy basil if you'd rather not grow it yourself
► Who should not take holy basil
► Two important tips for working with holy basil if you're diabetic
► Three ways to make tulsi tea (plus lots of tips so you can enjoy the maximum benefits of tulsi tea!)

► Two ways to work with holy basil externally that might surprise you
-- TIMESTAMPS -- 
00:00 - Introduction
03:00 - How to identify, grow and harvest holy basil (Tulsi)  
05:26 - Tulsi tea side effects
06:15 - Benefits of Tulsi tea, tips, and recipes
12:04 - Herbal tidbit
Download Your Recipe Cards!


Transcript of the Benefits of Tulsi Tea Video

In that episode I also shared many benefits of tulsi tea. I don't want to overly repeat myself here, but just as a reminder, the benefits of tulsi tea include:

relieving stress and anxiety as an adaptogen and relaxing nervine herb
promoting cognitive health
supporting strong digestion
improving oral health
addressing chronic inflammation
positively benefiting those with metabolic disorders like type 2 diabetes
reducing musculoskeletal pain
and promoting immune system health
One of my favorite parts about having this podcast and YouTube channel is hearing from you! Do you have experience with the benefits of tulsi tea? I'd love to hear about it in the comments on YouTube or at the bottom of this page. Your comments mean a lot to me! I love cultivating a community of kind-hearted plant-loving folks! Plus, it's always interesting and insightful to hear the experiences of plant lovers out there. Your suggestion may also help others!

Okay, I'm excited for you to start making tulsi tea, but before we jump into making tulsi tea I want to make sure you have the best tulsi tea possible. Also, in just a bit I'll share some important tulsi tea side effects, so be sure to listen to those before making your tulsi tea.

How to Identify, Grow and Harvest Holy Basil
You can easily buy holy basil or you can grow it yourself.

If you're buying holy basil then you want the best quality possible. Look for herbs that are highly aromatic and have been grown and harvested in a way that is sustainable for the earth as well as all the people involved in the harvest. 
Labels like organic and fair trade are one way to make sure a company is doing its due diligence in sourcing their herbs ethically.

If you have fresh holy basil here's some identifying tips: 
As a member of the mint family, all holy basils have the characteristic square stem and opposite leaves.

The flowers have the familiar lipped shape of mint family flowers. Depending on the variety the leaves may be green to purple and can grow from 1 to five feet.

It's fairly easy to grow your own holy basil that you can use to make tulsi tea.

I recommend growing holy basils from seed or getting the plant sprouts. It's best to get it from an herbal grower who specifically knows about the different varieties. Strictly Medicinal Seeds is one option.

I live in Zone 4 and I start the seeds indoors in early March. It's recommended to hold the seeds up to the light before gently nesting them in a bit of soil. I start mine on heat growing mats and keep the soil surface moist until germination.

I plant holy basil outside in mid May or after the last frost of the season. Because basils like it warm I keep them covered with paper reemay until the nights are reliably in the upper fifties and warmer.
Holy basil likes to grow in full sun, with plenty of heat and moderate amounts of water. It needs fertile, well-drained soils.

As the plant forms flower heads, gently pluck these off to avoid the plant going to seed too early in the season. 
By occasionally plucking off the early flowers, you also will encourage the plant to branch and continue growing. If you want to collect the seeds for next year's crop, you can grow a special plant just for seed production, or stop plucking the flowers early enough in the season that the seeds will develop.

In zone 4 holy basil is an annual plant that needs about 80 days to reach maturity. In some tropical climates, it may grow for up to five years as a short-lived perennial. 
Tulsi Tea Side Effects

There are so many benefits of tulsi tea! Who wouldn't want to take this plant!? But, there are some tulsi tea side effects and considerations that need to be taken into account. 
Holy basil may have an anti-fertility effect on both men and women and thus should not be taken by couples wishing to conceive or be taken during pregnancy. 
One of the benefits of tulsi tea is for addressing high blood sugar levels. Those who are taking insulin to control their diabetes may need to adjust their insulin levels while taking holy basil. If holy basil is being used to assist with blood sugar control, it is best to use it consistently and dependably so that insulin treatments can be somewhat consistent from day to day.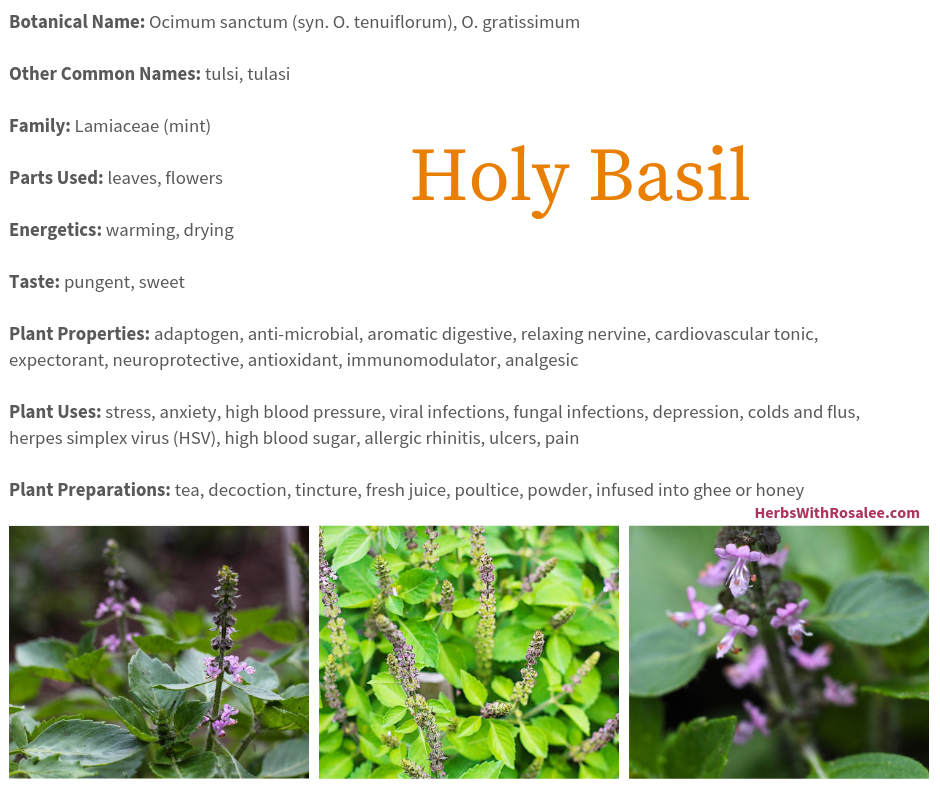 Benefits of Tulsi Tea and Other Tips

Tulsi tea is delightfully delicious and a wonderful way to enjoy tulsi benefits!

You can make a simple tulsi tea or you can make it into a formulated blend.

You can enjoy tulsi tea every day. In fact I think you get the most benefits of tulsi tea when you drink it regularly. 
Simple Tulsi Tea Recipe

Because of its high volatile oil content, tulsi tea is best steeped for a short amount of time, like 5 to 10 minutes, covered. You can start with 1 teaspoon of the dried leaf per 12 ounces of just-boiled water and increase as desired. I have seen recommended doses of up to 4 ounces of holy basil per day, so it will be difficult to take too much of this herb. 
Every morning I make a tulsi tea blend for my handsome French husband. I consider the benefits of tulsi tea of this blend to be a wonderful way to nourish overall health, and especially heart health. 
Tulsi Tea Recipe for Heart Health

Here's how I make this blend 
I combine: 
And store it in a large glass jar.
Each morning I measure out a 1/4 cup of this blend, which is roughly 5-7 grams. I then pulse it in a spice grinder for about five seconds. This dramatically helps the extraction process and makes a super potent tea. 
I put the tea blend into a strainer that fits into a cup. And then fill that with just-boiled hot water.

About 12-16 ounces. This can steep for at least five minutes. Sometimes my husband lets it steep for as much as 20 minutes.

By the way, when making tulsi tea it's often best to use dried leaves as this makes the strongest tea. 
But if you happen to grow tulsi then it's fun to work with the fresh plant too!

I like to infuse a handful of the chopped up fresh flowering tips in a quart of cold water overnight. I strain it the next day and drink it throughout the day as a cooling and relaxing nervine in hot weather. This preparation is deliciously aromatic and has a noticeable demulcent quality to it. I find this to be especially soothing when my lungs are dry and irritated.

There are many other ways to work with holy basil! It can be used to flavor meals, like pestos. It extracts well into alcohol, glycerin and vinegar. It's especially yummy to infuse fresh holy basil in honey.

If you'd like to learn more about how to make potent herbal medicines from the plants that grow around you, whether they be in your garden, wild meadows or even your local apothecary, then check out our course, Rooted Medicine Circle. In this live ten-month course we create herbal medicines throughout the seasons together. At the end of it, you have an entire apothecary filled with potent herbal medicines that you made!
Don't miss out on your free printable recipe card for tulsi teas above this transcript!

I'm also sharing a beautifully illustrated Holy Basil ebook with you so that you can have all the benefits of tulsi tea at your fingertips. 

If you enjoyed this video on the benefits of tulsi tea and tulsi tea side effects and you value trusted herbal information, then I hope you'll stick around! The best way to get started is to subscribe on YouTube and your favorite podcast app.
One of the best ways to retain and fully understand something you've just learned is to share it in your own words. With that in mind I invite you to share your takeaways with me and the entire Herbs with Rosalee community. You can leave comments on my YouTube channel, at the bottom of this page, or simply hit reply to my Wednesday email. I read every comment that comes in and I'm excited to hear your herbal thoughts about the benefits of tulsi tea! 
Okay, you've lasted to the very end of the show which means you get a gold star and this herbal tidbit…
Tulsi is a powerful medicinal herb that is often taken internally through teas, capsules, tinctures, or even food.

Holy basil is also an amazing plant to put on your skin. We know from modern research that it can dramatically decrease skin inflammation. I know from personal experience that massaging holy basil infused oil into my skin is absolutely delightful!

I'm not the only who loves it. I make holy basil infused oil every year and gift it to friends - it's highly requested! This oil can be used to nourish the skin and is a wonderful breast and belly oil. Holy basil is also a lovely hydrosol. I often spritz this on my face and body during the hot summer months as a way to both center myself and cool down.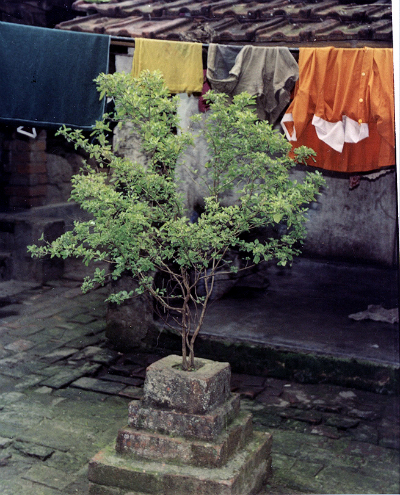 An altar with tulsi for daily worship in a courtyard in India