Season 9 Episode 11:
Holy Basil Benefits

---
---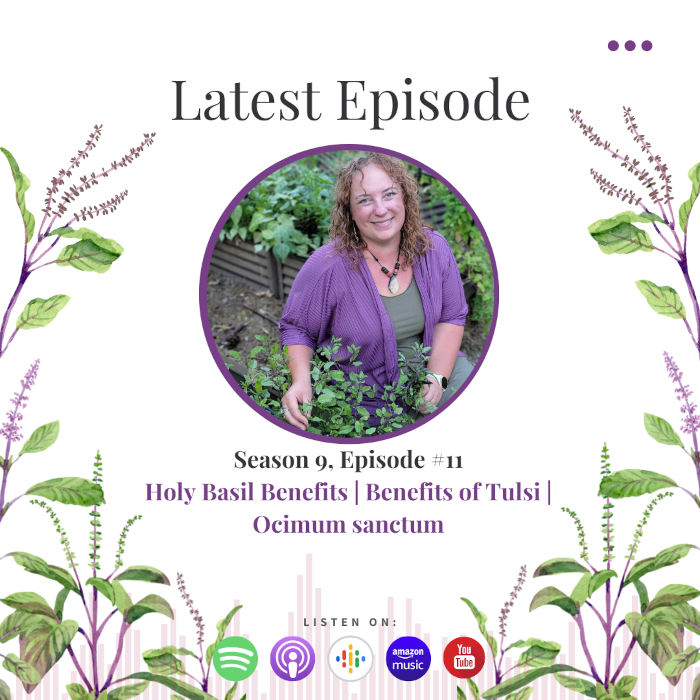 Would you prefer watching or reading this episode? If so, click here for the 'Health Benefits of Tulsi' video and transcript.
Episode Summary
In this episode, you'll learn all about holy basil benefits for your heart, immune system, brain health and so much more. In fact, there's so much to know about the health benefits of holy basil (also known as Tulsi or Ocimum sanctum) that I decided to record this episode in two parts. Watch part two, all about Tulsi Tea Benefits and Holy Basil Side Effects here.
In the meantime, I'm also sharing a beautifully illustrated holy basil ebook to give you an easy way to keep all the information I share today organized.
After listening in, you'll know:
► The differences between the four varieties of holy basil
► Why certain herbs (including holy basil) are often best taken daily over a long period of time
► Which commonly-used mouthwash active ingredient was outperformed by holy basil extract
► Five health concerns which can be benefited by holy basil's ability to decrease unwanted and chronic inflammation, as demonstrated by clinical studies. This is a big deal because most chronic diseases have some component of systemic inflammation! (As an aside, one of my passions is helping people figure out how to best work with herbs and lifestyle changes to powerfully reduce chronic inflammation so that they can finally address the root cause of their chronic illness. If that's something you or someone you love could benefit from, be sure to check out my free training at: http://herb-training.com)
► How holy basil can be worked with to address cold sore outbreaks, ringworm, or eczema

► Why holy basil can be a wonderful ally during cold and flu season (plus four other herbs you might consider taking at the same time)
► and so much more…
What You'll Learn from This Episode
[01:10] Introduction to Holy Basil syn. Tulsi (Ocimum sanctum)
[05:38] Holy basil (Tulsi) energetics 
[06:06] Holy basil (Tulsi) benefits for addressing stress
[08:17] Holy basil (Tulsi) benefits for cognitive health
[09:38] Holy basil (Tulsi) for better digestion
[10:46] Holy basil (Tulsi) for oral health
[12:01] Holy basil (Tulsi) for inflammation
[14:16] Holy basil (Tulsi) for insulin resistance and Type 2 diabetes
[15:23] Holy basil (Tulsi) for musculoskeletal pain
[15:51] Holy basil (Tulsi) for your immune system
[20:37] Herbal tidbit




Connect with Rosalee
Resources Mentioned