How to Choose the Healthiest Alaska Salmon
---
---
Salmon is one of the healthiest foods for our heart, nervous system, brain and even our respiratory system.
For example:

The children of mothers who ate salmon during pregnancy had a reduced risk of asthma.1
DHA - which is abundant in salmon and has been shown to reduce oxidative stress and enhance synaptic plasticity as well as learning and memory - is the most abundant omega-3 fatty acid in cell membranes in the brain.2
Research shows that a lifetime of eating tuna, sardines, salmon and other fish appears to protect Japanese men against clogged arteries, despite other cardiovascular risk factors.3
A study compared the anxiety levels and heart rate variability of one group of men who ate salmon three times a week, compared to a group of men who ate other sources of protein in the same regular interval. The findings showed that men eating salmon had improved heart rate variability and decreased anxiety.4
This cold water fish even helps to modulate inflammation which is one of the underlying causes of many chronic health challenges today.
I have to admit, even though I knew salmon was a nutrient dense food I was never excited about salmon dinner night.
It was actually a bit of a joke in our family. I would ask my husband what was for dinner and he would get excited (in a very fake kinda way) and declare it was salmon night and my face would inevitably fall in disappointment.

I simply didn't love the taste of salmon.

Luckily, several years ago I realized something really important!

It wasn't salmon that was the problem, it was that much of the salmon available at the grocery store is actually really poor quality salmon. The result is something that tastes overly fishy and has a poor texture.

Excellent quality salmon is absolutely delicious!


How to Find Good Quality Salmon
My friend, Emily Lints, along with her husband Kyle, runs a sustainable fishing company in Alaska. Emily and Kyle have been fishing the cold Alaskan waters for over 30 years and have been directly selling their salmon to customers for 15 years.

Their fish is sustainably harvested, carefully processed, and then shipped frozen to people in the United States.

I have been friends with Emily for over ten years! (We went to an intensive Structural Integration school together where we got to know each other really well.)

As my friend and affiliate partner she offers my readers a discount on her fish once a year!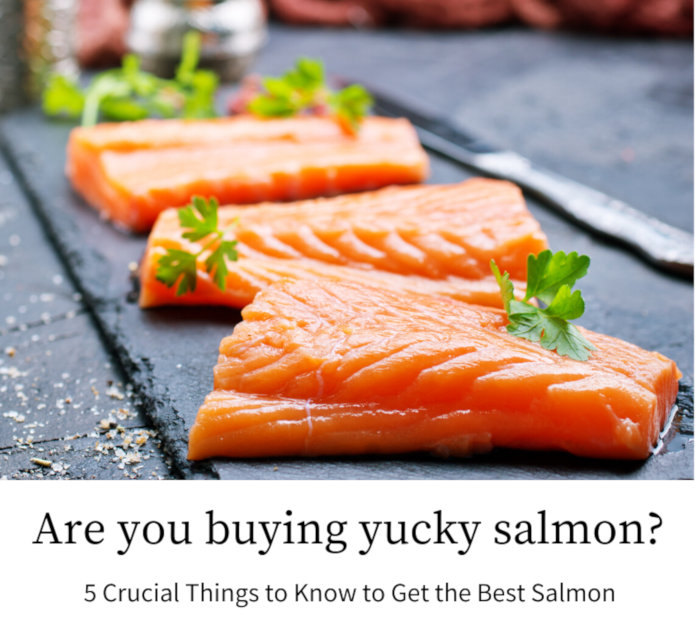 I still remember the first time I had Emily's sockeye salmon. I couldn't believe it was so good! It didn't have that fishy taste I was accustomed to and the texture was so firm (but light!). Delicious!

This superior tasting salmon isn't an accident. Emily shared with me that her small business takes extraordinary lengths to ensure that they salmon they fish tastes exceptional.

The following is a conversation with Emily.

She shares:

The best practices for choosing excellent salmon.
The difference between farmed salmon and wild caught.
The important considerations when considering a sustainable harvest.
Before we get to the interview I want to mention something very important about salmon and mercury…


Salmon, Mercury Toxicity and Fukushima

It's a sad fact that our entire earth is becoming more polluted with toxic chemicals every single day. One issue that is becoming increasingly known is that ocean-caught fish can have high levels of mercury in their system, which can then be passed on to whomever eats it.

However, despite mercury concerns, research still consistently shows that the benefits far outweigh the risks, especially when eating salmon, which is nutrient-dense and known to be low in mercury.5 

Sockeye salmon primarily eat zooplankton. Since zooplankton is lower on the food chain, it also makes them lower in mercury than other fish.

However, there are many types and qualities of salmon available, and getting the best salmon is crucial for your health.

There are also some concerns regarding salmon and other fish from the Pacific Ocean in regards to Fukushima.

"The Division of Environmental Health, in conjunction with the Alaska Department of Health and Social Services and other state, federal, and international agencies, has been testing Alaska seafood for any potential impacts resulting from the 2011 Fukushima nuclear disaster in Japan. Testing results have shown no detectable levels of Fukushima-related radionuclides."6


Interview with an Alaskan Fisherwoman

Rosalee: Let's get right to it. When you are picking out salmon from the store, how can you tell if it is high quality salmon or if it's questionable or lousy salmon? 
Emily: It's easy to see, and even smell, if a salmon is high quality. We sell sockeye Alaska salmon so I'll focus more on that.  
A wild caught Alaskan sockeye salmon should be bright red in color, rich in flavor and firm to the touch. Scale loss should be minimal, bruises and indents should also be minimal. You should also see a layer of healthy gray fat between the meat and the skin. 
Wild Alaskan salmon have a great fat content because of the cold waters and the large rivers and lakes that salmon return to. 
Why do some salmon taste overly fishy?  
Premium Alaska salmon has been bled and chilled on the boat, vacuum packed and flash frozen. All of these steps ensure a piece of salmon that has little to no 'fishy odor' and actually smells pleasant. 
Unfortunately this multiple step process doesn't always happen with large scale fisheries. We have many customers who say they never knew fish could taste so good and who only eat our seafood because they dislike supermarket seafood's off-smell and taste. 
You've specifically mentioned wild-caught Alaska salmon, how does that compare to farmed salmon? 
There's really no comparison between the two in terms of taste, nutrients and even sustainability. Farmed salmon has decreased levels of many of the nutrients found in wild salmon, including potassium and zinc. While farmed salmon has similar fat profiles to wild caught salmon, the farmed salmon contains less healthy fats. 

Farmed salmon spend their lives crowded in cages and may be fed foods that salmon don't normally eat, including grains. These farms produce a lot of toxic waste and are not healthy for the environment. 
The taste is also a huge difference. I wish everyone could take a bite of farmed salmon and then a bite of wild caught salmon; you'd never go back to farmed salmon again. 

Okay, so if I want premium quality salmon then I can go to the store, specifically look for wild-caught salmon - not farmed - and then use those visual cues that you mentioned above such as color, scales, fat content etc. Does that cover it essentially? 
Well, not exactly. There's a huge problem in the salmon markets where, depending on the season, almost half of the salmon in grocery stores is mislabeled. 
What?!
Yeah, it's pretty bad. Oceana, which is an organization dedicated to protecting the world's oceans, did widespread testing of salmon and found that 43% of salmon were mislabeled. They showed that 69% of the mislabeled salmon was marked as being wild-caught when it was really farmed. Or, in some cases, the salmon was being sold as a superior species, but it was actually an inferior one. 
Wow, so that tells me that when I buy salmon from a store I may not know what I am getting. 
Yes, and that isn't the only issue. 
It's so important to know how your fish is treated - from the sea, to the boat, to the processing, to the transportation, to your doorstep.  
If you are buying from a grocery store you don't know where your fish is really coming from, and what has happened to it every step along the way. 
Each critical step affects the quality of your seafood. 
If a fish is not bled the flavor will be fishier and stagnant blood may be present. 
If a fish is not promptly chilled the bacteria and viscera in the belly cavity begin to break down and cause degradation of the meat. 
Every time a fish is thawed and refrozen the quality decreases and the flavor of freezer burn starts to appear. Many fillets in grocery stores are shipped as whole fish, thawed, filleted, re-frozen and thawed again.   
Can you explain how you process your fish? 
We pride ourselves in offering Alaska salmon, and halibut that is really top notch. Every fish is bled as it comes on board to improve the flavor. 
Salmon are promptly placed in refrigerated sea water that is chilled to 34 degrees and halibut is layered in shaved ice in an insulated tote. 
We have our seafood processed at high-end facilities that really care as they fillet, vacuum pack and flash freeze each piece of seafood. We really work hard to make sure our fish stays frozen all the way to people's doorstep.  
Another big issue I wanted to ask you about is sustainability. There is a lot of concern right now about what is going on in our oceans and fears about over-harvesting. What's your perspective on that? 
Sustainability is, and should be, important to conscious seafood buyers. From my perspective of working within this market, Alaska seafood is managed really well. Even though fishing is our livelihood, we respect any fishing restrictions we are put on because the long term health of the fishery is paramount.  
It's not a one-size fits all solution either as each type of fish is regulated differently. 
When it comes to our Pacific Halibut we are regulated with an Individual Fishing Quota, specifying the exact pounds we can catch between the spring and fall of each year.  We own a permit and a set quota and each year the National Marine Fisheries Service tells us what percentage of our quota we are able to catch. They regulate the catch with the ebbs and flows of the resource.  If the halibut stock is growing slowly or numbers are low; as it is now, we are only allowed to fish for a small percentage of our quota. This is why halibut prices are currently high!
Our Sockeye Alaska Salmon is managed quite differently by the Alaska Department of Fish and Game, but all with a focus on the longevity of the fisheries. Salmon are a spawning fish and they return to their home rivers and lakes in mass numbers in a short amount of time. They are managed with an escapement goal, meaning that a pre-determined number of fish are allowed to return to their home river to spawn. Each river has a separate goal and fishing boats are restricted with time-and-area closures to make sure these goals are met. A river can be shut down to fishing completely if an escapement isn't on track or heavy fishing pressure can be encouraged if way too many fish are going to overburden the river. 
We fish in Bristol Bay, Alaska which is the western part of the state.  This year alone the forecast is for 46 million sockeye salmon to return to Bristol Bay.  Our fishery is highly regulated of when and where we are allowed to fish.  
Salmon are actually counted as they return up river in Alaska by people stationed in watch towers and sonars.  Each year there is an escapement goal of how many fish the biologists want to return up river.  If at any point the biologists goal is not met that river is closed to fishing to ensure future runs.
I really want to accentuate this because salmon sustainability is a really important issue to me. I know many people are concerned about the sustainability of salmon and rightly so. In 2019, for example, there were very few salmon returning to the Canadian British Columbia. How are the salmon populations specifically where you fish? What are the outlooks for 2020?
Bristol Bay is still the largest sockeye salmon run in the world.  The last number of years in Bristol Bay have recorded some of the highest numbers of sockeye salmon ever returning to this region.  40-50 million salmon have returned in recent years.

Okay, so to sum this up, what are the key concerns when wanting to buy the best salmon? 
In buying quality seafood you need to ask yourself if you know if your seafood was 
bled 

iced 

promptly processed 

vacuum packed and flash frozen and 

has remained frozen up until you thaw it to eat. 
You should also ask if it's from a proven, sustainable source and, lastly, if you're supporting a small fishing family or a large corporation.    
Thank you Emily! If people are interested in buying salmon and other fish from your family business, how do they go about doing that? 
We sell most of our seafood in Pre-Season Seafood Shares, making us similar to a Community Supported Agriculture (CSA) or a Community Supported Fishery (CSF). 
This means that people place bulk orders once or twice a year (rather than repeated small orders).
Fishing is a roller coaster and your purchase helps buffer our family business for years when seafood prices drop at the dock and fish returns are low. 
Thank you Emily! I really enjoy your salmon as it is the best I've ever tasted and I know that I am getting it from a healthy and sustainable source. 
I also regularly order halibut from you as well because I really value knowing exactly where my fish is coming from and that it was harvested in a sustainable way. 


Direct Salmon (at a Discount!)
You can purchase Emily's salmon, halibut, hooligan (smelt), smoked salmon and other fish in three different ways:

1. Pre-ordering Seafood Shares (happening now)
2. Forming a Bulk Buying Club to get our best price on Salmon Share shipments (Basically going in on a large order with friends and neighbors).
3. Ordering Seafood In-Stock after our season, as available.
If you order from November 1st to November 11th you can use the discount code ROSALEE2021 and receive $20 off of your order of 24 pounds or more. 
To see more of their offerings you can visit their website Small Scales Seafood. 
There you will find more information about their fish and philosophies. Emily is also happy to answer questions you might have, about their offerings or buying salmon in general. You can email her directly at emily@smallscalesseafood.com. 
Looking for Healthy Alaska Salmon Recipes? Try this great Spiced Marinated Salmon Recipe!
Citations
Click to show/hide.