Alaska Salmon Recipes
---
---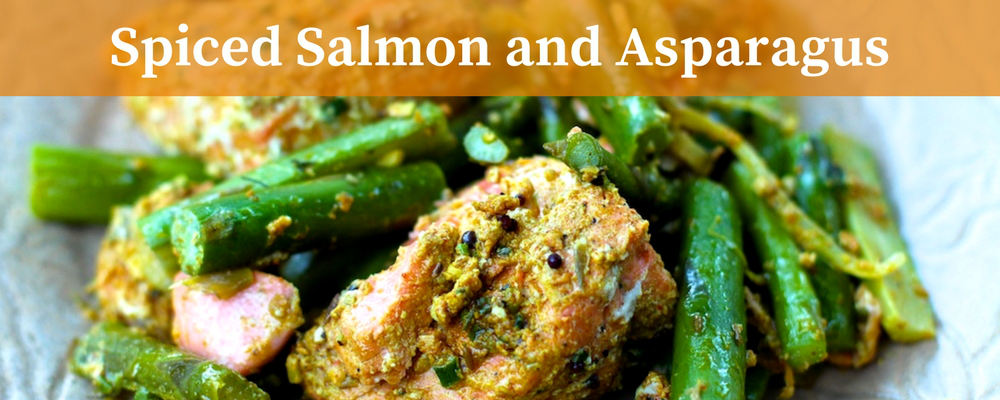 Salmon is a delicious gift from the sea and rivers that is full of healthy fats and proteins - many of which are especially beneficial for heart health. 

We unfortunately live in a time where we have to be really careful about where we get our salmon. To read about how to source the best salmon see this interview with my friend and Alaskan fisherwoman Emily Lints. 
Alaska Salmon Recipes: Marinated Spiced Salmon With Asparagus
We eat salmon several times a week and I especially love that salmon is both nutrient dense and so EASY to make. This recipe is a simple one pot meal that is full of delicious flavors and many heart healthy spices. If asparagus isn't in season you can easily substitute other veggies like broccoli or green beans. 

Ingredients for the Alaska Salmon Recipe
8 tablespoons olive oil, divided
1.5 tablespoons fresh ginger, minced
1 large shallot, thinly sliced
2 tablespoons minced chives
1 teaspoon salt, divided
1 teaspoon freshly ground black peppercorns, divided
2 teaspoons chili powder
2 teaspoons freshly ground coriander seeds
1 teaspoon cumin powder
1 teaspoon fennel powder
2 teaspoons turmeric powder
1/2 teaspoon dried thyme
1.7 pounds salmon fillet, skinned and cut into 2-inch pieces
1 tablespoon lemon juice
1/2 teaspoon whole cumin seeds
1/2 teaspoon brown mustard seeds
2.2 pounds asparagus, trimmed and cut into 2-inch pieces (the large ones should be cut in half to match the size of the thin ones)
Directions for the Alaska Salmon Recipe
In a medium-size bowl, mix 4 tablespoons of the olive oil, the ginger, shallot, chives, 1/2 teaspoon of salt, 1/2 teaspoon of black pepper, chili powder, coriander, cumin powder, fennel powder, turmeric powder, and thyme. 
Add the salmon and drizzle the lemon juice over it. Then mix everything together so the salmon is well coated with the olive oil mixture, taking care not to break up the salmon pieces. Cover the bowl and store in the fridge for about 4 hours.
Remove the salmon from the fridge. In a large skillet, heat up the remaining 4 tablespoons of olive oil on medium-high heat. Add the cumin seeds and mustard seeds. When they start to sizzle, add the asparagus and remaining salt and pepper. 
Stir, cover, and cook for 10 minutes. 
Stir and add the salmon pieces on top of the asparagus. After 5 minutes, stir the salmon into the asparagus, cover, and cook for an additional 5 minutes until everything is cooked through but the asparagus is still crisp.