Foraged Tea for the Heart Recipe
---
---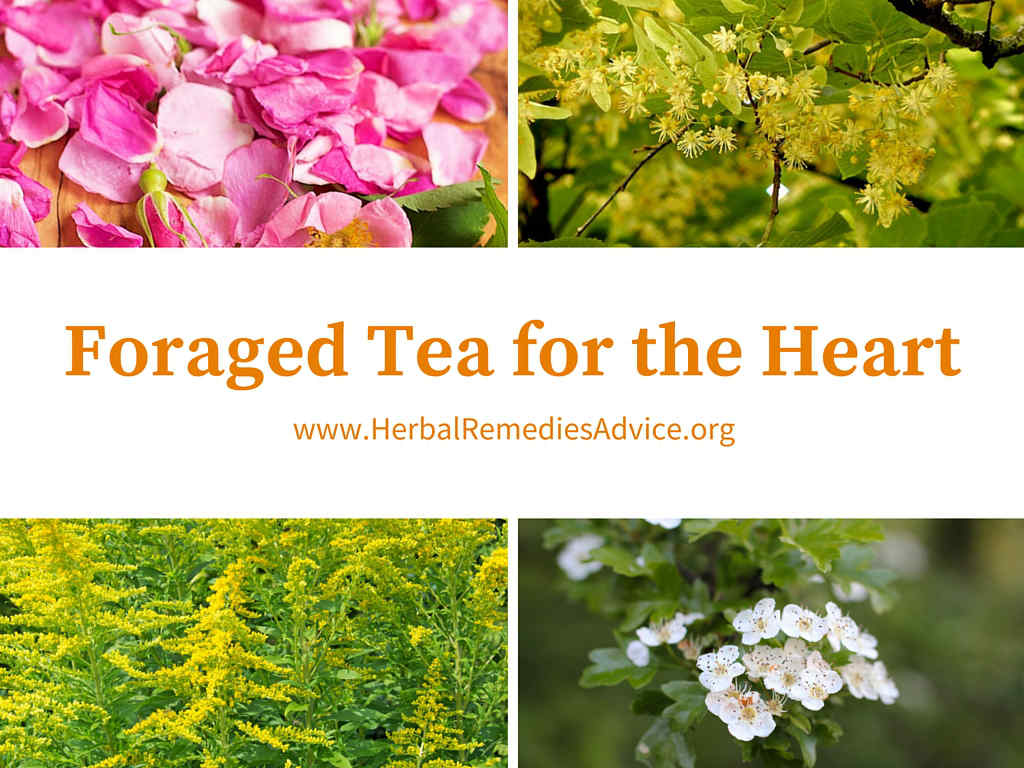 My friend Butter at Hunger and Thirst has been requesting wild harvested tea recipes for her monthly Wild Round Up so I am inspired to share one of my favorite nourishing herbal infusion blends with you. (Read more about nourishing herbal infusions here.) 
This infusion is strongly protective for the heart and all the ingredients can be wildcrafted in many parts of the US. 
I drink this blend to support regular healthy heart function. It could also be suitable for people with high blood pressure but is probably not ideal for those with low blood pressure. 
Here's a brief look at our ingredients...
Linden Tea for the Heart
Linden trees are not native where I live, but they are planted ornamentally and can be easily found for foraging. I harvest the leaves and flowers when in bloom, being careful not to upset the plethora of bees that are usually there in mass drinking their fill. 
Linden (Tilia spp.) is commonly used by herbalists for people with hypertension. I surmise it works as a relaxing nervine that relaxes the vasculature and decreases blood pressure. 
[Linden] also cleans the blood and makes it more fluid. This means that it is a valuable defense against arteriosclerosis, phlebitis, angina and heart attacks. Naturally one must not expect much from it after these troubles have already occurred: I am recommending the lime as a preventative, and as this you cannot start taking it soon enough.
 - Maurice Messegue, Health Secrets of Plants and Herbs
Read more about the health benefits of Linden here.
Hawthorne Tea for the Heart
Hawthorne (Crataegus spp.) is well known for its ability to protect, strengthen and improve heart function. It has been shown to normalize cholesterol levels, lower blood pressure and reduce inflammation (which is often associated with heart disease). 
I commonly use it in blends for people with hypertension. I've found that fairly high doses need to be taken to see results. (As well as lifestyle adjustments such as diet, exercise, breathing/meditation, etc.) 
Although the berries are best known for the heart-protective properties the leaves and flowers are also high in flavonoids known to protect the heart. 
Read more about the health benefits of Hawthorne here.
Goldenrod Tea for the Heart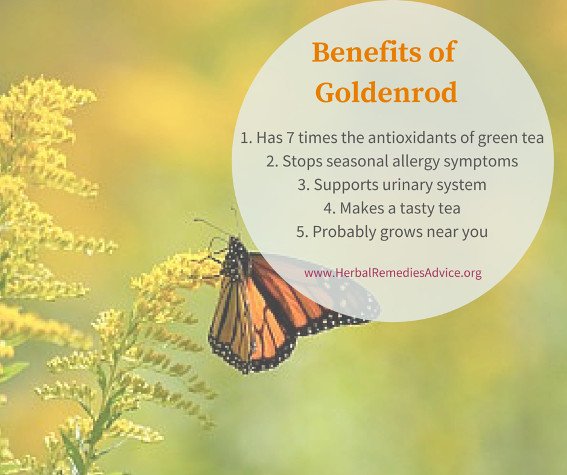 Goldenrod (Solidago spp.) is less well known for the heart. However, this fabulous and abundant native plant is super high in antioxidants that protect the heart. 
Goldenrod is a good source of the constituent rutin. This flavonoid is well-known for its antioxidant benefits and is considered especially beneficial for heart health. Rutin can increase capillary strength and support healthy circulation throughout the cardiovascular system. It is also being studied for its ability to stop angiogenesis (and therefore play a role in stopping certain kinds of cancers.)
Have you tasted goldenrod tea? It is a very tasty tea, slightly sweet and astringent with a hint of volatile oils. A tasty treat with a higher antioxidant level than green tea!
Read more about the health benefits of Goldenrod here.
Rose Petals Tea for the Heart
Our wild roses bloom in June and this is easily my favorite foraging time. Delicately gathering the soft petals with their delicate scent surrounding me on a warm summer day is easily one of my favorite memories each year. We gather enough rose petals to make all sorts of rose potions like rose-infused vinegar, rose infused in tequila, rose- infused oil for my wild rose facial cream and some years we even make rose petal mead. 
Roses have long been associated with the emotional heart and love. 
Foraged Tea for the Heart Recipe
You can make this in any amounts you desire. 
I like to use about a 1/2 cup of each herb. Place everything in a quart mason jar. Fill with just-boiled water, stir briefly, and let sit overnight. In the morning I strain the infusion and enjoy it throughout the day. 
I often gift a version of this tea in wedding baskets. It's a beautifully packaged tea with those beautiful rose petals shining through.