Season 8 Episode 13:
Arrowleaf Balsamroot

---
---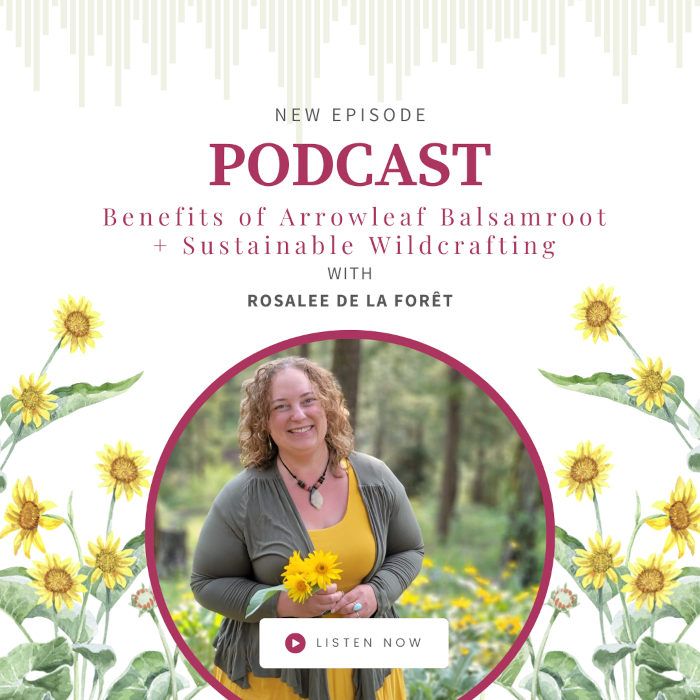 Would you prefer watching or reading this episode? If so, click here for the 'Arrowleaf Balsamroot' video and transcript.
Episode Summary
Arrowleaf balsamroot (Balsamorhiza sagittata) is a stunning flower, a nutritious food, and a potent herbal medicine that grows all over western North America. Here's just a smattering of arrowleaf balsamroot's medicinal gifts to tempt you…
Arrowleaf balsamroot:
► Relieves the misery of sinus or lung congestion from a cold or flu
► Soothes cold, sore muscles 
► Disinfects wounds
► and more…
Between its cheerful blooms, its hillside-stabilizing and medicinal roots, and its pleasantly resinous-tasting spring shoots, who wouldn't fall in love?
That said, when you harvest roots for medicine, you're injuring or perhaps even killing the plant. And arrowleaf balsamroot plants take a long time to reach their full stature.

That's why with this episode, you'll also receive FREE access to a downloadable wildcrafting checklist, so you'll have the know-how to harvest sustainably, ensuring a plentiful yield for years to come.

After listening in, you'll know:
► The easiest way to prepare balsamroot seeds for food
► How to work with arrowleaf balsamroot tincture for a sore throat
► The best digging tool for harvesting roots (surprisingly low-tech!)
► What herbs to work with if arrowleaf balsamroot isn't a locally abundant plant for you 
---

Arrowleaf balsamroot has many offerings as food and medicine but the first gifts they offer are the joy they bring with their bright sunny blooms.
l


---
What You'll Learn from This Episode
[01:09] Introduction to Arrowleaf balsamroot (Balsamorhiza sagittata)
[03:26] Arrowleaf balsamroot in the Spring
[05:47] Arrowleaf balsamroot in the Summer
[08:50] Arrowleaf balsamroot in the Autumn
[13:08] How to ethically and sustainably harvest arrowleaf balsamroot
[13:45] Arrowleaf balsamroot in the Winter
[15:08] Arrowleaf balsamroot tidbit



Download Your Wildcrafting Checklist

Connect with Rosalee
Resources Mentioned