Season 8 Episode 5: Spiny Amaranth
with Sunny Savage

---
---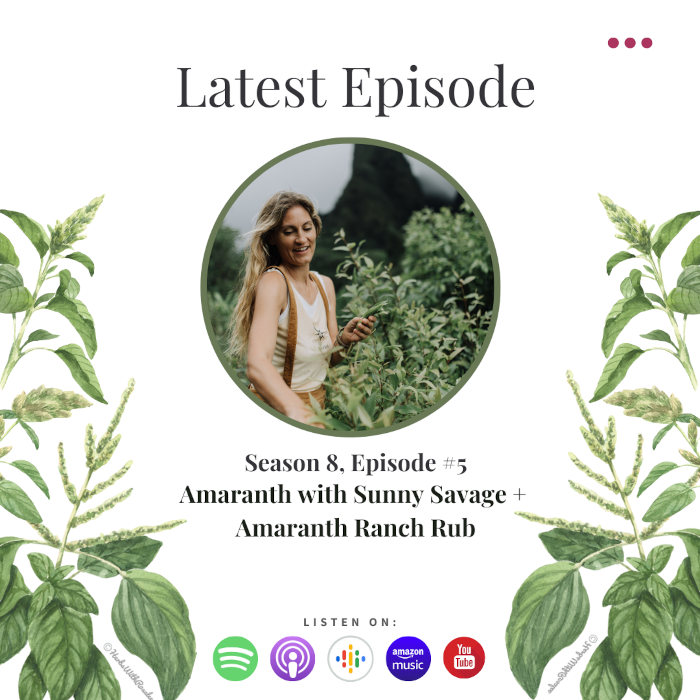 Would you prefer watching or reading this episode? If so, click here for the 'Spiny amaranth benefits' video and transcript.
Episode Summary
It's not every day that you'll hear someone express love for a "pernicious" weed. But by the end of this episode, I think you'll understand exactly why Sunny Savage loves spiny amaranth (Amaranthus spinosus) and why I seriously can't wait for amaranth to start popping up in my own garden this spring.
Really, what's not to love about a plant that:
► Takes care of itself (your only work is to harvest and cook)
► Is deeply nutritious…to quote Sunny, "ticking lots of boxes on my nutritional needs"
► and tastes good, to boot
By the end of this episode, you'll:
► Have a new perspective to consider about working with the edible invasive plants of your ecoregion
► Have some basic ID tips for amaranth species (Sunny even brought a demo plant you can look at!)
► Know how to avoid the herbal mistake that left Sunny with a pit in the bottom of her stomach when she realized what she'd done
For those of you who don't already know Sunny, she is a mother and wild food forager, whose life is dedicated to helping people identify, harvest, and prepare invasive plant species through her mobile app the Savage Kitchen. She is the author of the book Wild Food Plants of Hawai'i and hosted the internationally-airing wild food cooking television series Hot on the Trail. In addition, she has been a headlining chef at the "Taste of Chicago", a TedxMaui presenter, and served as faculty at the White Earth Tribal & Community College. Sunny earned a Master's Degree in Nutrition, focusing on the antioxidants in wild greens.
An avid adventurer, Sunny traveled to every continent before her 30th birthday and has learned from plants and people along the way. She has called the island of Maui, Hawai'i home for the last 14 years, but previously adapted to life aboard a sailboat for over 3 years, in an RV for a year, at a research station in Antarctica for a year, and grew up without electricity or running water in the wilds of Northern Minnesota. She enjoys distilling her observations of the natural world into storied solutions.
I'm so happy to share our conversation with you today!
---

If they only knew: Spiny amaranth, in particular, can be up to 87% of the human nutritional needs from one plant. That's eating the seeds, the leaves.
l

---
What You'll Learn from This Episode
[01:09] Introduction to Sunny Savage
[03:26] How Sunny found her plant path
[06:44] How a dream led Sunny to nettle textiles… and beyond
[10:20] A culinary approach to invasive plants
[13:44] Why Sunny chose spiny amaranth (Amaranthus spinosus) as a focus for this episode
[18:40] Are all amaranth species edible?
[20:32] Basic ID tips for amaranth species
[24:05] Why would you want to eat spiny amaranth?
[30:41] Amaranth Ranch Rub recipe
[34:23] Amaranth harvesting and cooking tips
[41:05] The Savage Kitchen app and Wild Food Plants of Hawaii
[46:47] A lifelong lesson from a harvesting mistake
[54:06] Herbal love letters
[54:41] Amaranth tidbit



Get Your Free Recipe!

A versatile powdered mix to have on hand, which can be added to sour cream or skyr or yogurt to make a quick and delicious party dip.

Ingredients:
Instructions:
Mix all ingredients thoroughly. Store in jar with tight fitting lid.
Connect with Sunny

Connect with Rosalee
Are You Ready for More Herbal Inspiration?
The best way to get started is by joining my herbal community and weekly newsletter where I share my best herbal tips and insights.

When you join you'll also get access to The Herbal Jumpstart Course which helps you figure out the best herbs for you.
Sign up below!