Spiny Amaranth Benefits with Sunny Savage

---
---
It's not every day that you'll hear someone express love for a "pernicious" weed. But by the end of this episode, I think you'll understand exactly why Sunny Savage loves spiny amaranth (Amaranthus spinosus) and why I seriously can't wait for amaranth to start popping up in my own garden this spring.
Really, what's not to love about a plant that:
► Takes care of itself (your only work is to harvest and cook)
► Is deeply nutritious…to quote Sunny, "ticking lots of boxes on my nutritional needs"
► and tastes good, to boot
By the end of this episode, you'll:
► Have a new perspective to consider about working with the edible invasive plants of your ecoregion
► Have some basic ID tips for amaranth species (Sunny even brought a demo plant you can look at!)
► Know how to avoid the herbal mistake that left Sunny with a pit in the bottom of her stomach when she realized what she'd done
For those of you who don't already know Sunny, she is a mother and wild food forager, whose life is dedicated to helping people identify, harvest, and prepare invasive plant species through her mobile app the Savage Kitchen. She is the author of the book Wild Food Plants of Hawai'i and hosted the internationally-airing wild food cooking television series Hot on the Trail. In addition, she has been a headlining chef at the "Taste of Chicago", a TedxMaui presenter, and served as faculty at the White Earth Tribal & Community College. Sunny earned a Master's Degree in Nutrition, focusing on the antioxidants in wild greens.
An avid adventurer, Sunny traveled to every continent before her 30th birthday and has learned from plants and people along the way. She has called the island of Maui, Hawai'i home for the last 14 years, but previously adapted to life aboard a sailboat for over 3 years, in an RV for a year, at a research station in Antarctica for a year, and grew up without electricity or running water in the wilds of Northern Minnesota. She enjoys distilling her observations of the natural world into storied solutions.
I'm so happy to share our conversation with you today!
-- TIMESTAMPS --

01:13 – Introduction to Sunny Savage
03:31 – How Sunny found her plant path
07:00 – How a dream led Sunny to nettle textiles… and beyond
10:59 – A culinary approach to invasive plants
14:40 – Why Sunny chose spiny amaranth (Amaranthus spinosus) as a focus for this episode
19:59 – Are all amaranth species edible?
22:02 – Basic ID tips for amaranth species
26:13 – Why would you want to eat spiny amaranth?
33:31 – Amaranth Ranch Rub recipe
37:24 – Amaranth harvesting and cooking tips
44:39 – The Savage Kitchen app and Wild Food Plants of Hawaii
50:53 – A lifelong lesson from a harvesting mistake
58:11 – Herbal love letters
58:47 – Amaranth tidbit
Get Your Free Recipe!

A versatile powdered mix to have on hand, which can be added to sour cream or skyr or yogurt to make a quick and delicious party dip.

Ingredients:
Instructions:
Mix all ingredients thoroughly. Store in jar with tight fitting lid.
Connect with Sunny

Transcript of the Spiny Amaranth Benefits with Sunny Savage Video
Rosalee de la Forêt:
Hello and welcome to the Herbs with Rosalee Podcast, a show exploring how herbs heal as medicine, as food and through nature connection. I'm your host, Rosalee de la Forêt. I created this Channel to share trusted herbal wisdom so that you can get the best results when relying on herbs for your health. I love offering up practical knowledge to help you dive deeper into the world of medicinal plants and seasonal living.
Each episode of the Herbs with Rosalee Podcast is shared on YouTube, as well as your favorite podcast app. Also, to get my best herbal tips as well as fun bonuses, be sure to sign up for my weekly herbal newsletter at the bottom of this page. Okay, grab your cup of tea and let's dive in.
If you love falling in love with weedy plants, and I'm guessing you do, then you'll be head over heels for this fun and informative episode with Sunny Savage. I seriously can't wait for amaranth to start popping up in my own garden this spring and that's something that you don't really hear all that often.

For those of you who don't already know her, Sunny Savage is a mother and wild food forager, whose life is dedicated to helping people identify, harvest and prepare invasive plants species through her mobile app, the Savage Kitchen. She's the author of the book, Wild Food Plants of Hawai'i, and hosted the internationally airing wild food cooking television series, Hot on the Trail. In addition, she has been a headlining chef at the "Taste of Chicago," a TedxMaui presenter and served as faculty at the White Earth Tribal & Community College. Sunny earned a Master's Degree in Nutrition, focusing on the antioxidants and wild greens.

An avid adventurer, Sunny traveled to every continent before her 30th birthday and has learned from plants and people along the way. She's called the island of Maui, Hawai'i home for the last 14 years, but previously adapted to life aboard a sailboat for over 3 years, in an RV for a year, at a research station in Antarctica for a year, and grew up without electricity or running water in the wilds of Northern Minnesota. She enjoys distilling her observations of the natural world into storied solutions. You can visit Sunny at sunnysavage.com. 
Welcome to the show, Sunny. I am just so thrilled to have you here.

Sunny Savage:
Just stoked to be here, Rosalee.

Rosalee de la Forêt:
I'm really excited for you to share about your path on with the plants because I just read your bio, which has a lot of interesting things in it, and I know there's even other things missing from that bio of created endeavors you've done. I would love to hear more about from growing up without electricity and running water to travels, to—just all the ways that you found yourself in love with the plants and what's come of that.

Sunny Savage:
It's amazing when you start to really put it on a timeline and reflect. I feel like they've always held me. There's always been this amazing connection. My mom says that when I was born, the forest was carpeted with Trilliums. Trilliums have always been a favorite flower of mine. I certainly grew up with a fun, unique scenario, and that my parents were hippie, back-to- the-landers. We lived for the first several years without electricity and running water, and then we built our own house that means logging the lumber and the whole thing from A to Z in the community with about five other families. We lived together but we all helped each other build houses.

Growing up tapping maple trees and eating wild flowers and berries was just my regular life, but there was an absolute shift that happened for me and my realization of the scope of how much wild food there truly was around us. When I graduated from high school, I went and lived in Antarctica for a year. I was eating canned and frozen foods and really realizing my parents did feed me good food. I like to eat good food, real food. When I returned home, I immediately entered into a nutrition program. At the same time, my mom had gotten into herbal medicine and we were making tinctures and salves and herbal hair rinses and identifying plants every weekend for fun. I remember reading in one of Susun Weed's books that you could eat some of these medicinal plants like the nettles and the violets. It was really truly my moment where it was like, "Oh, my gosh!" I felt very pissed off that nobody had ever told me how much was really at our fingertips. It's beyond our trajectory and it really—I'm almost 46. Since I was 19, it's really been my path. It's taken me down all sorts of amazing roads on this plant journey, but has been my one true dedication.

Rosalee de la Forêt:
All of that is just so interesting. I'm chuckling to myself that canned food brought you to nutrition and then you're just opening up wider and wider from there.

Sunny Savage:
Take something away and then it really builds that awareness and wow, I've got that respect for eating real food.

Rosalee de la Forêt:
You are very well known for wild foods in particular and one thing I wanted to talk about is your textiles because I think that's something cool that I know about you and just what—maybe you could just—I'll just let you go from there about what you've done with textiles in the past.

Sunny Savage:
I feel like a lot of my often times big moves in my life have been guided through dreams. When I started working with the wild foods, we were tincturing nettle and I always tend to get a headache from it. I really avoided nettle for many, many moons and then I had a dream about making clothes from wild nettles. So I woke up with this renewed curiosity towards nettles and spent months trying to find anyone who was still doing that ancient craft.

This would've been around 2006, I found the Kulung Rai tribe in Nepal who still traditionally harvest a nettle family plant, Girardinia diversifolia. I didn't want to support some child labor or something unknown to me, so I actually traveled there and documented their processing of the fiber and started a clothing company that really was built around the wild nettle fabric. We also included milkweed fibers, and then all of the other bamboo, organic cotton, tensile eucalyptus fabric kind of things.

I then got into natural dye. My family had a personal connection with an auntie who was not able to take penicillin. The family lived in Algeria and so they were taken under the wing—her care was taken under the wing of a local medicine man who used dyed cloth that was infused with herbs to treat her. This story had always played in my imagination and then I became familiar with Ayurvastra in the Ayurvedic tradition where garments, as well as bedding and towels will be prescribed for certain traditions. I got into this concept of medicinal clothing.

I still keep up with the dying, but I let go of the clothing company at this point, but it was a definite path for me. I learned a lot along the way. My thing now is pretty much everything I wear is from thrift stores, so that's kind of my approach to modern consumerism around the fashion industry. Occasionally, if I find some beautiful thing that supports a local artist or something like that, I'll go but I'd say 85% to 90% of my clothing now just comes from the thrift store.

Rosalee de la Forêt: 
Nice. I remember when you gave up the… walked away from the clothing and you sent me fabric from that. I brought this out. You had sent me this beautiful fabric and I just felt so honored to receive it. It was quite a big bolt, a lot of yardage so I had it made into a bag and I gave that to herbal students that I had. This is—I don't know—2014 or something. It seems like it was a while ago, but it's just such a beautiful fabric and something—it's lasted so well and something I will treasure for a long time. Thanks for sharing that. I learned some things I didn't know with that story as well. 

Sunny Savage:
My pleasure.
Rosalee de la Forêt:
And so now you work a lot with invasive plants and eating them up. I'd love to hear about that, as well as the plant that you've chosen for today.

Sunny Savage:
I moved to Hawai'i 14 years ago. I was hosting a wild food television show. A wild food cooking show came here to film and I ended up staying. I immediately felt like a fish out of water. Oh, my goodness! Living in the subtropics, tropics, was totally new to me and it took me some time to learn some things. I slipped into my teaching mode of sharing information about plants and quickly realized that when you live on an island, sharing plants that aren't as abundantly resourced is unwise. I shifted to keeping the knowledge alive around the biodiversity that we have, but really outwardly focused teaching about invasive species.

Hawai'i is often times called the "invasive species capital of the world." We just have such high rates of endemism and that means that they are plants or animals, insects, fungi, whatever, that are found here and nowhere else on the planet. Everybody loves Hawai'i, but then there's this extra layer of it really truly is a unique place ecosystems-wise, and so we have many invasive species that what I really realized there was such this need within the culture of people living here to grieve the incredible loss of biodiversity that's happening. In that grief or unacknowledged grief or nowhere to put the grief, a lot of large scale grants are put in place to eradicate invasive species. There's a very high chemical use and negativity around invasives here that is amplified because of that and that really didn't feel right to me either. 
I've been in a sometimes unpopular position of trying to change the story around invasives, mostly just through advocating their use, eat the invasives. Sure, it may not be realistic that we're going to eat everything, but we're certainly going to put a damper on increased seed dispersal. We are shaping our environment. Through time we start to have those practice. We start to really build them into our lives that they will have an ear for them, will have an understanding of how to be in relationship with them in a more balanced way. 
Most of my work now focuses pretty extensively—not exclusively but almost exclusively—on the promotion of eating edible invasive species.

Rosalee de la Forêt:
And I'm guessing amaranth is a prolific one there.
Sunny Savage:
Indeed it is, yes. I really sat on this question of which plant to choose because we're plant people and these are very hard questions. We have spiny amaranth here, Amaranthus spinosus, which is a pretty intense invasive of tropical and subtropical areas. Obviously, we see our zones changing and this is certainly found in temperate areas as well now. It is very much—I just—in general conversation, people have a lot of negativity towards it. It's got the sharp double spines. If you're trying to do any type of garden and farming, this is where its presence is really especially felt in our industrial-agricultural systems. In my own personal journey, I did not have this plant—certainly it was around and I was eating it, but truly a few years ago, going through some health challenges of my own, then boom! The plant is everywhere and so that only added to, "Look what's growing in your own yard as the medicine you need."

It really has become a close herbal ally but I just so look to this plant as such a champion in the medicine that humanity needs at this time. It is overstanding the onslaught of chemicals. It's this weedy annual that is literally becoming, like they say, "resistant," considered a "super weed," meaning that it's like, "I'm showing up for life and you're not really going to be able to stop that." For me, when there's something that has so much strength, so much joy and presence in just showing up over and over amidst the chemical onslaught.

To me, when I eat that plant that genetic transfer of information is happening and I am therefore, being informed on how to overstand that myself because it's all connected at this point. Everybody wants to go to the mountain top to harvest a "pristine" wild food, but glyphosate is water soluble. It's found in Antarctica now. It's traveling and it's everywhere. Eating these weedy invasives that are actually growing right where we're living and not having to travel out into remote wilderness areas has such a profound appeal to me at this time.

I just feel like we're in the sixth mass extinction. Humans, if we look out our windows, so much of the global population will have that plant--will have that plant growing in vicinity of them. How profound that it is spermatogenic. It increases the motility of sperm and testis weight, so as we—yeah, we have over 8 billion people, but we're decreasing our fertility and that's going down. If we choose to be in relationship with it, it offers a wide, broad stroke of medicinal as well as nutritive effects for us. I just truly am in awe of it and its tenacity for life, to be that "last one standing" kind of thing. I mean, it's just really there! I eat it on average, probably at least four times a week. Sometimes more, sometimes maybe less, but it is hugely a part of my day to day.
Rosalee de la Forêt:
The information download that you're talking about, Sunny, I just have the sense of, "I am resilient." It just feels very reminiscent of dandelion too. We love that as herbalists, right? The dandelion poking out between the sidewalk cracks. This amaranth seems to have a very similar feeling and underlying message that comes with its gifts.

Sunny Savage:
We don't really have a lot of dandelion here in the-
Rosalee de la Forêt:
Right. You got amaranth. I do have lots of questions. One question I know will be one of the most common questions people are wondering right now because I'm wondering it too, is there are many kinds of amaranth out there. I have one that grows all over my garden. I don't know the species name on that. I've never keyed it out. We just—people will call it "common pigweed," and I just call it amaranth, but there's many. I'm sure, many, many different species out there. Are you aware if most or many of them can be worked with in a similar manner?

Sunny Savage:
Yeah, I guess I can say with confidence that there are no toxic amaranth weeds. It doesn't mean that all of them are necessarily edible. There are some with some small, rougher leaves like the one endemic amaranth that we find in Hawai'i, but it's only on one island in the northwest island chain which is 250—over 250 islands off of the mainly inhabited Hawai'ian islands. Anyways, just to say that if you're specifically in Hawai'i, we have 7 to 9 documented wild amaranths--all of them are edible. There are some key takeaway pieces for identifying an amaranth, but as far as getting down to the specific species, not as necessary. Once you open that up into the wider world, I can't say with confidence as much, but it's a pretty safe one, Rosalee. It's a pretty safe one. It's very abundant around the globe so most people will be like, "I have an amaranth growing around in my zone." 
Rosalee de la Forêt:
Wonderful. We'll put up some images of amaranth for those people watching on video. I have to be honest. I don't feel bad that our local species doesn't have spines. I'm wondering if you could give some basic identification tips for amaranth, in general.

Sunny Savage:
Amaranth is an herb. It's not going to be a shrub or a tree. Let's say, on average, not really extend past hip height. There are some like a palmer amaranth that can get quite tall as well, as well as some of the showy ones that are grown in garden spaces. There are some variability within amaranth, the Amaranthaceae. It's got alternate leaves but there is some variability within that. Sometimes the new towards the top, the new growth, can almost appear opposite leaves at times. With the spiny amaranth here, it's really awesome because it has the double thorns at the leaf base where it meets the stem. The leaf petiole is very long – that's the leaf stem. Even though there are those spines, you don't usually have to get your hand in super close, so they're pretty easy to just pluck—pluck the  leaves off of-
Rosalee de la Forêt:
How considerate.

Sunny Savage:
It's quite considerate indeed. The amaranth has a not—almost unidentifiable flowers. The flowers are very small, but the seed heads is—well, for those who are watching online, you can see how it has this top like this. This is just so typical of the amaranth, the look and shape. It's not just one cluster. It can also be from the end of each of those stems. It's got the alternate branching. It has—it's dioecious-like. It has the flowers both here at the leaf base, as well as at the top. You have both male and the female together, you can see that. I find that, especially in the ones in Hawai'i, when you go to the tip of the leaf—this is a super great example—there's a little notch. It doesn't come to an exact point. Sometimes it's really obvious, sometimes it's not as obvious, but there's a little notch where it doesn't go to a point. It goes like that. It's always going to be a little wider towards the bottom of the leaf vs. out towards the non-point.

Not always, but sometimes there will be kind of a red veining to either the leaves or the stems which comes from a powerful antioxidant called "betalains," which is the same thing that you find in beets. Not always, but sometimes you find a Chevron shape that's the mark of the goddess, that's where the petrol chemical company took over the symbol. That's some kind of a V-shape, an inverted V-shape. As you can see, I'm saying several things that are "sometimes but not always." I'd say that the flower head at the top is such a great identifier for amaranths and the alternate leaves. I'm trying to think what else.

Rosalee de la Forêt:
I think you've covered it very well. It gives a great sense. Now, my next question is – Why would you want to eat amaranth? You say you eat it maybe four times a week. I'm especially thinking of all these gardeners who—I mean, this is a strong word, but people hate this plant. People hate amaranth. When people call it "pigweed" it's with detest. They do not like it.

Sunny Savage:
Absolutely, if they only knew. Spiny amaranth, in particular, can be up to 87% of the human nutritional needs from one plant. That's eating the seeds, the leaves, that was the only thing used in the analysis. I eat the roots as well. We're talking something that for a wild green—for example, has a lot of protein, carbohydrate, fiber. Of course, any wild green have this beautiful array of micronutrients which are so often lacking in cultivated plants. Even organically grown, conventional crops are grown only with three main fertilizers. Our wild foods, in general, are very high in the micronutrients, those minerals and vitamins.

The amaranth is especially high in iron. Of course, magnesium, the low-hanging fruit, which you probably are aware that upwards of 70% of Americans are deficient in magnesium. It is—did I mention up to 87% of your nutritional needs from one plant? That's not a small number. Really, truly profound nutritive, deeply nourishing to the body. The leaves have been found to have more chlorophyll in them than a supplement that you would buy at a health food store, so that deep chlorophyll rejuvenation, obviously for the blood building, strengthening.

Where the plant originates from in Mesoamerica, so the Aztec. You know the plant is good. It was banned in 1519 by the Catholic church, so that tells you something right there. The conquistadores saw how valuable it was as a food, as well as part of the spiritual practices for the Aztec people along with Maya, extending north to Tohono O'odom, Hopi, down in the south to Incan. Our archaeological records showing its use for over 10,000 years. The reason that I'm eating it is because it connects me to a deep lineage of ancestry.

It is meeting a massive quantity of—ticking lots of boxes on my nutritional needs. It's got that genetic transfer of information that is informing me about the ecosystem that I live in. It's on the front lines adapting to climate change and pathogens in the ecosystem. It really has such a broad stroke for cardio-protective, neuro-protective. I feel it's absolutely underutilized in the modern herbal apothecary.

It's a powerful analgesic. Our #1 thing that we reach for over-the-counter at a pharmacy is going to be your Tylenol, Ibuprofen, and here you have a lot of research showing in those dependent manner that the amaranth is an analgesic. It's a pain medicine. Definitely an anti-diabetic medicine. It just is covering a lot of lot of lot of things, anti-cancer.

I'm eating it because it brings me joy. I'm bringing it because it brings me a deep sense of satisfaction. I feel my body resonating with it. It's mild. It has a little bit more depth of flavor than a spinach, but I would consider it a mild green. Very, very easy for people to, "I can get behind this one." It's very easy to integrate into somebody who might not like other more strongly flavored wild greens. It's just a real superstar that tastes delicious also.

Rosalee de la Forêt:
That's a really nice endorsement.

Sunny Savage:
And I don't have to weed and water. I also have an over half acre garden. I live in the subtropics, so it's more permaculture style, perennial fruits and nut trees and things like that. I eat, of course, all of the weedy plants that come up, and amaranth is one of those heavy hitters in that realm. I'm managing it through providing a little turn to soil in my garden, but I see how much energy to grow from starts and then be out there weeding, and then be out there watering. There is virtually zero work other than loving it and offering that reciprocal relationship of witnessing the plant which is what I can offer it – sing its praises, be respectful and make offerings to it. It's providing me with so much. It's such a dear friend.

Rosalee de la Forêt:
That's beautiful, Sunny. In the beginning you said maybe it's a little optimistic to think that we can eat all of our invasive weeds, but I feel like after that, if you could just get publicities with this and billboards, whatever, I think it could be done. I'm like, "I can't wait!" Now, I can't wait for my amaranth to be here and I already loved amaranth.

Sunny Savage:
My work is done. My work is done.

Rosalee de la Forêt:
One thing that people really love about you is your recipes. I love the recipe that you shared for this because your amaranth ranch rub—I'll let you describe it in just a second—what I really love about this is that it's something that people can make up in advance, and then they have this way to impress easy. Like someone drops by and you're like, "Would you like some? This cool dip?" and you could just whip it up so fast. I love that kind of stuff – the easy to make, easy to impress and then everybody falls in love with amaranth. I'd love to hear from you just a little bit about the recipe.

Sunny Savage:
The amaranth ranch rub is really inspired by my friend, Chef Rob, who I worked with for about a year and a half. We did some 13-course wild food dinners together. I had a food truck that he worked on there with me for a while. He was the initiator on this recipe and it truly is such an easy thing. You can make up a large batch of it and then you can—so basically, just to give a preamble, you're just dehydrating these wild greens. You're using your hands to crumble them instead of powder them, and then you're adding to a powdered milk or a powdered goat milk, along with dehydrated dill and garlic and onion powder. It's very simple, but it really truly does taste like your little sachets of powdered ranch rub that you buy at the store.

You can utilize it in so many different ways, like on the fly, the quick. I have this potluck that I'm going to or if somebody's going to stop by, I can mix it with my sour cream or my skyr or my vegan alternative, etc., anything like that to make a quick party dip. You can also sprinkle it on top of a soup. You could also sprinkle it on top of a salad. You could also rub it on top of something that's going to be lightly grilled or lightly pan fried.

Obviously, you can use your creative imagination with it, but it is extremely versatile and it's just a powder that you're going to keep in a super airtight container, and then be able to just pull that out whenever you want. It has a great shelf life and a lot of versatility. It's such a great way to use some of those wild greens and you're getting that—my motto has always been "one wild food a day," just having that. At least, I'm getting my one, little wild thing in my day.

Rosalee de la Forêt:
What also strikes me about this recipe, Sunny, is that the ranch flavor is not one that's often associated with being healthy or nutrient-dense even. The way you've packed in these wild greens, it's explosively nutrient-dense, so it's a cool thing too. It's a flavor people love and you're just amping it in terms of nutrition.

Sunny Savage:
I wanted to say popcorn. You can also put it on your-
Rosalee de la Forêt:
Now, you're speaking my love language. 
Sunny Savage:
We eat a lot of popcorn, [inaudible].
Rosalee de la Forêt:
Before we move on, I just wanted to mention—or I guess have you mention different, simple ways to harvest the plant, like you eat the fresh greens, the seeds. Just a couple of tips on that.  

Sunny Savage:
In the tropics, there are so few greens that I actually eat raw. We have a higher payload of pathogens along with things like insects and snails, etc. When you actually dive into ethnobotanical or ethnographical kind of accounts, is that pretty much all indigenous people to the tropics and subtropics cook their greens. I find myself absolutely gravitating in that way as well. I pretty much exclusively eat amaranth as a cooked green, unless there's some scenario like the amaranth ranch rub where I'm taking my beautifully harvested greens, dehydrating and crumbling them.

When I do my cooked greens, I will harvest the greens, give them a quick rinse, and then I boil water, and then I just put them into boiling water for about two to three minutes. I'll strain off the water and then once it's cool enough, I'll squeeze out any extra water with my hands, and then I can take that and add it to my omelet, or add it to my stir fry, or add it to my soup, or just eat with a splash of soy sauce or whatever it might be. I predominantly eat amaranth as a cooked green, and then for the seeds—they're very small. They're obviously very nutrient-dense.

We don't have to think, "I need to harvest over 50% of my diet in wild foods." No, that's not realistic in our modern times. Again, adding just even small amounts of these things actually does have a very large impact on your nutritional, eating food as medicine kind of status, so to speak, in the body.

For the seeds, I'll harvest them into a paper bag. They're easy to literally, strip off. You just take it and strip them off. I put them into that paper bag. Maybe let them dry out for just a little bit, and then I take a fine meshed strainer, and you just go like this. Typically, most of the chaff that's surrounding the seed stays within the little colander, the fine mesh strainer, and the very small seeds fall below. I pretty much always have a hot skillet and I toast them. I actually had some for my breakfast this morning.
Of course, I had to where I have my wild amaranth seeds in combination with some organically cultivated amaranth seeds that I mix together. I toast them. As soon as they're done toasting, I put them in the blender, blend them up and then put them back into the pan or the pot, in this case, with a little bit of water, a little bit of honey, a little bit of cinnamon, and that's your typical atole traditional drink or food or porridge kind of style of Mesoamerica where the plant originates from. But the seeds could obviously be added to all kinds of things. They pop up a little puff and the wild ones do just like the cultivated ones do.

I also eat the root. It's not like eating a carrot. You're not going to have some big root that you're cutting up into beautiful, big chunks and pieces. I boil salted water and then I put the root in there. I boil for about five minutes. Depending on the size, sometimes you can get quite large roots which I might boil for a touch longer. That five-minute mark is really the sweet spot. And then I'll take my hand and pull off the outer skin of the root, just so that it's not messy and clogging up when I harvest the inside. I just slip my hand over it. It's all softened and then I can remove it, then I cut it open and I use the back of a spoon to scrape out all the innards. There's fibers in there and then there's the innards. There's a flesh. I'll include that in there as well. I eat all parts except for the stems and spines.

Rosalee de la Forêt:
Good call, good call. That was so informative, Sunny. They're such great tips too. I was also taught to always cook the greens, so I've always had them harvest them young then cook them. The only time I've worked with the seeds I was in the wild foods class 20 years ago. We were trying to harvest enough to have enough for all of us to enjoy. It was a bit of work.
They are very plentiful and generous, but they are, as you mentioned, very tiny. I love your suggestion of instead of thinking getting all of the seeds for your breakfast, but mixing them with other amaranth or using them in other ways so it makes it more doable, so you can just enjoy what there is. It doesn't have to be a chore, which in my mind until today, I thought, "Amaranth seeds, that's nice but that's quite the chore," but now I'm excited, so that's wonderful. I've never eaten the root, so now I'm excited to try that as well.

Sunny Savage:
I like it. It's a real mineral-rich, earthy, milky flavor. I had an old Filipino man when I first moved to the island, I was waiting to get my oil changed, and there in the parking lot was a bunch of spiny amaranth. He told me that they make a liniment out of the root and rub it on for pain. There we have another little tie-in with it being used as pain medicine.
Anyways, you have great wild edible, very abundant. Actually, with the spiny amaranth, I'll eat tender, young greens but unlike so many other amaranth, I typically harvest the older leaves because they'll be that big. They get huge! I'll wait until they get really big. The spiny amaranth in particular, is not so much tender green from the continent from North America that I was so used to harvesting a little bit on the younger side even with the meristems.
Rosalee de la Forêt:
This has been so informative. I'm excited about amaranth and I'm really excited about other people getting excited about amaranth too, because this one you just want to see more love for. Thank you so much for that. I'm really excited to hear about projects that you have going on right now, especially your app.

Sunny Savage:
I have a mobile app that is called "Savage Kitchen." It has a little purple icon, with a star sunburst kind of icon. It's free in both the App Store as well as the Google Play Store. I developed it to really assist people in identification, finding locations of and eating, detailed information on processing. There's hundreds of recipes in there for some of the most abundant edible invasives that we have in Hawai'i.
But I haven't spent any money on advertising and yet people in other areas around the globe, because these are—I chose plants that were super invasives on a global scale. We have people in 64 countries now that have downloaded the app and over 10,000 people. It's really a citizen science effort to—people can actually locate and pin using the mapping.
There's really detailed instruction of, "Here's a bunch of photos of the plant. Here are some common lookalikes, at least, from the Hawai'i perspective." There's infographs on how not to spread them further. There's videos. There's quizzes. There's interactive quizzes so you can like, "Am I really ready to go and eat this thing?" Just lots of detailed information along with the recipes as well. It's been a fun journey. I feel really proud that it's always fun to take something from a concept and then bringing it in.

I've always been an early adaptor to technology. I definitely feel like we need to get off the phone, out in nature, and that's something that I speak a lot to in my book, Wild Food Plants of Hawai'i. Now, that you're out here, now that you think you've identified the plant, put the phone down and use your senses, tap into what's happening around you without that. But the reality is, is that we do use these devices a lot, and embracing the power of that as a potential tool to connect people, it's an avenue that I chose to go down, "Let's see where it leads."

Rosalee de la Forêt:
What I'm thinking about right now, Sunny, is that in my 20 years of being herbal-focused, plant lover, I've been—I've sold herbal products, made and sold herbal products. I've been a practitioner, teacher, author and so I often, looking back on that, I think who am I going to be when I grow up as an herbalist. With you, I feel like that ten-fold. You've done such unique, eclectic things with the plants just so creatively. It's been so fun to watch that over the years. I love that you now are creating this app. Thank you also for making it available for Androids. I appreciate that. I'm excited for everybody to check out Savage Kitchen app. Will you say the title of your book again too?
Sunny Savage:
Sure. My book is Wild Food Plants of Hawai'i.

Rosalee de la Forêt:
Is that going to be of main interest to somebody who lives in Hawai'i? Or is…
Sunny Savage:
I'd say it would be tropical and subtropical-focused. However, as you and I know, so many of these are global travelers, so probably upwards of nearly 50% are found in temperate zones, especially now. It's relevant as well as practices of just what foraging and the foraging lifestyle.
I would say that when I moved to Hawai'i, there's a larger sense of there's coconuts and guavas, and things that are out there. There's a little bit more backyard gardening and awareness like that, but then there's so many wild foods that I was like—these are not being recognized.
The book is really—it's not like a Sam Thayer, super detailed piece on these plants. It's more of like, "Let's get excited. Here's some fun tidbits, some recipes and some beautiful photos, etc." Then I have the deep dive on—I did want to offer the plant monograph on steroids for the plants that are in the app. The app is free, but then I do have super detailed, 40 to 60-page long very well-researched plant monographs on most plants as well, which are available in my online store, sunnysavage.com. Just like always working on doing education and this is where I'm at right now with it.

Rosalee de la Forêt:
Wonderful. I'm enthusiastic and inspired about amaranth that just shines through with you, and I love that this is one of many plants that you share the love of. Sunnysavage.com is a great place for folks to go and see more of your offerings.

Before you go, Sunny, I would love to ask you my Season 8 question which I'm asking everybody and that question is – What is your most important mistake in herbalism?

Sunny Savage:
It's actually a pretty easy one for me to answer and that was when I was about 19, 20, so just really learning the wider world of herbs and wild foods. I had my eye on some beebalm, Monarda fistulosa--I wanted to find this plant. I was like, "I can't wait until I find it," and found it and really kind of went crazy. My eyes were so big. I harvested and harvested.
I was probably singing and laughing, having a great time, but when I got home, I looked at the basketfuls that I harvested and just had that hit in the bottom of my stomach of I really effed up. I harvested way more than I need and here's this beautiful plant that is feeding the bees and pollinators and adding so much joy. Especially, I grew up in Northern Minnesota and there's not a lot of—I live in the tropics now, neon colors everywhere—but this is beautiful, vibrant pink, purple that is adding some real beautiful color to the landscape. Man, I felt like crap after realizing that I had overharvested.

I feel like it's a really amazing part of being able to educate around invasives right now because not everybody had the auntie or grandma or trusted community member to teach them how—those ethics of harvesting. You can learn that lesson in a much less devastating way to the ecosystem. You don't want to hamper somebody's enthusiasm. It's such an important part of this process to have that incredible joy when you're starting out. I had felt joy when I found out for the first time and I ID-ed it and I knew what it was. The hard reality of syncing up what you're out there in the moment to harvest, with how much time when you get home it takes to process something, and how much you're actually going to use.

I feel like you really can have somebody tell you that over and over, but you have to connect those dots for yourself because everybody's needs are different and how much they're actually going to use. Again, with a native plant from—I was sinking in that. It still hits me when I think about it, but I learned that lesson from that. I can currently feel that's another really great gift of the invasives, is that people need to learn that lesson. They can only learn it through their own personal experience and invasives are such the great entrée for the newbies out there.

Rosalee de la Forêt:
Sunny, this is such an important mistake. I'm so glad you shared this because like you said, you can read that don't harvest too much, have a plan, think about the energy it takes once you get home. Like you said, you could read that over and over and it could not sink in. That is one of those things that can just take actual lived experience to fully appreciate.
It's just so important because there's the "Don't harvest too much" lesson, but to add on top of that and learn that through the process of invasive plants, which are not less deserving of respect but makes less of an impact. Anyway, you've just shared that so beautifully and I agree a very important mistake. I'm so glad that you shared that with us. Thank you.

Sunny Savage:
Yay! I love you, Rosalee. Thank you for all of your beautiful work. It's just been such an honor to know you through time and to see your path. How exciting it's just been. You've really stepped into such a beautiful role in our herbal community and I really appreciate you and all the work that you do.

Rosalee de la Forêt:
Sunny, that means so much coming from you. I feel the same way about you. It's been an honor and just exciting to watch all the different paths you've taken. I look forward to seeing what comes with you as well. Thank you so much for being with us today and for sharing so much wisdom about plants, about foraging, about invasives, and of course, about amaranth.

Sunny Savage:
Aloha!

Rosalee de la Forêt:
Thank you. 
As always, thanks for being here. Don't forget to sign up for my weekly newsletter, which is the best way to stay in touch with me, at the bottom of this page. You can also visit Sunny directly at sunnysavage.com. If you want more herbal episodes to come your way, then one of the best ways to support this podcast is by subscribing on YouTube or your favorite podcast app.
I deeply believe that this world needs more herbalists and plant-centered folks and I'm so glad that you're here as part of this herbal community.
Also, a big round of thanks to the people all over the world who make this podcast happen week to week.

Nicole Paull is the Project Manager who oversees the whole operation from guest outreach, to writing show notes, to actually uploading each episode and so many other things I don't even know. She really holds this whole thing together.
Francesca is our fabulous video and audio editor. She not only makes listening more pleasant. She also adds beauty to the YouTube videos with plant images and video overlays.
Tatiana Rusakova is the botanical illustrator who creates gorgeous plant and recipe illustrations for us. I love them. I know that you do too.
Kristy edits the recipe cards and then Jenny creates them as well as the thumbnail images for YouTube.
Michele is the tech wizard behind the scenes and Karin is our Student Services Coordinator and Customer Support.
For those of you who like to read along, Jennifer is who creates the transcripts each week.
Xavier, my handsome French husband, is the cameraman and website IT guy.
It takes an herbal village to make it all happen, including you. Thank you so much for your support through your comments, your reviews, your ratings. I read every review that comes in because they're like a little herbal love letter that brightens my day, like this one, Q. Bonnie wrote:
Rosalee, I just found your podcast and listen to them on my ride down and back from Florida. Wow. I learned so much and really enjoyed them. I hardly noticed that I drove 8 hours a day. Thank you. I love them. 
Thank you, Q. Bonnie. 
Do you love this podcast? If you leave a review for me on Apple podcast, I may be reading your herbal love letter on the show next.
Okay, you've lasted to the very end of the show which means you get a gold star and this herbal tidbit:
I belong to a community garden and, a few years back, we had an intense heat wave that left us hunkering inside instead of out in the sweltering garden. When we finally did make it one early morning, the weeds were absolutely amazing. Amaranth, especially, had grown almost as tall as me. We harvested loads of it and brought it home to the chickens to feast on. Now, of course, I wish I had harvested more seeds like Sunny suggested.

Sunny also briefly mentioned there's an ornamental or decorative amaranth and these can be quite colorful and beautiful. I'm excited to grow them this year to add to my garden flower bouquets. There's really so much to love about amaranth. 
Choose the best herb for you!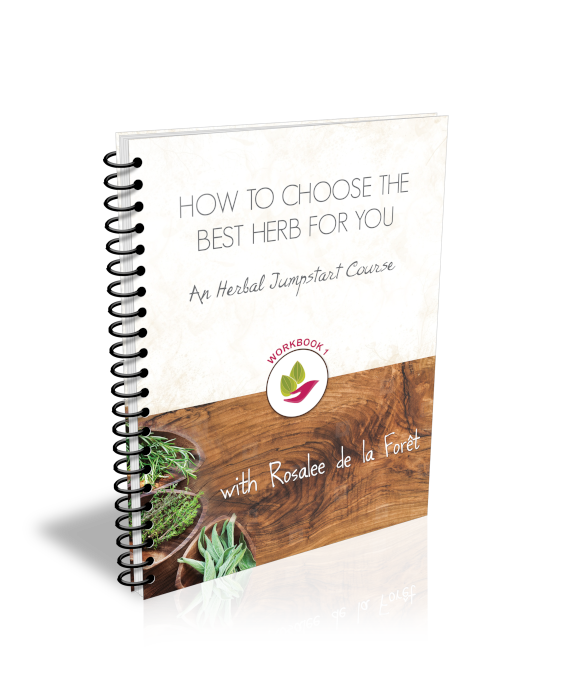 The secret to using herbs successfully begins with knowing who YOU are. 

Get started by taking my free Herbal Jumpstart course when you enter your name and email address. 

By signing up for my free course you'll also be joining my weekly newsletter where I send my best tips and herbal recipes. I never sell your information and you can easily unsubscribe at any time.