Season 8 Episode 1:
Three Common Mistakes with Herbs

---
---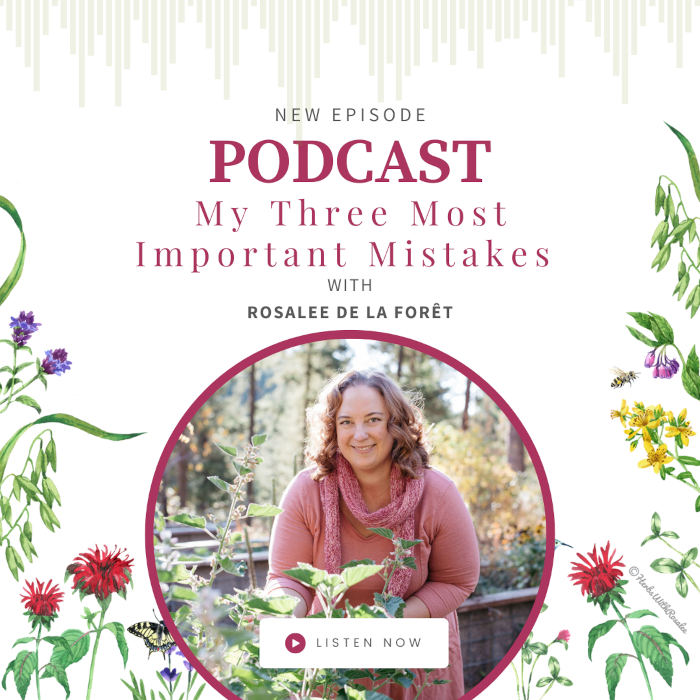 Would you prefer watching or reading this episode? If so, click here for the 'Common Mistakes with Herbs' video and transcript.
Episode Summary
We often grow in important ways because of mistakes. But while experience can be a powerful teacher, it can also be a painful one. The cool thing is that hearing other people's mistakes can help our own growth and learning…minus the regrets.

With that in mind, a theme for Season 8 of the podcast is looking back at herbal mistakes, a bit like alerting other drivers to a hazard on the road ahead.

I'm getting the ball rolling by sharing my three most important mistakes with herbs. I'm also sharing tips and resources to help you avoid those same potholes.

After listening in, you'll know:
► How to minimize waste in your home apothecary (and why that's important)
► One big reason why herbs sometimes help and sometimes don't…and a more nuanced approach to herbalism that's far likelier to be successful
► How I learned that, at its heart, herbalism is about so much more than swapping out herbs for drugs
---

The beauty and joy and even the biggest impact of herbalism… is finding our way back to tending this beautiful earth.
l


---
What You'll Learn from This Episode
[01:10] What was your most important mistake with herbs?
[02:07] Mistake #1: Perhaps my most painful herbal lesson…
[04:57] Mistake #2: Taking a "this herb" for "that problem" approach to herbalism
[07:33] What is herbal energetics and how can I learn more about it?
[09:51] Mistake #3: Ignoring the bigger picture of herbalism
[16:26] Six tips for maintaining your herbal apothecary



Connect with Rosalee
Resources Mentioned