Season 6 Episode 12:
The Ponderosa Pine Tree

---
---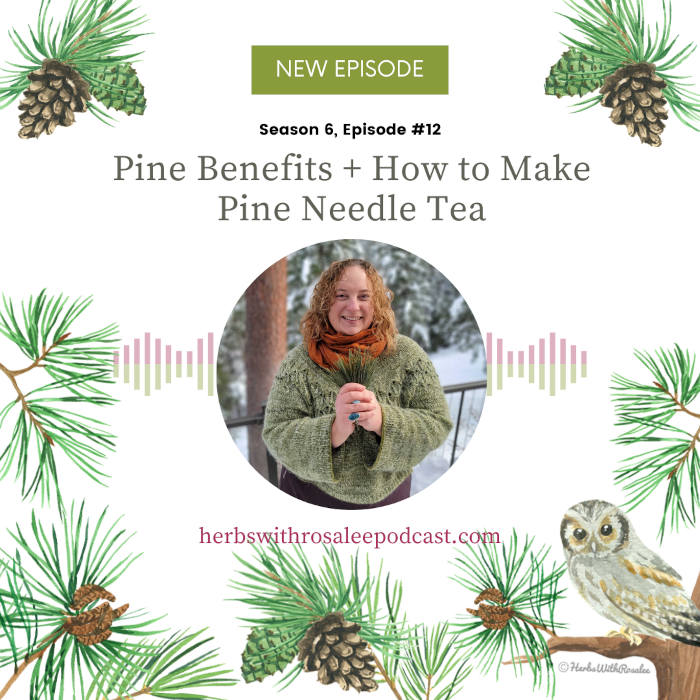 Would you prefer watching or reading this episode? If so, click here for the 'Pine Properties' video and transcript.

Episode Summary
Pine (Pinus spp.) gives us so many gifts beyond its timber. The needles, pine resin, bark, and pollen are all potent herbal medicines. While towering ponderosa pine trees are not often thought of as herbs, this is powerful plant medicine.

The land that my husband and I live on and caretake is filled with ponderosa pine trees and in this episode, I share my love for these majestic plants. I also explain how to make two versions of  pine needle tea.  One can be potent herbal medicine. The other is more of a crowd pleasing tea that can be enjoyed whenever you feel like sipping a bit of the forest.
After listening in, you'll know:
► What's a sign to rouse your inner skeptic when it comes to superfood claims?
► Are pine needles from any pine species safe for tea-making?
► Is it better to harvest young pine needles or older ones—and why?
► How to harvest pine needles sustainably (and when not to harvest)
---

Pines are a towering gift of this earth whether they are providing us shelter, warmth, food, or medicine.

---
What You'll Learn from This Episode
[01:09] Introduction to the Ponderosa pine tree (Pinus ponderosa) 
[03:58] Ponderosa pine energetics
[05:07] Is Ponderosa pine safe?
[05:57] Pine needles as food and medicine
[07:35] Pine resin as medicine
[08:45] Pine pollen as food and medicine
[10:09] Pine bark as medicine
[10:42] How to identify Ponderosa pine trees
[12:45] How to make pine needle tea
[14:16] Medicinal pine needle tea recipe
[15:12] Recipe for crowd-pleasing, holiday pine needle tea
[17:36] Ponderosa Pine Fun Fact



Connect with Rosalee
Resources Mentioned