Season 6 Episode 4:
Rose Hips Benefits

---
---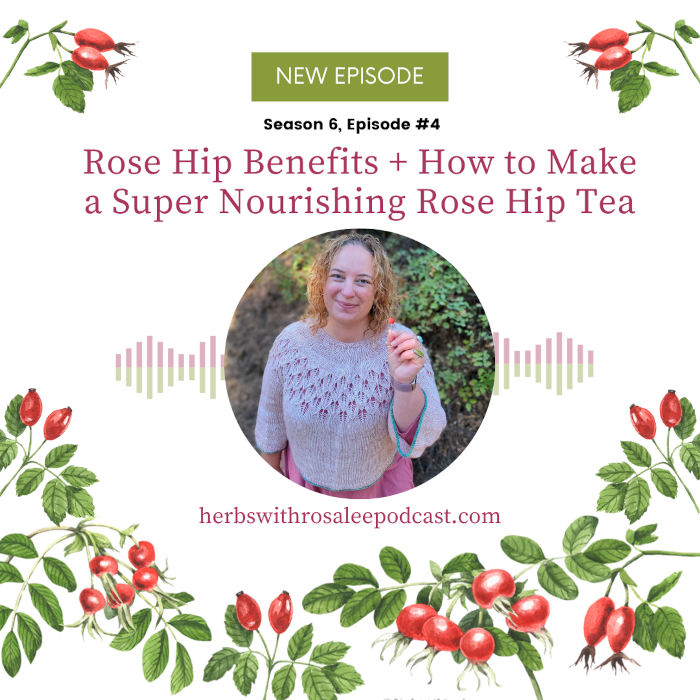 Would you prefer watching or reading this episode? If so, click here for the 'Rose Hips Benefits' video and transcript.
Episode Summary
There are so many rose hips benefits. Of course, rose hips are famous for their vitamin C content, but rose hips benefits go *way* beyond that! I especially love them for their power to help modulate chronic inflammation. In this episode, I'll also show you how to make rose hip tea for the most benefits. (You'll be able to *taste* the difference if you brew using this method!)
After listening in, you'll know:
► Why it's important to taste rose hips when you harvest
► Whether it matters what species you harvest rose hips from
► How to be sure you're getting plenty of Vitamin C each day
► Why one scientific paper describes the Rosa genus as "a treasure waiting for further exploration"
---

Rose hips are ruby jewels of medicine being offered up abundantly to us each fall.

---
What You'll Learn from This Episode
[01:09] Introduction to rose hips 
[02:41] Rose hips energetics
[04:15] Rose hips are nutrient dense
[05:51] Rose hips for reducing chronic inflammation
[07:09] Rose hips benefits for the skin
[09:10] How to identify rose hips
[10:57] Are all roses the same?
[12:20] When to harvest for the best rose hips benefits
[14:40] How to make rose hips tea for the most benefits
[16:41] Rose Hips Fun Fact
Download Your Recipe Card
Connect with Rosalee
Resources Mentioned