Season 4 Episode 10:
Benefits of Peaches with Robin Rose Bennett

---
---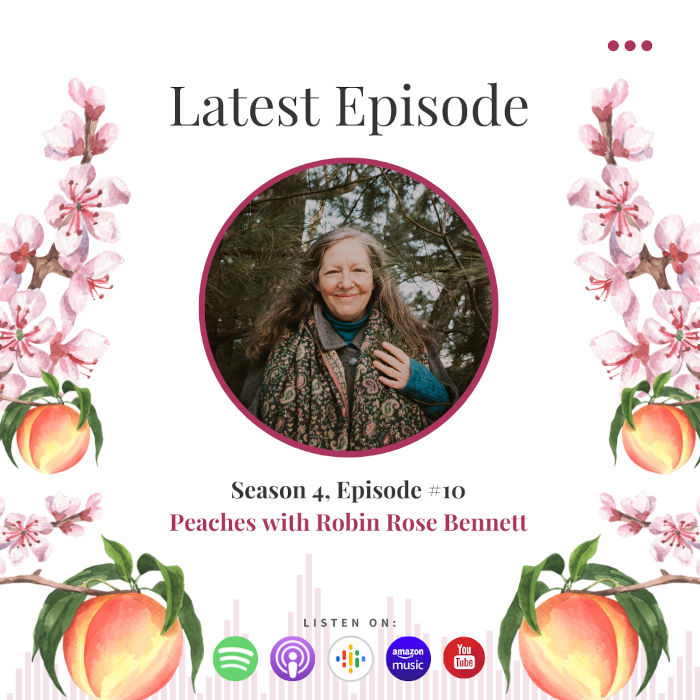 Would you prefer watching or reading this episode? If so, click here for the 'Health Benefits of Peaches with Robin Rose Bennett' video and transcript.
Episode Summary
Peaches are loved as food, yet the health benefits of peaches extend far beyond that. Peaches (Prunus persica) are some of our best cooling and relaxing herbal medicines. After this episode with Robin Rose Bennett, you'll never look at them the same way again!

Peaches are especially treasured for their ability to soothe nausea. After this episode, you'll have a sweet, cooling, stomach-soothing treat you can rely on for all sorts of tummy troubles from morning sickness to car sickness. (And that's just one of peaches' many gifts!)
You'll also receive instant FREE access to Robin's luscious peach oxymel recipe.
For those of you who don't know her already, Robin Rose Bennett is a storyteller, writer and herbalist. She has been offering classes in WiseWoman Healing Ways: Herbal Medicine and EarthSpirit Teachings since 1986 at herb conferences, festivals, clinics, medical and nursing schools, and most joyously outside with the plants. Robin Rose shares herbal medicine with gratitude for the loving generosity of the plants and the magic mystery and beauty of the web of life. She is on the faculty of the New York Open Center and the Arbor-Vitae School of Traditional Herbalism, and is the author of two meditation MP3'S and the books, Healing Magic: A Green Witch Guidebook to Conscious Living, and The Gift of Healing Herbs: Plant Medicines and Home Remedies for a Vibrantly Healthy Life. You can find more from Robin at robinrosebennett.com.
Listen in for:
► The moment when Robin knew herbs were gaining mainstream acceptance
► What you need to know about working with peach pits safely
► How gardening can be a way of giving back
Robin is such a delight to spend time with and I'm thrilled to share our conversation with you today.
---

Peach is cooling. It's moistening. There's that juiciness of it. It is a pretty profound herb to help with hot irritation in the mind, heart and body."

l

---
What You'll Learn from This Episode
Download Your Peach Oxymel Recipe Card!

Connect With Robin Rose

Connect with Rosalee
Are You Ready for More Herbal Inspiration?

The best way to get started is by joining my herbal community and weekly newsletter where I share my best herbal tips and insights.

When you join you'll also get access to The Herbal Jumpstart Course which helps you figure out the best herbs for you.
Sign up below!