Health Benefits of Peaches
with Robin Rose Bennett

---
---
Peaches are loved as food, yet the health benefits of peaches extend far beyond that. Peaches (Prunus persica) are some of our best cooling and relaxing herbal medicines. After this episode with Robin Rose Bennett, you'll never look at them the same way again!

Peaches are especially treasured for their ability to soothe nausea. After this episode, you'll have a sweet, cooling, stomach-soothing treat you can rely on for all sorts of tummy troubles, from morning sickness to car sickness. (And that's just one of peaches' many gifts!)
You'll also receive instant FREE access to Robin's luscious peach oxymel recipe.
For those of you who don't know her already, Robin Rose Bennett is a storyteller, writer and herbalist. She has been offering classes in WiseWoman Healing Ways: Herbal Medicine and EarthSpirit Teachings since 1986 at herb conferences, festivals, clinics, medical and nursing schools, and most joyously outside with the plants. Robin Rose shares herbal medicine with gratitude for the loving generosity of the plants and the magic mystery and beauty of the web of life. She is on the faculty of the New York Open Center and the Arbor-Vitae School of Traditional Herbalism, and is the author of two meditation MP3's and the books, Healing Magic: A Green Witch Guidebook to Conscious Living, and The Gift of Healing Herbs: Plant Medicines and Home Remedies for a Vibrantly Healthy Life. You can find more from Robin at robinrosebennett.com.
Listen in for:
► The moment when Robin knew herbs were gaining mainstream acceptance
► What you need to know about working with peach pits safely
► How gardening can be a way of giving back
Robin is such a delight to spend time with and I'm thrilled to share our conversation with you today.
-- TIMESTAMPS -- 
00:00 - Introduction

03:20 - Robin shares her path and approach to herbalism

05:02 - How herbalism has changed in the U.S. since the late 1980's

09:37 - Why Robin loves peach

10:09 - Robin's cooling peach pit infusion

10:59 - A poem for peach

13:48 - The health benefits of peaches and some favorite ways to work with them

19:18 - Robin's Peach Oxymel recipe

25:03 - Working with peach and motherwort together to soothe and calm

29:12 - Peach leaves for bee stings, bug bites, and skin irritations

30:31 - Other possible herbal partners to complement peach

33:33 - Robin's current projects

39:38 - A Chinese legend about peach and immortality

41:08 - What Robin wishes she knew when she first started working with herbs

45:30 - Tips for working with peach pits safely
Download Your Peach Oxymel Recipe Card!
Connect with Robin Rose

Transcript of the Health Benefits of Peaches with Robin Rose Bennett Video
Rosalee de la Forêt:
Hello, and welcome to The Herbs with Rosalee podcast, a show exploring how herbs heal as medicine, as food and through nature connection. I'm your host, Rosalee de la Foret. I created this channel to share trusted herbal wisdom so that you can get the best results when relying on herbs for your health. I love offering up practical knowledge to help you dive deeper into the world of medicinal plants and seasonal living. Each episode of The Herbs with Rosalee podcast is shared on YouTube as well as your favorite podcast app. Also, to get my best herbal tips, as well as fun bonuses, be sure to sign up for my weekly herbal newsletter at the bottom of this page. Okay. Grab your cup of tea and let's dive in.

Robin is such a delight to spend time with. And so it's really perfect that she chose such a delightful herb to share with us. Peaches are loved as food, yet it's also some of our best cooling and relaxing herbal medicines. After this episode, you'll never look at peaches the same. For those of you who don't know her already, Robin Rose Bennett is a storyteller, writer and herbalist. She has been offering classes in Wisewoman Healing Ways: Herbal Medicine and EarthSpirit Teachings since 1986 at herb conferences, festivals, clinics, medical and nursing schools, and most joyously outside with the plants. Robin Rose shares herbal medicine with gratitude for the loving generosity of the plants and the magic mystery and beauty of the web of life. She is on the faculty of the New York Open Center and the Arbor-Vitae School of Traditional Herbalism, and is the author of two meditation MP3'S and the books, Healing Magic: A Green Witch Guidebook to Conscious Living, and The Gift of Healing Herbs: Plant Medicines and Home Remedies for a Vibrantly Healthy Life. You can find more from Robin at robinrosebennett.com.

Welcome to the podcast, Robin. I'm so excited to have you here today.

Robin Rose Bennett:
Oh, thank you. I'm thrilled to be here with you, Rosalee.

Rosalee de la Forêt:
Aw. Well, we've had this scheduled in the books for a while now so it's been something on the horizon I've had a chance to look forward to. And then in the past, today and yesterday, it was my happy thought that kept popping into my mind. Oh, I get to hang out with Robin soon.

Robin Rose Bennett:
Ah, you're so sweet. Me too. Me too. Really been looking forward to this. And here we are, the day has come.

Rosalee de la Forêt:
The day has come.

Robin Rose Bennett:
The day has come.

Rosalee de la Forêt:
Well, let's begin by hearing a little bit about your herbal path and what brought you to the world of plants.

Robin Rose Bennett:
Okay. So I was for years as a quite a young woman, in my teens really, deeply involved in spiritual studies, and spiritual studies that were guided by two very special teachers that I happened to be lucky enough to meet. And after perhaps 10 years with them, I began to see that these beautiful concepts needed to be grounded in day to day to day reality, to really help people, including me, shift patterns, otherwise we can get really wise and smart in our heads and not be applying it. So that, coupled with looking for answers to health challenges that conventional medicine didn't have answers for, for me brought these two worlds together. And that still is my kind of the essence of my approach to herbalism is as a spiritual path. This path of reconnection with the earth is, it's about our evolution. It's not only about healing our headache, or our bellyache, or our serious disease. It's about who are we becoming?

Rosalee de la Forêt:
That's interesting to hear that that's kind of, those two are woven together for you so early on, the spiritual healing, as well as this herbal healing as well. And you were teaching by the late 80s.

Robin Rose Bennett:
Yep.

Rosalee de la Forêt:
And I was kind of curious, what differences do you notice between then and now, if there's a couple that come to mind?

Robin Rose Bennett:
Yeah. It's night and day, at least on the East Coast where I am. Because I think herbal medicine maybe already had a little bit more of a foothold on the West Coast, California and such. But not here. And Rosalee, I remember, so this is a really fun memory, I remember watching television and seeing an ad for a pharmaceutical, maybe I think it was an allergy medicine, something like that, for cold, and in the world of advertising, nothing is by accident. Nothing. So at the very end of the commercial, the woman is either opening or closing her medicine chest to get the drug or put it away, and on the bottom shelf were some tinctures, some herbal tinctures. And I thought to myself, oh my goodness, look at this. It was just, just like they were beginning to acknowledge. And so of course now, what are we talking? Multi billion dollar industry, herbal medicine.

Even the first herbs that I bought and used, I would turn my nose up at them today. I mean, they were so poorly made. They were commercial in the stores, in the health food or the herb shop. But you know what? They worked enough, even poorly done, they worked enough to kind of keep me going. If I took something for menstrual cramps and it actually made me more comfortable, this caught my attention. But the familiarity of people with plant medicine, the commercialization, which is the downside of it, those are some of the big differences. And of course, of course the plethora of amazing new generations of herbalists, like yourself. There was not that. There was not the internet. There was not younger generations of herbalists.

So I had kind of one, at least in the states, one generation of herbalist kind of that seemed like for me, in my mind anyway, there before me, that slightly older generation of herbalists, never dreaming that one day I'd be an elder in the community. Who thinks that when you're 25 and 30? So that too. So there was kind of one generation to turn to, unless you're Phyllis Light and you have the Appalachian tradition, you know what I mean? But as it turned out, I learned after I had been an herbalist for a decade that I had a great grandmother who was an herbalist. I had no idea. I had no idea. And she was apparently quite a renowned herbalist in Brooklyn, New York. And when I learned about her, my uncle was dying. And I had made a late, late in life connection to him, and I would come in with herbal steams and things like that. And he began to open up to me in that time, and that's when he told me about my great-grandmother, Esther.

And when he said that, I said, "oh, so you mean she helped the family and she would ..." He said, "oh no. Oh no. People would line up to see her." So I had always thought my heritage as an herbalist was spiritual, and past life and this, but it was actually in this life as well through my mother line. So that's a field of your original question, but that was a really fun, affirming thing to discover. And so thank you, Esther.

Rosalee de la Forêt:
I love that. I don't have that in my family line. So I just imagine it in there, how wonderful to have that.

Robin Rose Bennett:
And my suspicion you probably do.

Rosalee de la Forêt:
Probably do.

Robin Rose Bennett:
One of the ancestors that you don't know about. Because I've just found this to be true, that we always have some kindred, someone who's really kindred with us in our line. And that can be good, especially if we have really difficult family history, to think that there is one kin who kind of walks with us and helps us in our life on the scene.

Rosalee de la Forêt:
Yeah. Thank you for that, Robin.

Robin Rose Bennett:
You're welcome.

Rosalee de la Forêt:
Well, I'm very excited to talk a very summery herb, potentially summery herb, and that's peach. I'm so excited that you chose peach. I'm excited to hear what you're going to say about peach.

Robin Rose Bennett:
I love, love peach. So of course, like you, it's all about embodying the plants. And so earlier today I made a peach infusion, which I've now poured into my cup. So I'm going to take a sip so I'm like, I am peach as I speak for peach.

Rosalee de la Forêt:
Definitely. Get all peachy.

Robin Rose Bennett:
I'll get peachy. Also it's, as I mentioned before we came on, it's 95 degrees here. So peach is perfect, because peach is cooling. Oh my gosh, wait a minute. Wait. This infusion makes you, it just makes you go, ah.

Rosalee de la Forêt:
You have to tell us what's in there, Robin.

Robin Rose Bennett:
It's peach pits and water. So this is, I made this one in a quart jar with 13 dried peach pits from last year. Boiling water, filled it to the top. And I did it about maybe five hours ago. If I let it sit a little longer, it's going to be even peachier. So just imagine biting into a perfect, sweet, juicy peach, and the infusion tastes like that. And you know what? I have a poem of peach. Maybe, is this a good time for me to share it?

Rosalee de la Forêt:
This is a good time. Yeah, please read.

Robin Rose Bennett:
Okay. So here's what peach said. And peach is prunus persica. Prunus Persica, originally from Persia, which is now called Iran. Peach. I'm sweet, juicy, cooling and moist, relaxing nerves and tissue. I help you when you're not content. In fact, I like to kiss you. I allay severe nausea, that is one of my great gifts, especially in pregnancy. Use my flowers, leaves or pits. I am such a beautiful tree. And I support your liver. My fuzzy fruit's round and luscious. Your life flows like a river.

Rosalee de la Forêt:
Oh, I love that. So I want to mention that that is from your book, The Gift of Healing Herbs. This is such a gem of a book. You can see, it's a thick book. There's so much wisdom in here, as well as poems. So I love your line, in fact, I love to kiss you. That just instantly made me think of my summers that I would spend in Texas, and I'd go with my Papa to the orchards or we'd harvest the peaches ourselves and they'd be big Texas peaches. They're so big. And then right there in the field, we would bend over and ... Yeah. That is such a kiss of the peach fruit, and then of course just the-

Robin Rose Bennett:
The juice, the mess.

Rosalee de la Forêt:
The juice everywhere. It's a juicy kiss. Yeah. But I swear I have not had peaches that good since I was a kid in Texas.

Robin Rose Bennett:
Ah. So come visit me, because this is one of the crops New Jersey is known for. And in honoring of both of our commitment to bioregional herbalism whenever possible, I thought, well, peach. New Jersey peaches are famous. So we have some really good peaches here. If you come visit, I will share. In fact, last summer I froze a whole lot of peaches. I just sliced them up and I laid them out on cookie sheets and put them in the freezer. So this winter I make my oatmeal, I put my fresh summer peaches in. It's so lovely.

Rosalee de la Forêt:
Oh, I love that. We do the same thing. Yeah. We freeze those up. We also make a lot of peach butter where we just cook them down in a crock pot, because our peaches from our yard, they're not super sweet. And so that's kind of how we do it, we just cook them down, cook them down until it's this really thick peach butter and then eat that all winter. Oh, peaches in winter is such a marvel.

Robin Rose Bennett:
It's such a treat. It's such a total treat. And if you combine it with something warming, it's nice. So here's the thing about peach that's wonderful. There's many wonderful things. Peach is, energetically is cooling, which anybody who's ever eaten a peach, you know this. Peach is cooling. It's moistening. There's that juiciness of it. It is a pretty profound herb to help with hot irritation in the mind, heart and body. And it has an affinity for the upper GI. So it can also help with hot conditions in the gut, in the digestive track. I know Kiva Rose recommends it for diarrhea, which is sort of maybe seems counterintuitive because it's moistening. But it's sort of, it's somewhat of a modulating herb. And I think what she said was diarrhea with fast transit time. So it's going to modulate that. I have found it for all stages of hormonal shifting an excellent medicine. And here's some of my favorite ways to use it for medicine is, I guess my all time favorite is actually the pits. That sounds so weird. It's the pit.

But I used to joke that when I was going through menopause, my partner was like, "oh, I'm so grateful to peach pit tincture." He was alluding to my irritability. Fair enough. And I had that tendency anyway, being a fiery sagittarius. I move easily to that irritation impatient place. And I mean, herbs and my practices of course, and being in nature have really shifted. So I won't say it's not my tendency, but I don't jump there as readily. And if like today, it's so easy to get really agitated and hot under the collar with so many good reasons. You're paying attention to what's going on in the world, because these days for me, I frame everything inside of that we are in a threshold. We are in a threshold moment when the old is transforming to the new. It's a very uncomfortable, chaotic place to be.

But if we have that bigger framework, it can be very hopeful, as opposed to, ah. So with all of the things that challenge our nervous system. So for me, peach primarily is a nervine. I love peach pit tinctured in Brandy. I love peach pit tinctured in vodka. I love peach pit infused in boiling water. The recipe that I shared ... Is this a good time to mention the peach oxymel?

Rosalee de la Forêt:
Well, let's mention that in just a second, because I just want to address something, because I bet there's someone out there right now thinking, aren't peach pits toxic?

Robin Rose Bennett:
Yeah. Yeah. I figured we'd get to that. And I was going to do a whole bunch of facts and figures, but I decided not to do. What I'm going to say is this, first of all, when people say that they contain peaches and peaches contain cyanide, that is incorrect. They contain glycosides that can be converted into cyanide. It is not the same thing, the same way plants don't have hormones. They have properties that can be converted. So among the many things for us to consider is the way that boiling water inactivates those cardiac glycosides, so makes them even any potential towards toxicity, it nullifies that. Secondly, there's such a small amount in there that it is negligible. Now, I take the precaution. So this is an interesting, how herbalist do everything different from one another.

Oh wait, one other thing though about the potential toxic question. So one of the things that is being referred to here, and I'm not a chemist, so this is just me doing my homework, is called prussic or prussic. P-R-U-S-S-I-C. Prussic acid. So prussic acid, in order to harm us, needs to be fermented. So as long as we're not fermenting our peach products, they're fine. So I started to say, I always take the precaution myself of, I don't use unbroken pits. I use whole pits. But as I was getting ready for the podcast, Rosalee, I started doing some just looking around research and I found that it's the inside, the seeds inside the pits are esteemed in Chinese medicine. So those, even the part that I don't use, they use. So the short answer is no, they're not toxic. And those are ...

Rosalee de la Forêt:
Phew. All right. Let's go make our peach pit infusions then.

Robin Rose Bennett:
So let's go make our peach pit infusions. Or here's a totally, this is ... All right, will you guide me? You tell me. I can talk some more about other parts of peach.

Rosalee de la Forêt:
Well, you brought up your recipe, so let's dive into your recipe because I'm pretty excited for this.

Robin Rose Bennett:
Okay. And by the way, I think the card you made is so wonderful.

Rosalee de la Forêt:
So, yeah.

Robin Rose Bennett:
Or your assistant made. It's adorable. I love it.

Rosalee de la Forêt:
The listeners and the watchers don't know yet, but we made a very special recipe card. You were the first one that we've done this for, and we're looking to keep expanding it.

Robin Rose Bennett:
Oh, lucky me.

Rosalee de la Forêt:
Yeah. So Tatiana is a beautiful botanical illustrator, and she took Robin's recipe and made a beautiful painting out of it, which will be on your recipe card that you can download.

Robin Rose Bennett:
Tell her thank you for me, because I saw it and I was like, wow, that's gorgeous. So the recipe that we're talking about, and here's for those who are watching this as supposed to just listening, I'm holding up a jar of this peach oxymel. And this is big honey jar full of peach oxymel, and you can tell a lot of it is gone. And it's not the first jar I've gone through either. And as it says on the recipe card, this is very simple. It's just chopped up fresh peaches with apple cider vinegar and honey. And I give you my measurements for roughly two thirds vinegar and one third honey, but you'll make it to your taste. There's no right or wrong. And this, I always use this in salad dressings, things like that. But I was serving it to my apprentices one day, and I saw they were just pouring in their cups and drinking it and chewing the peaches.

So I was like, okay, I'll try that. And I was like, oh my gosh, that really is super great just to drink. And then another student did something I would never have thought to do. She added it to sauerkraut. Well now I do that frequently, because the combination of the sour, and the sweet and the tang of the vinegar and the honey is just ... I used to say it's divine. It's not divine. It's earthly. It's marvelously earthly.

Rosalee de la Forêt:
Oh, that sounds lovely.

Robin Rose Bennett:
It's just a beautiful, beautiful remedy with the fresh peaches, because even in that form, it's still going to calm your digestion, calm your nervous system. You know how I very, very first, let's go back to 1985, how I very first learned about using peach pits at all was from our beloved herbal friend, Kate Gilday of Woodland Essence. So in those days, Rosalee, we didn't have conferences yet. All right. We didn't have the internet yet. So we would meet in very small groups like earth sisters, we called ourselves, and we would taste things and share impressions, like that. So it was really kind of fabulously fun. And I remember Kate one day coming in and saying, "oh, I make, for kids when they need antibiotic sort of herbal medicine, I give them peach pit infusion because it tastes really good and it strengthens the liver."

So I wouldn't use it in any kind of condition. I just went through healing from tick-borne infection. I'm not going to use it there or in blood diseases where sugar can feed that kind of parasitic. I think of all those things as not literally parasites, but they're like a parasitic invasion in the body. I don't use sugar things for that. But for everything else where you need to strengthen your immune system, what a delightful way to do it. And now a lot of people use leaf and twig, and I have definitely dried peach leaves and twigs and used them for teas and tinctures. But I have to say, my favorite is for delight and joy is the peaches and the peach pits. They're most famous. But every part will work. They are interchangeable. So most famous, probably I say, for me, peach is a nervine. That's my first choice use of this plant.

And I have two trees that volunteered on my land. So they're not pretty. They're spinely. And oh my God, they put out hundreds of peaches though. They're so generous. And the bears have wreaked havoc on these trees too. And so now they kind of put them out every two years. They're like, we need a break from the bear coming and jumping on us and pulling down branches. But the most famous medicine of peach is for nausea, specifically in pregnancy. So that's probably what overall, maybe peach is best known for as an herbal medicine is for preventing morning sickness. I think, was it Tommy Bass said? Or somebody said even better than ginger. I would say maybe mix them. Maybe mix them. And I do want to share about one particular recipe that I have in The Gift of Healing Herbs, because I was doing a weed walk yesterday and this young man bought a book after the walk. And he opened right to that recipe. And I love that sort of thing, so I decided that that meant I was supposed to share that recipe with everybody who's listening today.

Rosalee de la Forêt:
That sounds great.

Robin Rose Bennett:
Yeah. I learned there's a word for that, bibliomancy, when you just open the book to whatever. And of course I want you to know, I carefully marked it and now it's hiding. I carefully marked it. I really did. Okay. So I wanted to share about this recipe that he opened right to. And he's a new dad, his little baby was with him and his wife. So that feels relevant to the not getting a lot of sleep, being maybe a little aggravated. So it's one part flowering tops of motherwort with one part peach pits, leaves, twigs or flowers. And I think of this as a bittersweet blend, because the motherwort is bitter, a bitter mint and the peach is so sweet and soothing. So they're both soothing, but in different ways. And where I think of this blend and blends like this that I like to make is for helping us to physically and emotionally digest the bittersweet experiences in our life.

Or bittersweet, yeah, just maybe we're, I don't know, just an example that came to my mind is maybe we're moving, and we're so excited that we're going with a new home, whatever, but there's a bittersweet because we're leaving behind people, and places, and plants and trees that we love where we are. So, yeah. Or even something like, a lot of people have a bittersweet response to aging. Like, oh, I'm getting old. That's where my sagittarius fire comes in. I have little patience for that, because I think we're so lucky if we get to live another day, and another month and another year. So peach helps you take delight in life. So the motherwort is more kind of the soothing calming and the peach is more the uplifting, expanding kind of delight, just like eating that Texas peach.

Rosalee de la Forêt:
I was just thinking that, Robin. I love that and just how you're referencing working with herbs as kind of partners and companions as we move through different areas of our life and different emotions. We don't have to have a diagnosed disease in order to turn to herbs. It can really, we can turn to them for delight. And I love that.

Robin Rose Bennett:
Yes, definitely. Delight, cooling, support. To me, the medicine is emotional, mental, physical and spiritual always. And we might be focused on one aspect surely, but that doesn't mean it's not influencing all those other aspects as well. Again, when I was using it and going through menopausal transition, it was helping with the hormonal shifts, and it was also emotionally calming, emotionally soothing. And then for a really fun way, here's another jar I'm going to hold up for people who are watching. So this jar of peaches, of fresh peaches are infusing in, it's a cordial. So they're infusing in Brandy and honey. And I'm thinking that if I'm a really nice herbalist, I'm going to bring this to my summer solstice ritual and share that with everybody, because what a great celebratory drink. And maybe I'll bring the vinegar for anybody who doesn't want to consume alcohol. There we go. So there's, just wonderful. And then I was reading in, do you know Natalie Vickery, family herbalist?

Rosalee de la Forêt:
Yes, I do know Natalie. Yeah.

Robin Rose Bennett:
So I was looking, she has a lovely write up on peach in her blog that people might want to check out. But she said for her stomach upsets, it really worked like a charm for stomach upsets. And then all of us say, it's things where the irritability might show up in red skin, red tongue ... Oh, which reminds me. I had a friend, I have a friend, she's moved now, bittersweet. I have a friend who has severe bee sting allergies and she is a beekeeper. Huh? So one day she called and she was stung, so they were waiting for an ambulance to come. And I had her, I think I was close by and just ran over. So we gave her a bunch of peach medicine to drink and poulticed where she had been stung with peach leaves.

By the time the ambulance came, she was breathing. She still went to the hospital. She went to get checked out. I mean, this is a person, had her pen, her epinephrine pen. But the difference that the herbs made, which she told everyone about afterwards, was remarkable. And she was a student, but she didn't really get how powerful herbs can be in an emergency, much less in, as you were saying, the most important thing of the everyday kind of weaving it in to our lives. But in emergency, that's pretty great.

Rosalee de la Forêt:
I'm so glad you mentioned that, because I can't remember who I learned that from years ago, but I also have a dear friend who's a beekeeper. And she doesn't have severe reactions, but she does get stung a lot. She often doesn't wear gloves, but the stings do bother her. And so I give her a combination of fresh plantain and peach tincture, the combination of those.

Robin Rose Bennett:
Oh, nice.

Rosalee de la Forêt:
Yeah. She just asked for a refill actually last week. So I need to get on that.

Robin Rose Bennett:
Smart woman. So that's a beautiful combination. I like that, peach and plantain, because both of them are so brilliant for eruptive skin conditions. You know what else that's making me think of? Is how about elder flower in there? That could also be really helpful thing. I use that a lot for measles and, you know.

Rosalee de la Forêt:
Yeah. Kind of the exterior allowing things to move out.

Robin Rose Bennett:
Exactly. Well, Kiva Rose, who also has written beautifully about peach medicine, she said to ... Let's see, I made a little note of it. She likes it with, it's almost kind of like my peach motherwort remedy. She had one where she says peach and burdock together, which I would think would also be ... She's using it like an alterative. And if people don't know that expression, because it's a little bit of an older fashioned herbal word. And alterative is an herb that's given to essentially alter a longstanding chronic kind of condition in the body. Maybe it would be eczema, or even psoriasis, because a number of herbalists have mentioned to me ... I've done this so long sometimes I forget what I have experiences with. But a number of herbalists have mentioned using it in, oh, well of course, allergies, autoimmune. Autoimmune conditions. An allergy is an over reactive thing.

So that would be another alterative use of peach medicine, like hyper immunity. So it's, again, a modulating herb for the immune system, not a stimulant. And it's very demulcent. So that would mean too, it could be helpful for heat in the urinary system. If someone's prone to UTIs, maybe peach, or peach mixed with corn silk or marshmallow. Okay. Now I'm just throwing them out there. It's something I've tried, but I'm just thinking. So calming, modulating, anti-irritant, fills us with delight. Yeah. A lot of good things in that beautiful, delicious peach.

Rosalee de la Forêt:
That is. Thank you so much for sharing about peach medicine, Robin. Well, I'm really excited to hear about the projects you're working on, because you have books coming out, and also ... Well, you tell us, but I'm really excited for this.

Robin Rose Bennett:
Okay. I just thought of one other great peach thing, so maybe we'll get back to it. Okay. But yeah. So projects, projects. So I have a number of books in the works of getting them out into the world. I am very excited about a novel that I wrote that is completed, and I am submitting it and waiting to find the perfect match, or the perfect agent, or the perfect publisher, because this is a book that is, of course it's got herbs, and herbalist and witches, oh my, in it, but it's a healing medicine story in the form of a thrilling page turner.

Rosalee de la Forêt:
Wow. I'm so excited. I read a lot of fiction. So when I saw that you had written a novel, first of all, congrats, because that is no small feat to write a novel. I'm really excited for this.

Robin Rose Bennett:
I am too. I literally, I so can't wait to get this in the world and people reading it. My first readers have given gorgeous reviews. And I'm basically kind of giving it to one person at a time to read, even while I'm waiting for a publisher, because I just want its energy out in the world, because it is, it's a really healing story and it doesn't skirt the darkness. It goes deep in and comes out the other side, which it's right where we are. And I can't wait to get started on my next novel. So that's where I'm at. But I also completed a book that is just, my illustrator is just finishing up, but it's all written. And it's a pocketbook that I'm calling A Green Witch's Pocketbook of Wisdom. And so it's a four by six with beautiful illustrations.

So The Pocketbook of Wisdom, because I like to keep a little book like that by my bed, and just open it every day and just see what I open to, a piece of wisdom, which as I mentioned earlier, I learned has a name, bibliomancy, which I didn't know that. But that's how I've been using this book. And every time I have a client, or even I'm talking to a friend, class, I open the book and see what's the message for us. So of course I did that for us for today, and I want to share with you the page I opened to. And so each page is one line and then a little bit of explanatory text. So here's the page I open to for your podcast, for our gathering. There is only now and it is alive with infinite possibility.

Rosalee de la Forêt:
Oh, Robin, I love that. I feel like I want to hear that before every single podcast I do from now on. Because it's so true.

Robin Rose Bennett:
Awesome. And then the little explanation under is, open to the magic of this moment as it comes to be. Let it go as it passes away. Be present to the next moment that arises. The past can only be the past when we let it go.

Rosalee de la Forêt:
Ah. Well, now I'm really excited about two books that you have coming out.

Robin Rose Bennett:
Are you ready for the third?

Rosalee de la Forêt:
Yeah, let's hear it.

Robin Rose Bennett:
Okay. So the third one's very exciting, is a young version of my book Healing Magic. So it's The Young Green Witch's Guide to Herbal Medicine.

Rosalee de la Forêt:
Oh, wonderful. Oh my gosh. I can already think of five people that I want to give this to, and I haven't even heard that much about it yet.

Robin Rose Bennett:
Wonderful. So I'm very fortunate, I have a wonderful editor and publisher for that one who's over the moon, excited about the project, which is worth its weight in gold, let me tell you. So that one, the other two are written and I'm looking to get them out, this one I'm writing now.

Rosalee de la Forêt:
Oh, wow. That is so exciting. That's a lot of writing, Robin.

Robin Rose Bennett:
Yeah. Well, writing is really my first love. And I've been teaching now for 35 years, and I have so many wonderful herbalists now that I've taught who are teaching, and have shops, or have schools, or have apprenticeships or blah, blah, blah, blah, blah. And it's not that I'm not excited about teaching still. I mean, you know this too, even though from a younger place, one of the great things about the herbal world is it keeps our curiosity, and our wonder and our passion alive, and kind of refreshing all the time. We're always learning and excited.

Rosalee de la Forêt:
I always say, I wonder who I'm going to be as an herbalist when I grow up, because I feel like I there's just, I've done so many different aspects of herbalism, and I know there are more to come. Like you said, there's just a continual unfolding of herbalism.

Robin Rose Bennett:
Now I'm excited to see what kind of herbalist you're going to be as you become an elder, an elder, an elder, an elder. That's very wonderful. I mean, I know you'll always be connecting people with the earth, with the plants, which is really essential. And I thank you for all that you do, and you write and you share, because you really are doing beautiful work in the world by being who you are. And that's what all, any of us is really here to do is to become who we are. And so a whole unexpected side benefit of studying plants for me has been, they know who they are. And as I have embodied them and taken them into me in all these different forms, they've helped me know who I am. And it's not just me. I see it with all my students and all the apprentices, everybody kind of comes into being who they are. And it's beautiful.

Rosalee de la Forêt:
That is so beautiful. I feel so lucky that we get to work with plants in that way.

Robin Rose Bennett:
Me as well. Me definitely as well. Yeah.

Rosalee de la Forêt:
Yeah. Well, before we head on to the last question that I'm asking everybody in season four, you mentioned that there was some more peachy things. And I don't want to miss anything peachy.

Robin Rose Bennett:
Okay. So this is a fun one to share. Thank you for coming, circling back to that. So some of the legends, especially from China about peach is that the peach tree is the tree of immortality. And there are also legends about motherwort being a plant of immortality, this is in China. And so I've thought about this, and I think that these stories about the plants, so the peach tree story is that there is a sacred peach tree that is 3000 years old, and this tree blooms every 1,000 years. And so if you can have a peach from that blooming, when that flower becomes the peach, then you become immortal. So my thought about this is maybe these stories about immortality are, these are the plants that would make you want to live longer, because both motherwort and peach, they're calming, they're soothing, they help you go with the flow. So then, yeah, sure. Sure. I'll live longer because I'm happy. So that's my perspective on it. But that's the legend, the tree of immortality. Juicy and delicious.

Rosalee de la Forêt:
I love it. Thanks for sharing that.

Robin Rose Bennett:
You're welcome.

Rosalee de la Forêt:
Well, the final question I have for you, Robin, is what do you wish you had known when you first started working with herbs that you now know?

Robin Rose Bennett:
I wish that I had learned how to tend plants first. So I grew up as an herbalist, as a wildcrafter in Manhattan, and elsewhere, of course, when I could get out. But I didn't know about how to tend plants. I didn't know how to garden. And I think that's backwards. So if I had my druthers, I would learn first how to take care of these beings that are taking care of me, rather than just, again, learning. And I'm grateful that I learned ethical wildcrafting, good conscientious ways to harvest and gather. And I, to this day still really primarily focus on weeds and harvesting the super abundant wild plants that gardeners go like, oh, you want to take that out of my garden? Sure. Go ahead. Thank you. And even in the city parks, they're like, yeah. Okay. Sure. Go for it.

So I wish I had known how to garden. So now I'm a gardener and I love that, but I think that it's important to know how to take care of the plants and not just ask for them to give themselves to us. I also was somewhat taught to be biased against certain kinds of information that was old. Like old white men wrote that, so don't read that. I had to undo that, because there's super valuable information. Maybe different approaches. Maybe more heroic or what have you. But it's not good to shut off streams of valuable information, especially from people where it was with people who had empirical experience. But we start with what we're taught and then we find our own streams.

Rosalee de la Forêt:
Yeah. Oh, thanks for sharing those with us, because that's really three, in some ways, gardening or tending of the plants being so important, letting go of our biases in order to just take in information. Kind of like what you just said too, is that we do make our own way in herbalism. So where we begin is not necessarily where we end up and it's forever unraveling.

Robin Rose Bennett:
Exactly. We can all learn to take, the best teacher often leave what doesn't work for us. The same for my students, or yours. You're studying with me. Take what works for you, leave the rest. None of us is coming from any place of perfection. Ideally we're coming from a place of being real with what we do and what we care about. The one other thing that I feel is really important is that I do still most value the information that comes to me from traditional herbalism, from people who have worked with the plants, with people. So I'm not dissing science, but if I have to choose, I'm going to go with what this African American granny midwife tells me has worked with the women. I've literally read in a book, oh, motherwort, it doesn't do anything. The science shows it doesn't. Really? No. So that I was taught from the beginning, was to look to people who have actual experience with plants and people, or animals, or the people are more than humans, and I still feel that's super valuable.

Rosalee de la Forêt:
Yeah. That is so true, Robin. Well, this has been a delightful conversation about peach. I'm very excited about peach pit medicine. That's not something I've worked with as much. I've done more twigs and leaves, which is just kind of harder to source. I more easily get peach pits. So I'm excited for the abundance of peach pits coming my way this summer.

Robin Rose Bennett:
Would you like a little tip on drying them?

Rosalee de la Forêt:
Please. Yes.

Robin Rose Bennett:
Yeah. Yeah. So there's two kinds of peaches. Some that fall away from the ... There's names from which I can't remember right now, but there's ones that fall away more easily from the pit. But regardless, the easiest thing to do is just gnaw on those pits until you get almost all the plant matter off. And then I just line them up whole on my window sill and they dry beautifully. And don't put them away to store until they're totally dry. And though I store 95% of my plant medicines, my dry herbs in bags, paper bags, peach pits definitely last better in glass. So dry them, gnaw them to get off as much fruit as you can, dry them somewhere, just lay them out, they dry pretty easily. And if you want to make the tinctures with them, you might want to experiment with doing it with fresh or dried, or I kind of do it right down the middle, maybe just dry it for a day and then tincture them again whole. And that's too for anybody else listening. Yeah, tincture them whole and it's delicious medicine.

Rosalee de la Forêt:
Wonderful. I think there's a lot of us going to be making some peach medicine, whether it's the peach oxymel, or peach pit tincture, or any number of things. Your peach infusion, I'm also excited for that. So it's been so peachy.

Robin Rose Bennett:
It's been positively peachy being with you.

Rosalee de la Forêt:
Positively.

Robin Rose Bennett:
I like peach. I like to kiss. Yeah. So muah, I'm sending a kiss across the line.

Rosalee de la Forêt:
Thank you so much, Robin. It's been such a pleasure.

Robin Rose Bennett:
Thanks for having me. Appreciate it very much. Appreciate you.

Rosalee de la Forêt:
Thanks, Robin.

Thanks for watching. Don't forget to click the link above this transcript to get free access to Robin's instructions for peach oxymel. This is a gorgeous recipe card. You don't want to miss it. You can also find Robin at robinrosebennett.com. If you enjoyed this interview, then before you go, be sure to subscribe to my newsletter below so you'll be the first to get my new videos, including interviews like this. I'd also love to hear your comments about this interview and this delightful plant. I deeply believe that this world needs more herbalists and plant-centered folks. I'm so glad you are here as part of this herbal community. Have a beautiful day.



Choose the best herb for you!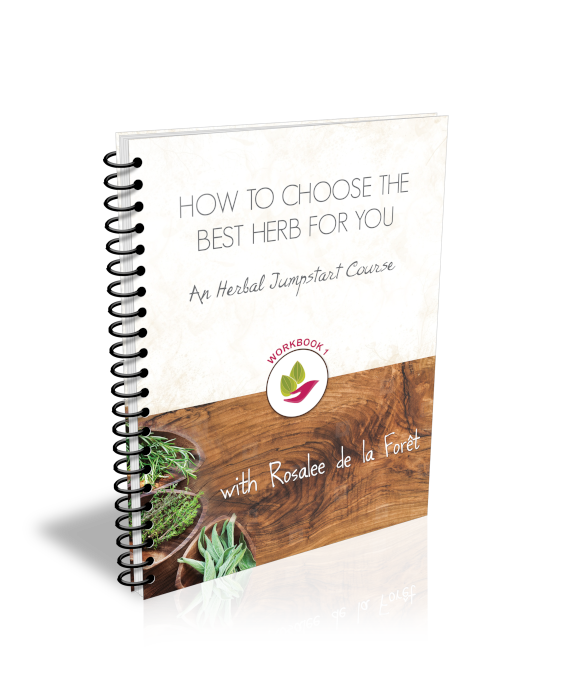 The secret to using herbs successfully begins with knowing who YOU are. 

Get started by taking my free Herbal Jumpstart course when you enter your name and email address. 

By signing up for my free course you'll also be joining my weekly newsletter where I send my best tips and herbal recipes. I never sell your information and you can easily unsubscribe at any time.