Season 10 Episode 9:
Rosemary Plant Benefits and Rosemary Recipe for Inflammation
---
---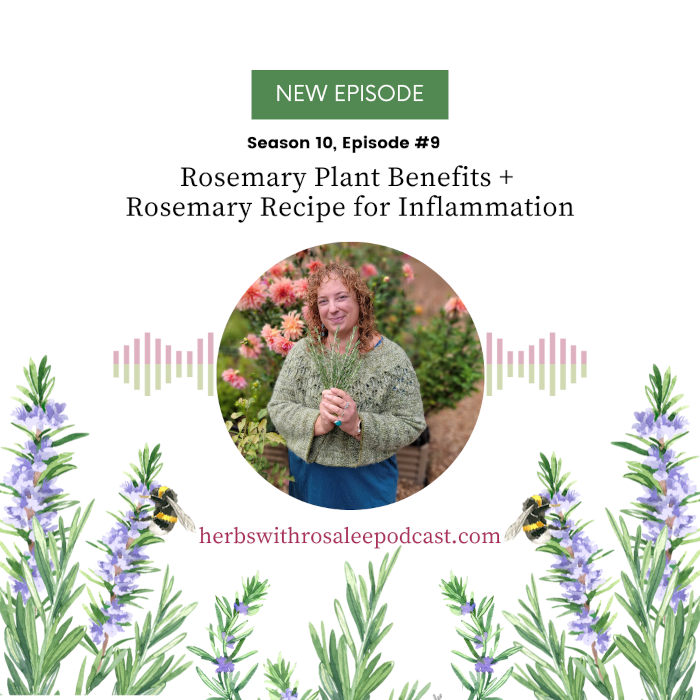 Would you prefer watching or reading this episode? If so, click here for the 'Rosemary Health Benefits' video and transcript.
Episode Summary
In this episode, I'm sharing six important rosemary plant benefits, including a recipe for rosemary tapenade, which is a great way to address chronic inflammation (in a delicious way!). I love rosemary not only for how it smells, but also because this plant truly blurs the line between what is food and medicine. In other words, this is a potent medicinal hiding in your kitchen cabinet!

When might you reach for rosemary?
► To boost your memory, reduce anxiety and depression, and improve sleep quality.
► As a support for the heart and circulatory system, which is susceptible to oxidative stress. (Watch the whole episode to find out which herb British herbalist Jeremy Ross recommends pairing with rosemary for heart health…and when)
► To enhance your digestion, whether your digestion tends to be slow or cold or whether you're eating a "heavy" meal
These are just a few of the occasions when rosemary can be your ally… But there are more, so tune in to the entire episode for all the details on the many medicinal benefits of the rosemary plant!
After listening in, you'll know:
► The best way to get your daily dose of antioxidants

► Which worked better for pain with menstruation: rosemary or NSAIDs

► What dosage of rosemary resulted in a significant beneficial effect on cognitive function in an elderly population in one short-term study
► Who needs to show caution in working with rosemary
► and much more
What You'll Learn from This Episode
[01:10] Introduction to Rosemary (Salvia rosmarinus)
[03:12] Rosemary Energetics  
[05:22] Rosemary as the Queen of Antioxidants
[06:19] Rosemary Protects the Skin and Promotes Oral Health
[08:49] Rosemary Supports Heart Health
[09:41] Rosemary Reduces Pain
[12:03] Rosemary Boosts Memory and Improves Cognitive Health
[14:05] Rosemary Promotes Healthy Digestion
[16:13] How to Identify Rosemary
[17:23] Special Considerations when Working with Rosemary
[18:00] Rosemary Recipe for Inflammation
[23:50] Herbal tidbit
Download Your Recipe Card!

Connect with Rosalee
Resources Mentioned