Season 2 Episode 4:
Roses with Rebecca Altman

---
---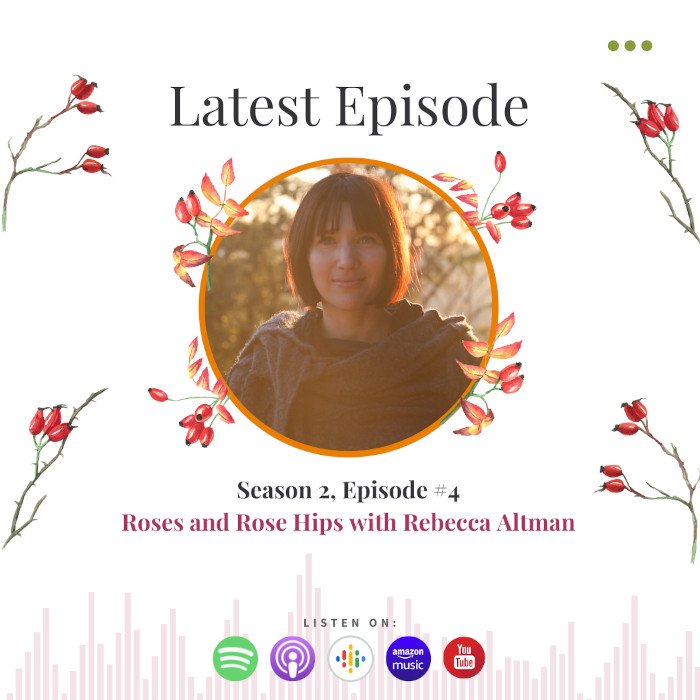 Would you prefer watching or reading this episode? If so, click here for the 'Roses with Rebecca Altman' video and transcript.
Episode Summary
Roses are a sensuous delight, but they also have many healing gifts. In this episode, Rebecca Altman and I discuss the very special gift roses have for reconnecting us with our core selves, even when we're feeling tense and stressed. We also discuss the physical health benefits of rosehips and you'll receive Rebecca's rosehip liqueur recipe.
Rebecca loves connecting people to the earth, to plants, to each other, and to themselves. The underlying purpose behind all of her work is to help people remember the wholeness of their being.
---

I have started to think of rose as a plant that reconnects us with our heart, with the heart of who we are. And it sort of relaxes the parts of us that we hold so tightly that prevent us from reconnecting with our heart selves. The reason, I think, that it often brings such a deep emotional reaction is that what people are feeling is themselves.

l

---
What You'll Learn from This Episode
[00:36]

Introduction

[02:52]

How Rebecca began working with herbs

[

06:39

]

Practicing herbalism in a major urban center (L.A.)

[

09:14

]

How wild roses came into Rebecca's life 

[11:24] The profound emotional healing gifts of wild roses

[15:26] Rebecca's favorite ways to work with roses

[

20:30

]

The health benefits of rose hips

[

24:30

]

How Rebecca makes rose elixir

[

27:14] Rebecca's rosehip liqueur recipe

[28:08] Rebecca's course, The Wonder Sessions

[30:40] The power of developing deep relationships with just a few herbs
Download Your Recipe Card
Connect With

Rebecca

: 
Connect with Us
Are Your Ready for More Herbal Inspiration?

The best way to get started is by joining my herbal community and weekly newsletter where I share my best herbal tips and insights.

When you join you'll also get access to The Herbal Jumpstart Course which helps you figure out the best herbs for you.
Sign up below!