Interview Requests
---
---
Do you have a popular podcast about natural health, herbs, sustainable living, or nature connection?

If so, let's talk! 

Hi!

I'm Rosalee de la Forêt and I'm the best selling author of Alchemy of Herbs: How to Transform Everyday Ingredients Into Foods and Remedies that Heal and co-author of Wild Remedies: How to Forage Healing Foods and Craft Your Own Herbal Medicine.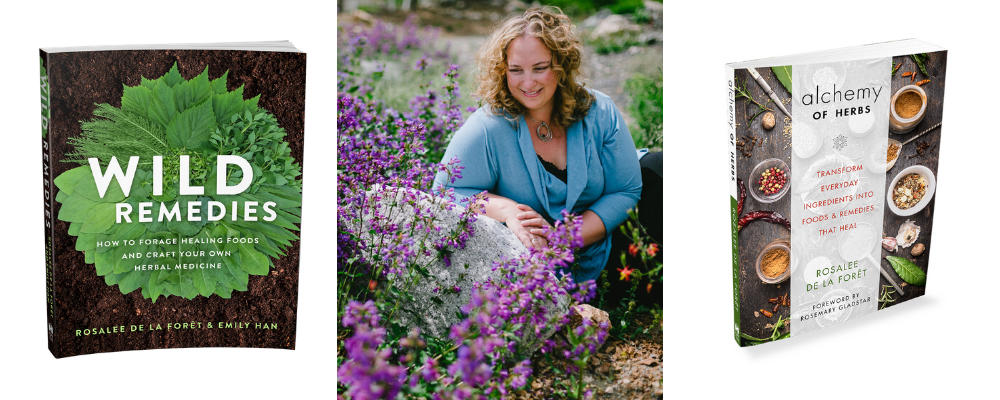 I teach about herbs in a way that is both practical and empowering. Through my online courses, articles and webinars I have had the honor of teaching well over 10,000 students. 

I love to inspire people to reach for healing herbs every day!

When I'm a guest on a podcast my first goal is to share information that is most relevant and helpful to your listeners.

Here's some examples of topics I'd be happy to share. I'm also very open to hearing what areas of herbalism and nature connection your audience will most want to hear. 

How to figure out what herbs work best for you: Herbal energetics (hot, cold, dry, damp)
Going beyond supplements, inviting herbs into your everyday life: using herbs as foods, beverages, body care, etc
Herbs for particular health topics: e.g. skin, digestion, immune health, etc
Strengthening connection to nature: using herbs seasonally, using herbs found growing near you (weeds)
Surprising Weeds for Long Lasting Health: dandelion, chickweed, nettles, violet, mullein, etc + recipes
Herbs for the Cold and Flu Season: How to nourish and build your immune system, Strategies for particular symptoms (coughs, fevers, etc)
Pros to Having Me On Your Show

My first goal is to share information that will inspire and engage your audience. I'm thrilled to work with hosts to create a show that is fun, informative and relevant. 

I love to share recipes and information about specific herbs. I'm happy to create recipe cards and other reference downloads for your audience based on what we discussed. 

If you have a Patreon or other type of supporting membership I have many illustrated e-books and other e-gifts you can share exclusively with them. 

Once the show is live I will share it with my large audience on social media and in my popular newsletter.
Before Filling Out the Form Below...
I get asked to be on a lot of podcasts and unfortunately I am not able to do them all. 

In order for me to commit to your podcast I need to know that it's a good fit, topic wise, and that you have a healthy number of engaged listeners. Please communicate this clearly to me when you send in your pitch. 

I love discussing herbs, natural health and nature connection but there are some topics that I don't discuss. If the following topics are at the top of your interest, then we aren't a good match. 

Heavy metals

Severe detoxing or purging

Parasites cleanses

Weight loss

Fad diets, supplements, etc. 
Let's Do This!

If you think we're a good fit, please fill out the form below. My assistant will be in touch within 48 hours of receiving your form (unless it's a weekend).