FAQs
---
---
---
Here you can find answers to the most frequently asked questions about Rosalee's services.

---
Are you available to teach at my school/event?
Between my own work, my garden and maintaining our homestead my ability to travel to teach is very limited. As a result I am rarely able to accept teaching offers. Please review these requirements for more information.
Are you available to be interviewed for my podcast/radio show?
Between my own work, my garden and maintaining our homestead I have limited availability for interviews. Please review these requirements for more information.
How long have you been practicing and how did you become a clinical herbalist?
To answer this question, it's probably best that I share with you a defining moment and resulting "compelling story" that brought me to where I am today, working with people like you to help them overcome chronic disease and move towards vibrant health.

When I was 23 I was "suddenly" taken ill. I spent an entire month in bed, tormented with musculoskeletal pain, an itchy body rash that came and went, and a fever that spiked at night and went away during the day. I was finally hospitalized after becoming severely dehydrated and after two weeks was diagnosed with a rare autoimmune disease called Still's. The doctors didn't have good news. They gave me steroids and said it would be a slow and painful decline to an early death.

That was a really difficult time in my life. For about three days I just cried and cried and wondered, "why me?" But after a while I became absolutely determined to figure this out.

Over time I began to see that there were lots of small signs leading up to my autoimmunity disease and my "healthy" soy vegetarian diet wasn't serving me. I realized I needed a total health makeover to purge a lot of health fads from my life. I also assembled a team of people to help me, from acupuncturists to herbalists to NDs to massage therapists.

After six months of intensive work I became symptom free from this "terminal" and "incurable" disease and I have continued to live symptom free for almost ten years!

My experience with autoimmunity further inspired me to delve into the natural health world. I became intensely dedicated to helping people like me: people who needed to find the root cause of their health problems and transform their lives to be healthy.

I have over 8 years of training as an herbalist, from ethnobotany and wildcrafting to clinical herbalism. I've graduated from the East West School of Herbology and have been mentored by some of the most important herbalists of our time, including Michael Tierra, Paul Bergner, and Karta Purkh Singh Khalsa.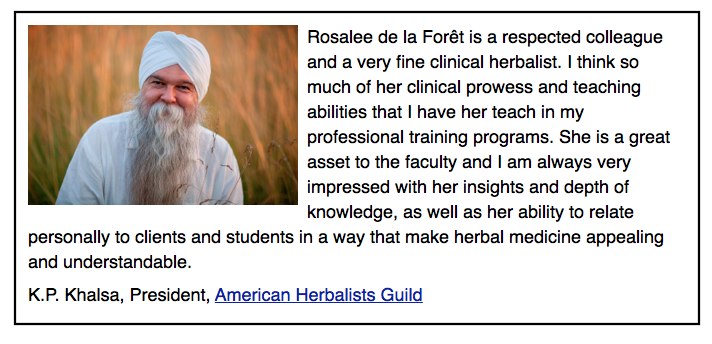 I am also trained as a Structural Medicine Specialist, which is a type of structural integration.

I have been a practicing herbalist since 2006 and I have been practicing Structural Medicine since 2007.

You can read more about me here.
What happens if you've never worked with someone who has my particular health issues?
I do not diagnose or treat western diseases. Instead, I use a different paradigm of healing that looks at patterns to understand the root cause of disease. While you may have a rare disease, you may still show patterns that I am familiar with.

That being said, I review all intake forms before we meet and if I don't think I can help you then I will refund your money and help you find someone who can. I really love watching people transform their health and I never work with people I know I can't be of service to.


How are you different from other herbalists or health coaches?

I specialize in finding the root cause of chronic health complaints so that a person can achieve vibrant health. I use a very individualized and constitutional approach that combines Traditional Chinese Medicine, Ayurveda, and Traditional Western Herbalism.

I also work very closely with people to create a program that works for them. Keep in mind that I am not a doctor and I do not prescribe or demand that someone follows my suggestions. Instead, we are a team working together to find solutions.

Part of working closely together is that I am there for you every step of the way. By offering constant email support I am able to answer all those little questions that come up and am able to continually help you as your health transforms. Some practitioners charge you an arm and a leg just to get an email answered. With me, getting your questions answered is always a part of working with me, at no extra charge.



What if I don't live near you?

I work with people all over the world by telephone and Skype.
What type of personality do you work with best and what is expected of me?
I work best with bright people who are motivated to make changes to their life. I expect people who work with me to be willing and able to make changes in their life. The more time and energy you can put into our time working together, the more you will get out of it.

I will most likely be recommending herbs to you. So you must be willing to take herbs in some form, whether that is teas, tinctures, powders or capsules.

You are my ideal person to work with if...

You've been struggling with a chronic health condition for a period of time.

You want to avoid pharmaceutical drugs and unnecessary surgeries that only suppress symptoms and instead want to discover the root cause of your issues.

You are motivated to play an active role in your healing process.

You are willing to make changes to your life to move towards vibrant health.


What type of person are your services not going to work for?

If your goal is to find that one simple pill to take in order to solve all your health problems then we are probably not a good match. It's rarely that simple! My protocols generally include diet and exercise recommendations as well as herbs. I typically use physiological or large doses of herbs, not simply a couple drops of that or one pill a day.

If your main goals for changing your health include fast, convenient, and as cheap as possible, then please do not work with me.

Although I hope that my protocols work quickly, are convenient and inexpensive, my biggest goal when working with people is deep, long-lasting change that gets to the root of the problem. Achieving truly vibrant health often takes time and commitment.

Another type of person I won't work with (without exception) is the whiner or the chronic skeptic, as well as individuals who consistently make excuses for not having the time to prioritize their health. If you are one of these people, I gently and respectfully ask that you not call and I hope you understand why. We'll probably just not work well together and I wouldn't want you to waste your time or money.


Does herbalism really work?
Yes! Herbalism is practiced by over 80% of the world's population. I wouldn't be offering my services unless I knew without a doubt that herbalism works. (See client testimonials.)

Herbalism works in the following ways:

By evaluating the individual to determine the underlying causes of a health problem.

To repair small health imbalances before they evolve into full blown diseases.

By recognizing the body as a whole system and not just treating one aspect of a person's health.

By using specially formulated herbs that are safe with mild or no side effects.

By helping a person incorporate foundational health practices such as diet, exercise and stress management.

By educating people and involving them in their own healing process.


How much do the herbs you recommend cost?
The cost of herbs varies significantly from person to person. I will work with you to figure out your budget and then prioritize which herbs and foods are most important for you. Keep in mind that you can save time with money and money with time. Bulk herbs are the least expensive form of herbal medicine. They can also be the most inconvenient in terms of the time it takes to make teas, decoctions, etc. Capsules are one of the most expensive forms of herbal medicine, but they are typically the most convenient. On average the herbs I recommend can range from $40 - $100 per month. For those on the upper end this is usually just for the short term.


What results can I expect?
That depends on your health issues and your willingness to make changes. I can't guarantee you any results. I can guarantee that I am dedicated to providing you the information you need to transform your health, but it is up to you to do the tough work of making changes in your life, taking herbs daily, etc.

I can say that I regularly help people transform their health. I only accept people as clients who I believe I can help.


How quickly can I expect results?
This varies significantly from person to person. Factors to take into consideration are your particular health issues and your willingness to make changes. I always make an effort to give the people I work with an estimate of how long it will take to see changes. It's safe to say that if you have had a health issue for the past twenty years, then it is not going to go away over night.

People I work with generally consistently feel better and better, although little setbacks can happen along the way. If you have a chronic health problem you probably experience good days and bad days. My goal is to increase your number of good days while seeing your bad days decrease.


How will we work together and what does the consultation entail?
Here's the way I work with people.

First we schedule a free fifteen minute phone call. This time allows for us to discuss your health concerns and health goals and helps me to determine if we will be a good match together. During this phone call we can also determine which health consultation package works best for you.

Once we've decided to work together you receive my intake form. After you fill this out you'll be able to schedule a one-hour initial consultation with me. During this phone call we will go over your intake form together. This will be a time for me to ask clarifying questions and share with you my ideas about your health solutions.

Within 24 hours of our phone call I will send you a complete list of my recommendations. This will include what I am suggesting, the amount I am suggesting, how long I am recommending it for and why I am recommending it for you. It will also include information on where to find all of these things.



How long is the program?
Depending on your preference and your health concerns your time with me could last one month to 6 months. I often work with people continuously through follow ups. I have several different packages for people to choose from here.


Do people ever sign up again?
Yes, I often see people for follow-ups to continue to help them as their health changes.


Okay, I know I want to work with you, can you help me choose which plan is best for me?
Absolutely! You can schedule a free 15-minute conversation with me here. We will discuss your health concerns and goals and figure out which package makes the most sense for you.


If I am not sure I'm ready to get started, how can I sample your work at low cost to see if it's the right solution for me?

I really want people to feel 100% sure about working with me. Feel free to sign up for my newsletter and browse my website. Both are full of free in-depth content about the way I work.


I have a family and a busy life. Although I really want to solve this health problem, I don't have much time to spare. How much time do I need?
This really varies from person to person. I make every effort possible to create a plan that fits into your life. However, if you are not in a position to prioritize your health, it may not be the right time to work with me.


Okay, I am ready to do this for myself, but I have a couple additional questions. Can we talk on the phone first?
Absolutely. Please visit this link to schedule a free 15-minute get-acquainted phone call with me.