Herbal Skin Care Tips
---
---
I often hear from my readers that they would like to have healthier skin through herbal skin care.
I get that! Our skin is such a visible part of who we are. 
Not only is healthy skin beautiful, your skin acts as an important barrier against the outside world and is considered a major factor in immune system health. 
In order to have healthy skin, you have to work both inside and out. Here are my tips! 

1. Eat a Nutrient-Dense Diet Filled With Antioxidants
When researching my book, Alchemy of Herbs, I was surprised to see how many studies showed that a person's skin was able to resist DNA damage when antioxidant-rich herbs were regularly consumed! Some wonderful foods and herbs to choose include berries, artichoke hearts, brassica vegetables and practically every herb and spice you can think of. The trick is to really immerse these types of foods into your life every single day. 
2. Support Natural Systems of Detoxification
Your body naturally metabolizes wastes every second of every day. Your lungs filter and release carbon dioxide. Your liver performs seemingly a thousand and one detox functions such as breaking down hormones and filtering blood. Your colon and kidneys regularly remove metabolic wastes from the body. If any of these systems aren't working optimally the result is often seen on the skin. That's why herbalists often address inflammatory skin conditions by supporting your detox organs. Herbalists often use herbs like dandelion root, red clover flowers and burdock root to gently support detoxing. 
3. Avoid Excessive Sun Exposure
While we've come to appreciate appropriate amounts of sun exposure for its many benefits — from sleep regulation to the joy of feeling sunshine on your skin to vitamin D3 absorption — it's still the case that long exposure to the sun, especially when sunburns result, is very damaging to the skin. Your best bet is to avoid long amounts of sun exposure, especially if you have fair skin. Covering up with light clothing and hats is the next best option. And finally, use carefully selected sunblock for days spent in the sun. 
4. Avoid Using Toxic Substances on Your Skin
I know this seems obvious, but it's pretty crazy how many substances known to be harmful to people and the environment are regularly used in health and beauty products (as well as cleaning products). Be wary of products containing parabens, phthalates, triclosan, propylene glycol, toluene, benzophenone, PABA, avobenzone, homosalate and ethoxycinnmate. And don't be fooled by packaging that claims to be "natural". You've got to read the ingredients carefully and research any that aren't familiar to you. 
5. Revitalize Your Skin With Botanicals
In addition to getting herbs inside your body, they can also be powerful protectors when regularly used topically. Herbs have been shown to protect and repair DNA damage and increase hydration and elasticity. Some of my favorite herbs for the skin include calendula, lavender, St. John's Wort and rose. 
I tend to make a lot of my own skin care products. I've always thought that is the best way to ensure they are actually filled with the best ingredients. 
Recently someone enthusiastically suggested that I try Annmarie Skin Care products. 
I admit I was a bit skeptical. I know that many "natural" skin care companies throw in a tiny bit of herbs with a bunch of questionable fillers and then call that good. 
However, this person seemed genuinely amazed with Annmarie Skin Care so I decided to give them a closer look. After looking at their website I was immediately impressed! Their products are filled with botanicals that have been sustainably sourced through organic farming and wildcrafting and they don't contain any strange filler ingredients. It was obvious that this company cared about healthy skin but also for our earth. I also appreciated that they didn't simply add essential oils to their products but that they also infused their oils with herbs. 
Intrigued, I signed up for a sample of their products and they blew me away. They came beautifully packaged and from the moment I started applying them to my skin I was hooked. 
I've had a chance to try a variety of their different creations and I really love their skin serums, their honey mask and, it feels weird to say this, but also their makeup. I don't wear a lot of makeup, generally only when I am recording a video course, and it's been hard to find makeup that truly isn't toxic. They have a really interesting mineral powder plus botanical oil system for applying foundation that I really liked. I will definitely be wearing that for my next video course! 
Because I was so impressed with Annmarie Skin Care, I've teamed up with them so that you can get a trial package of their products. 
Here's the deal! 
Annmarie Skin Care has put together a trial package in which you can try any of 3 special sample kits that include some of their best-selling products. You can choose a sample kit based on your skin type -- normal, oily, or dry.
These kits are $10 each AND when you order one (or more) you'll receive a $10.00 off coupon that you can use for a future purchase. Annmarie Skin Care is also offering FREE SHIPPING for these kits – anywhere in the world.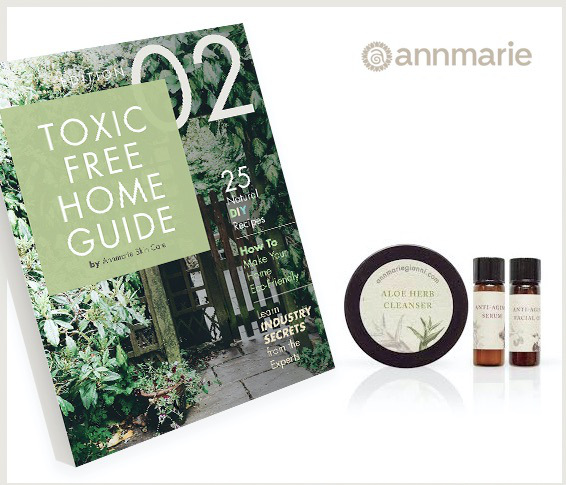 Also, when you get a sample kit today, you'll get their newly updated Toxic Free Home Guide. This is an in-depth, beautifully laid out guide that exposes the worst and most common chemicals you can find throughout your house — in cleaning products, toiletries, even your couch -- and shows you safe alternatives to use.
Their comprehensive, easy-to-read Toxic Free Home Guide is full of tips for creating a beautifully natural home, with lots of product recommendations and DIY recipes for everything from deodorant to drain cleaning solution.
If you order a sample kit today using this link, you'll get this guide -- free -- which is a $24.95 value. 
Finally, as an extra added bonus, if you're one of the first 100 orders, Annmarie Skin Care will send a travel-size Radiant Skin Silk Body Lotion — a $9.95 value — to you for free. If you're one of the first to buy, this bonus gift will not show up on your online receipt but will be included in your order.  
So for $10, you can try this award-winning skin care line AND a $10 off coupon for a future purchase AND get your own digital copy of Annmarie Skin Care's newly updated Toxic Free Home Guide. You'll also receive their travel-size Radiant Skin Silk Body Lotion as a gift if you're one of the first 100 to place an order.
Get Your Sample Kit and Bonuses Here!