Herbal Healing Cream
---
---






Most of my readers already know my love affair with herbal creams. When brewed up perfectly, herbal creams are soft and silky and visibly nourish the skin. 

See my recipe for Wild Rose Facial Cream here or share your own herbal cream recipe here. 

But herbal creams can be far more than a simple beauty treatment. They can also be powerful allies in healing skin. 
An Herbal Healing Cream Can Heal Damaged Skin
One of my dear friends called me the other day to ask about her baby's eczema. It was covering one of her wrists and was bright red and painful looking. We discussed many of the ways to address eczema and I told her I'd make an herbal eczema cream that she could use on her baby. 
My friend just called and said that a week after using the cream the eczema is all gone except for a tiny little spot!  (She also mentioned she is trying really hard not to use it all up for herself since this is my most luxurious cream yet.) 
While I never recommend using topical treatments as the only method for addressing eczema, they can be an important part of the healing regimen by decreasing localized inflammation and discomfort and promoting the healing of the skin.  
Why an Herbal Healing Cream Works
The recipe below is filled with the best natural ingredients that both decrease inflammation and also promote the healing of damaged skin. 
Shea butter and coconut oil are both used extensively in skin products because of their deep moisturizing ability. 
Calendula and cottonwood are both anti-inflammatory and antimicrobial, which can inhibit a secondary infection to the damaged skin. Cottonwood relieves pain wonderfully. Calendula excels at promoting healthy skin after injury or damage. 
Rosehip seed oil is fantastic for damaged skin. It can address premature aging and promote the healing of scars. 
Tamanu oil is a powerful oil used extensively for all sorts of skin problems, from eczema to acne to injuries. 
Aloe is a soothing agent that can decrease itching and promote new skin growth. 
Lavender hydrosol and lavender essential oils are both anti-inflammatory and antimicrobial. 
The great thing about herbal creams is that they can be modified and experimented with. I originally started using Rosemary's Perfect Cream recipe and now mix up different butters and ratios depending on my current desires. Feel free to explore! 
How to Make Herbal Creams for Damaged Skin
Ingredients
Butters:
Oils:
Waters:
I've linked all the ingredients to Mountain Rose Herbs - my favorite place to buy high-quality organic ingredients. 
You'll need a scale to weigh out the hard ingredients. Here is the Digital Kitchen Scale that I use (and love).  
Directions to Making the Herbal Healing Cream
Begin by weighing out the beeswax, coconut oil and shea butter. 
In a separate container measure out the oils. 
Add the beeswax, coconut oil and shea butter to a double boiler, or heat in a regular pan on very low heat. Stir frequently until it is completely melted. 
Remove from heat and slowly add the oils. You'll notice them thickening up the mixture a bit. If necessary return to low heat again until everything is completely melted again. (The less heat the better!)
Add the melted mixture to whatever container you are going to mix them in. (Blender, bowl, food processor, etc). 
When the butters and oils have cooled enough that they are no longer clear (see the transition in the photos below), you are ready to mix in the waters.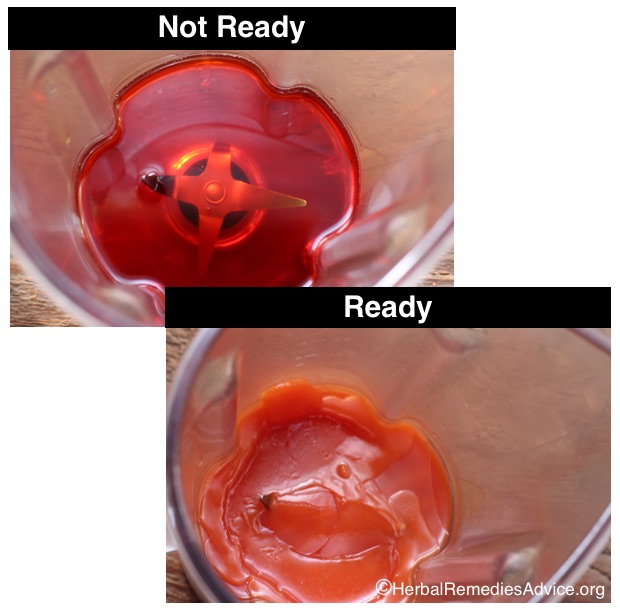 Start whipping or mixing the oil mixture on high speed and slowly add in the water mixture. This is my favorite part! The two mixtures combine to form the luscious cream. (Total mixing time is less than two minutes.) 
Mix in essential oils if desired. 
Pour the cream into clean jars. 
This recipe makes about 12 ounces and won't spoil for at least six months. Try keeping it in the fridge if your creams tend to spoil.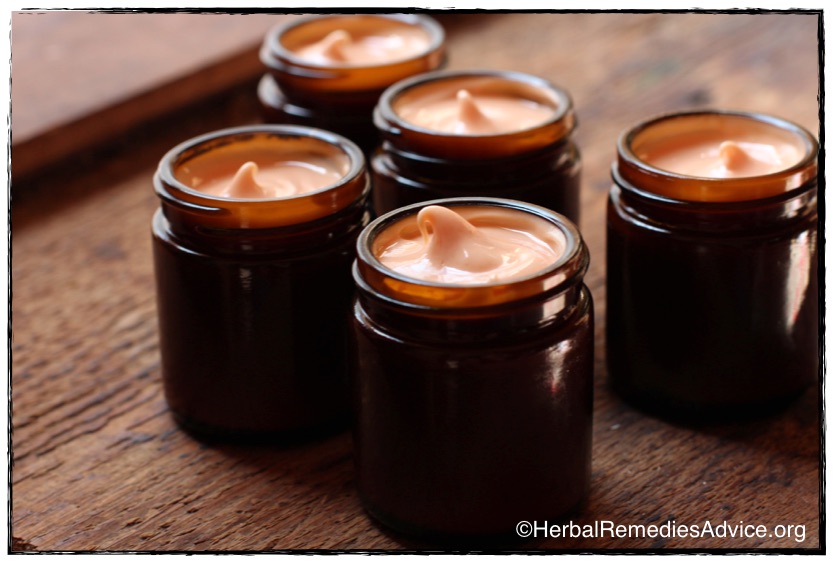 Tips for Cleaning Up
To clean up, wipe down everything with your hands and smear as much as you can on your body, then go through again and wipe it down with a paper towel. Once it has been cleaned thoroughly with a paper towel it will be easier to wash. 
Troubleshooting
If you don't to make cottonwood-infused oil or calendula-infused oil yourself you can simply use calendula-infused oil and plantain-infused oil from Mountain Rose Herbs. 
It's very important to have both the oil mixture and the water mixture at room temperature before you mix them together. 
Keep everything as sanitary as possible to avoid spoilage. 
Have Your Own Great Herbal Cream Recipe?
What's your favorite herbal cream recipe? Share your own recipe here and be featured on this site!
Find Other Great Herbal Cream Recipes!
Click below to see some herbal cream recipes from other visitors.
Couperosis Preventing Cream

I found this cream useful for treating spider veins on the face. Mango butter 1,5 g Rosehip oil 1 ml Avocado oil 2,5 ml Rice bran oil 11 ml The …
Hibiscus Healing Cream

This is the very first cream I have ever formulated myself. It is completely original as far as I know as I have never seen a cream using hibiscus tea. …
Cooling chickweed/calendula cream

This is based on Rosalee's Herbal Healing Cream Recipe 0.7 oz. beeswax 0.9 oz. coconut oil 0.7 oz. shea butter 1/2 cup chickweed oil (in sweet …