Benefits of Chai Tea
---
---
Cold weather and rainy days call for comfort food and hot drinks. The last few years I've been experimenting with herbal tea blends, then began making my own mulling spices and then discovered masala chai and, therefore, the benefits of chai tea.
What's masala chai? A hot drink originating in India, masala means spice, and chai means tea. Americans have shortened the name to chai (or to the grammatically redundant, chai tea). 
Benefits of Chai Tea
In addition to tasting delicious and warming our inner body, there are multiple chai tea health benefits. Several of the traditional spices can assist with digestion and alleviate nausea, making it the perfect after-dinner beverage. Daily consumption of a strong ginger-based chai soothes our aches and pains. Traditional chai spices have antioxidant and anti-inflammatory properties. 
Chai tea recipes are like curry recipes: they vary widely by region and by individual tea makers. There are traditional spices that most recipes include but Western herbalists have also used chai as a medium for medicinal mushrooms and adaptogenic herbs that not only taste delicious but support overall wellness. 
Benefits of Chai Tea: Traditional Chai Spices
Green Cardamom pods
Considered the Queen of Spices in India, green cardamom is a slightly sweet aromatic spice.  
Ginger 
Traditional recipes call for fresh ginger, which offers a spicy citrus flavor. Dried ginger can be used and will add a spicy hot flavor.  
Cinnamon
The familiar spicy-sweet flavor of cinnamon is a staple of masala chai.
Fennel Seeds
A pinch of anise-like fennel seeds goes a long way in a cup of chai and too much can overpower the other spices but its addition can "lighten" the chai blend. 
Peppercorn
The sharp taste of pepper can add a little bite to the chai and perhaps that's why it is often not included in commercial blends.
Cloves
Like fennel seeds, a few of pieces of the intensely spicy cloves is all that is needed in a chai blend.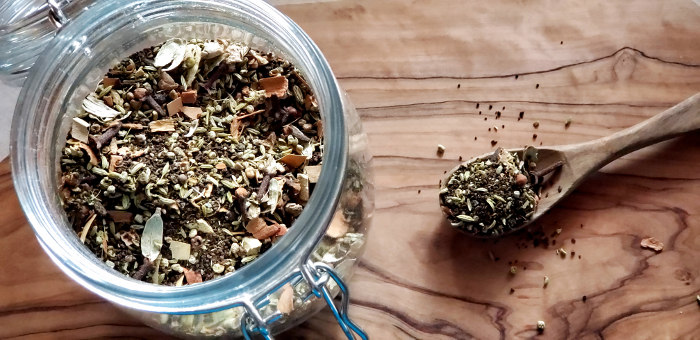 Benefits of Chai Tea: Additional Herbs
Nutmeg
A classic ingredient for mulling spices, nutmeg earns it place in chai by offering a sweet and aromatic flavor.
Licorice Root
Not everyone likes the flavor of licorice and too much can overpower the tea. But the addition of licorice to a masala chai blend can bring a delightful sweetness to the tea. Daily use of licorice should be avoided by those with high blood pressure.
Cacao
Unsweetened cacao nibs or cocoa powder will add the chocolate aroma but not the sweetened chocolate flavor that you may desire. Chocolate syrup would likely do that if what you really want is a spiced hot chocolate.
Vanilla 
Tucking a chopped vanilla bean into your chai blend will help to smooth out the spiciness.
Reishi Mushroom
Adding reishi to your chai supports your immune system.
Astragalus & Codonopsis 
Adding these adaptogens to your chai blend is a great way to support your immune system during the winter months.
Black Tea 
Adding black tea to your chai tea is traditional, but add after simmering the spices and allow it to steep in the hot decoction.
Milk
Drinking a decoction of spices without milk or sweetener is a strong-tasting tea!  Traditionally, cow's milk is used but you can substitute a plant-derived milk like almond or coconut milk.
Sweetener
In India, jaggery is the traditional sweetener added to chai after it has been cooked. Cane sugar, honey or maple syrup can be used to sweeten chai.
How to Make Chai Tea
Traditionally, whole spices are roasted for a few minutes to awaken the volatile oils and then are decocted in a diluted mix of milk and water. 
Traditional Chai Tea Recipe
Ingredients
Directions
Combine spices and dry roast on a hot griddle or frying pan until you smell their aromas (2-3 minutes). Remove from heat, allow to cool and place in mortar and pestle. Crush until the spices are opened but not ground.

Combine milk, water, and spices in pot and simmer until reduced by half. Turn off heat.

Add black tea leaves, cover and allow to steep for 10 minutes.

Strain and pour into cups and add sweetener of choice, if desired.
One of the best benefits of creating a unique masala chai is the opportunity to add herbs that can provide additional medicinal support. Rosalee's chai tea recipe is an example of using chai to support our immune system.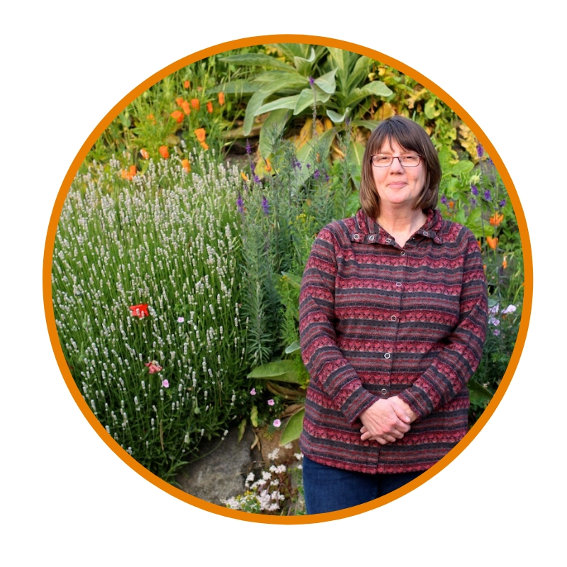 Sue Kusch, a former community college instructor and academic advisor, incorporates her experiential wisdom, expertise and science-based research garnered from her three decades of growing vegetables, fruit and herbs into her educational writing about plants and how people use them. In addition to her BA in Social Sciences and Masters in Education, she completed the Master Gardener training in 2011 and two permaculture courses in 2001 and 2014.  She has studied medicinal and nutritional uses of herbs, including studies at Herbmentor and East West School of Planetary Herbology, since 1997. An avid reader, lover of historical and folkloric information, and a promising storyteller, Sue writes about the intersection of plants and people.