Uses of Lavender with Kami McBride

---
---
-- TIMESTAMPS -
00:00 - Introduction
01:46 - Kami's journey to herbalism and foraging edible and medicinal plants
08:20 - Kami talks about the many ways to work with lavender (Lavandula angustifolia) in the kitchen and bath
17:19 - The benefits of lavender as a healing herb for relaxation
23:16 - Introducing the younger generation to lavender
25:57 - How herbal oils can be a doorway to herbs and a gentle invitation to cultural shift
29:28 - Kami's tutorial about how to make lavender infused oil
31:25 - Kami shares about how herbs bring her hope
Click here or the banner below to access Kami's tutorial on how to make lavender infused oil.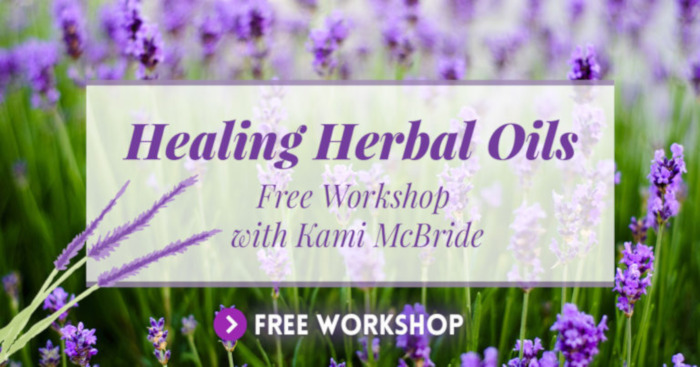 Connect with Kami
Transcript from the Uses of Lavender with Kami McBride Video

Rosalee:
Hello and welcome to the Herbs with Rosalee podcast. I'm your host, Rosalee de la Forêt. Today I'm delighted to be here with my good friend and fellow herbalist, Kami McBride. I've learned so much from Kami's wisdom and experience over the years. She's also really fun to just hang out and chat with, which I do a lot as well. You may already know Kami as the author of The Herbal Kitchen and her many online courses, which help you build confidence and skill to use herbs in your daily life for prevention and herbal self-care. Kami's 30-plus years of teaching herbal medicine is steeped in her calling to inspire a culture that embraces taking care of our bodies with healing herbs, a deep connection with the earth, and a lifestyle that passes this knowledge on to our children.

Kami has taught herbal medicine at the University of California, San Francisco School of Nursing, and the Integral Health Master's Program at the California Institute of Integral Studies. She's helped thousands of families learn how to use herbs for prevention and self-care. Welcome to the Herbs with Rosalee podcast, Kami. I'm so thrilled to have you here today.

Kami:
I love being here, Rosalee. I love what you're doing. I love how much you share with everybody and the impact and just how much people can learn from you. I'm so grateful to be here and be part of that.

Rosalee:
Thank you very much. Well, I just want to dive right in, Kami. I know, because we're friends and I've been following you for so long, that you had a pretty dramatic entryway into the world of herbalism and medicinal plants. I'm wondering if you would share about that—what led up to you finding the plant world?

Kami:
Yeah, there's a couple things. One was the dramatic part. I had to have a surgery that was a result of a side effect of a medication. It actually started a little bit before that. The thing is, my grandparents were foragers. My grandfather was a wild mushroom forager. He was of Scottish heritage. My great, great, great grandparents on multiple lines came to California from Scotland and they brought mushroom knowledge with them. They were voracious foragers and gleaners. I mean, they were like, "Pull over, there's a fig tree." My grandfather, I spent a lot of time with him. He told me that there was nothing that made him happier than just being out in that field with nobody else and those mushrooms. This love of the earth's harvest and abundance and generosity and just looking for the wild things, he instilled that in me.

He actually, in the 1960s, started the first nature camp in our area. I was part of that. Because he said, in 1962, "The problem with today's youth is they don't spend enough time in nature." That was in the '60s, right? 1960. He started a nature camp and I was part of that. It was during that that I went on my very first herb walk. I remember everything that person said; the very first plant that I was introduced to, I was like, "Oh my God."

Rosalee:
Don't leave me hanging. You have to tell me what the first plant that you were introduced to was.

Kami:
Oh, yellow dock.

Rosalee:
Oh, lovely.

Kami:
Yellow dock. It was a wild weed in the fields where we went. He introduced us to yellow dock and red root and fennel. I don't remember a lot when I was eight years old, but that, I have tunnel vision to that memory. Ever since that day, I was just always looking for the threads of, "Oh, you can eat that? Oh, you can drink that?" I was caught. The thing is that, my family, they weren't herbalists. They still reach for medication for everything as the first option for anything that's going on. I mean, I had never heard the word herbalism or holistic health or anything like that, but they had this food wisdom intact, right? That was a big part of I think why I was attracted to herbs in the first place.

When I was a teenager, I developed a brain tumor that was a result of taking a medication. At 19 years old, I went into surgery not knowing if I had cancer on my brain or whatever. After that surgery, my doctor said, "You get off that medication. Your doctor is not going to tell you this, but I do surgery all week long because of that medication." Needless to say, at 19, you're not really paying very much attention, but after that I started paying a lot of attention like, "Oh, okay. The world is not as it seems," right? It was like a veil was lifted. I was very close with my grandparents. I went to their house and I looked in their medication cabinet and I saw all their medications. I was just like, "Oh my God."

I started reading that little piece of paper that comes with the medication that tells you about the possible side effects. You actually want to read that, you know? I remember sitting in their home just going, "There must be another way." I asked the question, "Isn't there another way?" I remember asking that question. As you probably know, Rosalee, so much of our lives are guided by the questions we ask. Right? I asked that question and then one thing led to another, and somehow by the grace of some miraculous I don't know what, I ended up on the windy road to the California School of Herbal Studies and landed with Rosemary Gladstar, 1986. One thing led to another, right? My first couple hours with her, I remember more vividly and I learned more than I did in the five years I had just spent in college.

Rosalee:
No doubt. That's something I talked to another podcast guest about. Rosemary has so much presence. I mean, that woman is obviously hooked in. Just to be with her is an experience that is unforgettable.

Kami:
Yeah. At such a young age, in a culture where nobody professed... I mean, that was a different era. I was just like, "Okay, I'm here now." I remember my parents, everybody being like, "What?" Herbalism wasn't on the radar. Nobody had even heard of elderberry syrup. Right? But there I was. I proceeded to just spend the next 10 years traveling. You know, there was no internet. I just went and lived and traveled for about 10 years, just studying with whoever I could find. I would pick up and go to New Mexico. I'd pick up and went to the Catskills. I was just like, "Oh, I heard about this teacher. I'm going there." You know? That's what it was like for me. It's just been one continuous journey and I'm still here.

Rosalee:
I'm so grateful that you're still here. I love hearing that story, especially since it wasn't that long ago but, in a different world, it is such a long time ago. Like you said, before the internet. Back then, there was maybe five herbal books that you could commonly find and just a very different world we live in now. It's good to remember those times and just how much herbalism is changing through these decades.

Kami:
It's a slower learning. I mean, I remember hearing about this medicine woman up in the foothills and I'm like, "Oh, I'm going to go up there." I went up there and camped out in her yard and worked in her garden and just followed her around her kitchen. "You can do that?" It was a slower learning, but it was beautiful.

Rosalee:
Well, Kami, today we're going to spend some time sharing about a beautiful, calming, aromatic plant, lavender. My first question is, what inspired you to choose lavender for today, Kami?

Kami:
Oh gosh, lavender. Lavender is just one of those herbs that I think it's so versatile and there really are few herbs that I know of that are just immersed in my life. I can't think of one that's more immersed in my life than lavender. Also again, talking about when I started, I was always like, you got to learn about herbs. "Hey everybody, herbs, herbs." People were like, "You're so weird." I couldn't talk about new herbs so I had to find something that people would go, "Oh wow." Lavender was one of my entryway herbs, that I would turn people on to a lavender lotion. They're like, "Wow, you can do that with lavender?" It was a great entryway for so many people so that I wouldn't feel so alone. It has been one of my great loves and continues to be to this day. I can share with you all the different ways that I use it in my life.

Rosalee:
I'd love to hear. I love the practical. I love to see how people actually bring the herbs to life. Off the paper and into our lives.

Kami:
Are you ready? First of all, there's so many, like the vinegar. I love lavender vinegar. I make lavender rosemary vinegar. It's in my culinary oils. It's in my cordials. Oh my gosh. I have a cordial here. It's almost gone. I need to make some more. I have a lavender nectarine cordial. It's really amazing. It makes a great body powder. You can just use some cornstarch and powdered lavender and use that as an antifungal on your feet. Or just if you're sweating, this is what I use if I'm sweating too much. Also, it's really good on food. In my book, The Herbal Kitchen, I have happy life seasoning which has lavender, fennel, rose, cinnamon. It's great for marinades and chicken and salmon and tuna fish sandwiches and grilled vegetables. I mean, it just goes on and on. Right? One of my self-care things is that I do salt glows twice a week. Rosemary, lavender salt glow is one of my main go-to salt glows.

Rosalee:
Can you talk a bit about that, Kami? What is a salt glow and how do you use it?

Kami:
Okay, good. Good question. Salt glow is salt. It can just be salt and oil or it can be salt and powdered herbs and oil. Usually I take a cup of salt, just sea salt. I'll put in a tablespoon of powdered lavender and a tablespoon of powdered roses. Then I'll put in two cups of, you can use olive oil or sesame oil. Then I keep this in my bathroom. Then I get in the shower, I get wet and I scrub the lavender, the oil and the salt all over my body. I turn the shower off. I let it sit. I let it sit for a couple of minutes and then I wash it off. It increases circulation. It helps to get rid of dead skin. It increases your mental clarity because it just gets everything moving. For me, it helps with the blues. If I'm feeling a little, I don't know, something's just kind of stuck, I'll do a salt glow and I feel better. It's a really major self-care tool that I use on a regular basis.

Rosalee:
I love that. I love too that I think a lot of people would put lavender essential oil in there. Something that you and I have in common is that we love working with the whole plant. It's not that I never use essential oils, but if I can just get the essence of the whole plant in there, that's my preferred method because I'm there from start to finish with the plant. I love that that's whole powdered lavender.

Kami:
Yeah. Well, absolutely. That's one of the things that I have sitting on my cabinet or on my counter next to where I cook —I powder up lavender really finely. Then this can go in, a teaspoon can go into your pancakes, right? A teaspoon can go into your muffins. A teaspoon can go into whatever kind of cake or pie crust. I keep powdered lavender where I cook. Anytime I'm using any kind of like bread kind of cooking. I'd like to say it goes in scones, but I don't make scones.

Rosalee:
That's a great tip. I don't know that I've really used a lot of powdered lavender in bread or baked goods. I do love lavender infused into milks, like any kind of milk from dairy to oat. It just gives that flavor. So good. I like making a flan or custard lavender ice cream. It's so delicious. Lavender milk can get all frothy, so yummy. It's not like oregano or basil or something in terms of people thinking about using it in sweet or savory dishes, but it does have such an interesting aroma and taste. I will say, for me, I like it a bit less. You can overdo lavender really easily.

Kami:
Yeah. Just a little bit.

Rosalee:
Just a little bit. Yeah.

Kami:
Just a little bit. It has that little hint, it's like a hint. When the recipe says a hint, just like a little bit and it just adds... First of all, it adds carminative properties. Then just that little like, oh, what is that? Right? The other way you can do that is by making salt. You can just take your Himalayan salt and I like to put powdered sage and lavender in, and just have this powdered lavender-sage salt next to where I do marinades and things like that. It goes into salad dressing. It's really is a culinary herb.

Rosalee:
Absolutely. I began to really appreciate lavender as I spent more time in France—I think honestly, I think a little bit I kind of overlooked lavender because you think of it as the smell that detergent has or whatever. It gets used a lot just as a scent, so I kind of overlooked it. Then going to France and spending time there, they really bring lavender to life in so many ways. I remember when I was studying at university there, my favorite sandwich shop would do that, like had a salt lavender spread that they put on the sandwiches. I would eat that sandwich almost every day. I thought it was so good and so much fun. Then another way that I really came to appreciate it as well is that, of course, Southern France is renowned for their lavender.

You can see all those fields of monoculture lavender. Lavender actually is native there. It grows just as a native plant. That was a really fun thing to see. It's not this huge big bush that's been like coddled. It can be more of a scraggly looking plant, but there's lavender growing natively in its natural habitat. What I learned from that experience was all the different ways that lavender can smell. You always think of that lavender scent, that doesn't really exist, right? Lavender smells so differently, can vary even in our gardens or around where we live. We don't have to go to France to experience this. Lavender that has more sunshine or less sunshine, lavender in full bloom versus just in the buds, different species of lavenders. They're just like this with all plants, it was neverending spiral of things that we get to love and appreciate and get to know lavender with.

Kami:
Yeah. That's so true. I mean, so you've got your culinary use. The other thing that I really learned about lavender over time is I love pairing lavender. For me, I love lavender and eucalyptus for the bath. I make these bundles for the shower and the bath, and I love lavender. Lavender-St. John's wort oil is like—those two oils together, that is a match that, I don't know, it's just amazing. Right? I have little tiny giveaway... I give away so many bottles of lavender St. John's wort oil. They're just these little tiny bottles. Like, you have a headache, here, here's some lavender-St. John's wort. Oh, you have a muscle ache, here. I carry these small roll on bottles and spray bottles with lavender oil to help people with muscle pain and with tension, head tension, muscle tension, cramps, that kind of thing. That's another really, your oil, your lavender oil is just, is so incredible for the bath, for your feet, for your tense neck muscles. Right? I love lavender oil. I love that.

Rosalee:
One thing I think about in my own head with lavender is having a lavender moment. You think about a busy life where we can just get going faster and faster. There's something about lavender. I mean, one of the many gifts of lavender is that it invites us to pause, to slow down, to relax. So many of the things that you shared, whether it's culinary and adding lavender to a meal where you get to savor it, or for tension headaches, body aches, pains... As time with the body scrub and the shower, in the bathtub... All of those things invite us to appreciate lavender, not only in the gifts inherent in lavender, but coupled with that is the moments of space that lavender helps to grant us as well.

Kami:
I love that you brought that up. I bet not a lot of people talk about that so much. I love that you talk about that. When I started on my path of, "Is there another way?" I started massage school, herb school and yoga teacher training all at the same time. It's all about the body, the breath, and the plants. One of the very first places I started with the plants was the breath, because the yoga. And so I learned this from the plants and my students, what is it that can take somebody from like: "oh God, I'm kind of bummed out or whatever." Then they go from uh to ha in a fraction of a second. It's smelling lavender. They go, oh, wow. It's not like they stay there for maybe the next two hours, but that moment of breath in, breathing, the shoulders drop, that changes your reality in that second.

As we know, stress isn't about like, oh, I'm going to live a stress-free lifestyle; stress is about having enough moments of that during your day that your stress doesn't end up at an eight at the end of the day. When people knock it back with those moments, like you were talking about, those lavender moments, I'm going to breathe in, I'm going to get present. I'm going to  even smile because the plant is making me smile. Those are the moments that as you're climbing your stress ladder throughout the day, those moments keep you down. They keep you from overdoing it at the end of the day. This very profound healing. I mean, that is healing. If we can heal ourselves a little bit at a time, decompress a little bit at a time, all day long, that's what you said, that's a lavender moment.

Rosalee:
I love that you've shared so many ways to practically bring lavender into your life too. I'm making that lavender medicine as part of the healing process. Again, I don't really mean to pooh-pooh essential oils, because I don't have anything against them. But for me, to open up a bottle that I have no real connection with and smell it... obviously, lavender smells good. I use it in my salves, et cetera. But to work with the whole plant and do these things like the lavender vinegar, lavender in foods, lavender scrubs, that is just so much more fun for me because that's a deeper connection with the plant, the world around me, and lavender moments.

Kami:
You can also wash your counter and wash your walls with lavender vinegar. I make a lavender elderflower lip balm. Keeps your lips nice. You know, and that's like interaction on your lips, like the plant on your lips all day long. You want to learn about a plant? Get it on your lips every day. Digest it into that tissue and smell it and taste it. It's such a great way to learn.

Rosalee:
You're giving me so many great ideas with things I haven't tried with lavender that I'm excited to do. It makes me just realize, I mean, this is so true of many plants, but I'm just thinking this about lavender right now. Somebody could spend an entire year or perhaps their entire herbal lifetime just working with lavender. I mean, there's so many things that you can do with lavender. Even just spending time with the lavender plant is a gift amongst itself... and watching it go through the seasons. Man, it's just never ending with lavender.

Kami:
It's true. I mean, I've taught a course called The Day of Lavender, where we make these little lavender bundles.  Are you into good old fashioned potpourri? You just have roses and lavender on your counter in your house so that you can walk by and take a hit anytime you want. Like, oh, okay. I feel better.

Rosalee:
Lavender rose moment.

Kami:
I can't quite make it out into the garden, I'm too busy, so I've got this potpourri here, you know.

Rosalee:
Lovely. Well, Kami, you've mentioned that lavender is carminative, so that's helping with digestion. You've mentioned it for headaches. You've mentioned it for sore muscles. We've mentioned it... I love everything you said about stress and the stress ladder. We talked about it in that way. Is there anything else that you'd like to add about the many gifts of lavender?

Kami:
You know, it's so many. I mean, I also think it's a great plant for a nervous stomach, intestinal discomfort. There's nothing like chamomile-lavender-fennel tea. It solves all bad potluck combinations, all travel meal that's just not my biome. I carry that tea with me. Because lavender tea by itself is a little intense, but if you smooth it out with the chamomile and the fennel, I love that for all things just kind of like acute intestinal dysfunction, right? Yeah, the linament and the oil for your muscle tension and cramps. I've used hops-lavender-St. John's wort oil for low back pain cramps and menstrual cramps. I think it's really like what you're talking about, the lavender moment. That is the most powerful. That's also why I use it so much in my crafting. I'm a crafter.

If you come to my house and you bring kids, there's going to be a lavender project. I have my lavender and my thread and all my beads. We're going to make something. We're going to make little lavender bundles or little lavender pillows. You get to take it home with you when you come to my house. That crafting is another way of embodying it, right? Another way of really increasing your scentscape and increasing your craving for those herbal smells. Those herbal aromas that heal us, right? You have this little bundle or this little pillow in your car, or your kids play with it, it's in their bed and they play with it... It just trains their brain, trains their scentscape to something more than the detergent aisle in the store.

Rosalee:
Yeah, that's so true.

Kami:
Like what is the smell of something real? I mean, lavender, we are bombarded with chemical lavender scent. Like I said, just walk down the body care or the washing, the detergent aisle, those scents are chemical, they're chemical, they're endocrine-disrupting, they're harmful to our hormones. But we get trained. Our brain gets trained to be like, oh, that smells good. When you have these little bags and little bundles and little things of herbs, then it retrains your scentscape to know what's real and what's not real. That's part of what we need to do as adults and to our children. They are marketed to all the time that you shouldn't have a smell and you got to cover up your smell. Everything they cover up their smell with is toxic. If you can get people in your life to start playing with herbs and smelling what's real, that can have a really big impact in their life over time.

Rosalee:
So true, Kami. I feel like I have so many ideas now, things that I can't wait to do with lavender. Also makes me think years ago, you were kind enough to make it all the way up North to visit me. So when I make it down South to visit you, that's what I'm going to request. I'm going to be like, okay, it's lavender craft with Kami time.

Kami:
Oh yeah. It's so fun.

Rosalee:
Well, Kami, one of the many things that I love about herbalism is the creative ways that people bring it to life. I'm curious what herbal projects you have going on right now that you'd like to share with us.

Kami:
I'm all about the herbal oils. Again, when I started, when I very first started, Rosemary said in class, "If you can't eat it, don't put it on your skin." Then I'd go to massage school and everybody would be slathering this chemical petroleum... I was like, "Well, Rosemary said, if you can't eat it, don't put it on your skin." So I listened to her. So I started making herbal oils and bringing them to all the massage therapists and everybody. That's how I got drafted to teach my first class on herbal oils, because all the massage therapists were like, "What is that?" I'm still just really, really passionate about the herbal oils and getting herbal oils into people's lives. I have a free workshop happening on that right now that people can get into. The oils, they're the answer to so many things.

I feel like the oils are a very powerful gateway modality for herbalism. Because to be an herbalist, even studying for three, four, five years, it really comes through embodiment. You can study, but it really comes through embodying the art. What can you do every day so the people around you can join in so that it becomes cultural? You want to establish an herbal culture, not just something that you do, so that the people around you can engage, right? I mean, I make teas, but the people around me are like, eh. I make the salve and the lotion and the lip balm and the foot rubs. Everybody's like, "Whoa, I want to do that!" Right? So I just feel like the oils are such a great way to get everyone, not just embody the art for yourself, but to get other people around you.

It's really about informing humanity, creating a cultural shift, and the oils can do that. They're so safe. They've got first aid. They've got prevention. They've got how to resolve. There's so many uses and they're so safe. I had no idea that it was going to be the very first class I taught and still all these years later it'd be, like, oils, herbal oils. I do, I feel like elderberry syrup is really popular. There's all these things that have made it into the popular culture, but I still feel like the herbal infused oils, people really don't get how amazing they are for you.

Rosalee:
I totally agree. I love how passionate you are about oils because I am too. I feel like sometimes there's something about tinctures that a lot of people just find really alluring and they get a lot of hype. But for me, I'll go weeks without ever taking an herbal tincture, but there's not a day that goes by that I don't use an herbal infused oil. It's something that is just so nourishing. Like you said, occasionally, people will contact me and be like, "Hey," a friend, family, and they'll say, "I could use a tincture of this or whatever." But when it comes to the herbal infused oils, like face oils, lotions, body butters, creams, lip balms—those are the things that my friends and family are requesting with fervor, right? It's not like, "Hey, I could use this." It's like, "When are you making the next batch of lip balm? Because I want to be sure I'm on the list."

It's one of my most favorite herbal preparations. Your tutorial is so excellent. For the listeners, as you probably know by now, I love to share recipes when we talk about these plants, because recipes are just a wonderful way for you to get involved and create your own experience with herbs. It's not just about listening to whoever has the mic, right? It's about your own experiences. I'm really excited for the recipe sharing that Kami has for you because instead of simply sharing a recipe card, Kami has this whole video series and tutorial on how to make lavender infused oil. That's different than lavender essential oil. This is something that you get to create with your own hands using whole herb.

I know that people are going to love this. I love this tutorial myself. I've watched it before, and it's just excellent. Then you get to bring all the many gifts of lavender into your life. Click here to access the tutorial on how to make lavender infused oil.

Kami:
Yeah. It's true. It's a good tutorial because you can just see it in real time. You can watch it instead of reading a recipe and it's for beginning oil makers, if you want to start out right and not have all the decades of mold experiences that I had. Or like, all of these batches were good except for this one... I can't figure out why. If you want to just skip over all the failures, that's a good tutorial. Even if you've been making, dabbling or making oils for years, I guarantee you'll learn something even if you're a longtime oil maker. I have a lot of longtime oil makers that just go, wow. It's good for beginners and people at all levels of wanting to up their medicine making game.

Rosalee:
Absolutely. I definitely agree with that. There's always so much to learn. Your experience and creativity gives us even more to dive into. Well, Kami, the last question I have is one that I'm asking all of my guests in Season One. It's really been fun to hear the many responses to this question. I'm looking forward to hearing yours. The question is, with all the challenges that we're facing today, what are some of the ways that herbs instill hope in you?

Kami:
Oh gosh, that's a deep question, Rosalee. The earth is alive. The earth is beauty. It's like, what is our paradigm? What's our cultural paradigm? For me, the plants, they capture me, they stop me in my tracks. They remind me of the web. They remind me to go "Why?", to take a breath. Right? They remind me of just the mystery, it's like, I don't have to know if there's heaven or hell or what... I can just be with the plants and be like, wow, how did we get here? And fall in love with the mystery of not knowing.

When I do that, I love the spiritual practice that the plants pull me into of just feeling connected, and how is it that they help my worries go away or my troubles, or how can I hand my concerns over to the stars and the intoxicating scent of the plants, right?
And so, I do. I feel like I go to the altar of the plants to remind me that there's so much to be grateful for. There's so much I don't understand. They also just have such a teaching of generosity, the generosity that they give and that they always are reminding me of. Also, just being part of the turning of the wheel, right? No matter what stress is going on or what joy or whatever, the wheel turns, the earth, the lavender peaks, and then it immediately turns toward the opposite and it wanes, right? It's just constant turning of the wheel no matter what I'm doing. The earth can always reflect, you know, I am part of that cycle and that season and that continual turning. You start working an eight hour day and you forget about the cycle.

I can always have something about myself be reflected in the earth. It's like she always reminds me, the plants always remind me of the rhythms of the waxing and waning of life. Yeah. I think that's part of it. It's like, I love being part of that and learning and watching and seeing how my life is always reflected in the earth and how I can participate more deeply as a human.

Rosalee:
Thank you. That's a beautiful sharing, Kami, and so much of how I feel too. Thank you for giving voice to that and thank you for being here with us today and sharing your passion for lavender. I would love to hear what people are inspired to make and enjoy with lavender. Feel free to put that in the comments below. I'm looking forward to seeing all that because I feel like you've given us so many directions to go in. I really appreciate it all and I'm really excited that you were able to join me here today, Kami.

Kami:
Thank you, Rosalee. I love your podcast. I love your YouTube channel. I'm so grateful for that... I get on there and I'm like, oh, I hadn't thought about that before. I love learning from you, also.

Rosalee:
It's exactly how I feel about you, Kami, so thank you. All right. Have a beautiful day, Kami.

Kami:
Yeah.

Rosalee:
For the listeners, don't forget to head over to Kami's lavender infused oil tutorial here. Before you go, be sure to subscribe to my newsletter below so that you'll be the first to get my new videos including interviews like this. I'd also love to hear what you thought about this interview and your relationship with lavender. Leave your comments below. I deeply believe that this world needs more herbalists and plant-centered folks. I'm so glad that you're here as a part of this herbal community. Have a beautiful day.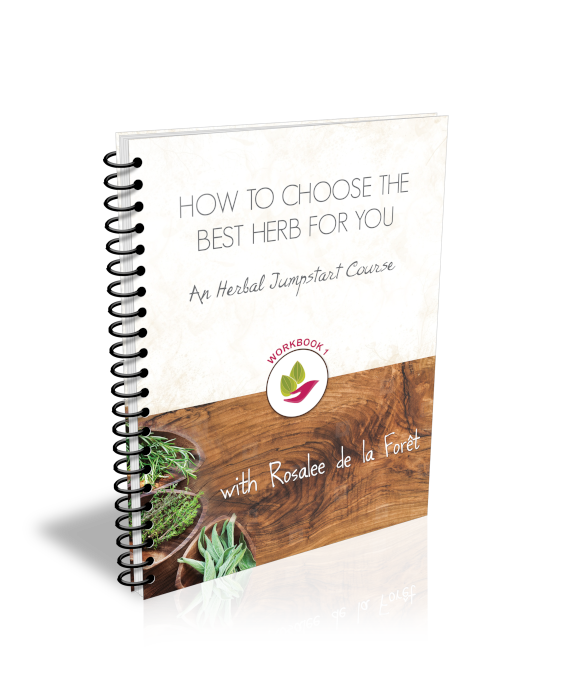 Choose the Best Herb for You!

The secret to using herbs successfully begins with knowing who YOU are.

Get started by taking my free Herbal Jumpstart e-course 

By signing up for my free course you'll also be joining my weekly newsletter where I send my best tips and herbal recipes. I never sell your information and you can easily unsubscribe at any time.