Turmeric Recipes
---
---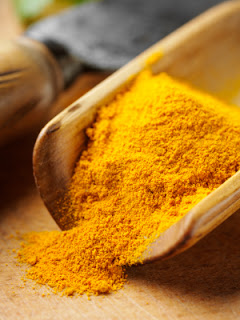 Golden Turmeric Paste Recipe
Ingredients:
Directions:
Prepare the golden turmeric paste by adding the turmeric powder to the water and boil in a saucepan until a thick paste is formed. This paste may be stored in the refrigerator.

This paste can be used in a variety of ways:
Stir in water/milk/juice/tea. Swallow quickly.

Stir into sweetener (honey, maple syrup) to make a paste, swallow from spoon. 

Mix with thick, strong-tasting food (e.g., peanut butter), swallow.

Mix with water to form soft paste.  Put a spoonful to the back of throat, swallow, and follow with water/juice/tea.
Spread 1/4 inch thick on slices of bread.  Add condiments: lettuce, parsley, etc.  Include cucumber slices.  Close and eat.

Golden Turmeric Milk Recipe
Ingredients:
1 cup milk
1 tsp almond oil (or any other vegetable oil)
1/4 tsp golden turmeric paste (as made above)
honey to taste
Directions:
While stirring on a low heat, bring the milk just to the boiling point.  Then pour all the ingredients in an electric blender and blend to make a beautiful foamy drink.  Fruit may be added before blending.  Serve with a little cinnamon sprinkled on top.
Turmeric Spread Recipe
Ingredients:
1/2 pint sesame tahini  
2 Tbsp. sesame oil (or other)
1/4 cup honey
1/4 cup lemon juice
1/4 to 1/2 cup turmeric powder
Directions:
Simply mix all the ingredients together and enjoy!
Do you have special ways you enjoy turmeric? Share in the comments below!