Season 9 Episode 2:
Linden Tree Medicine

---
---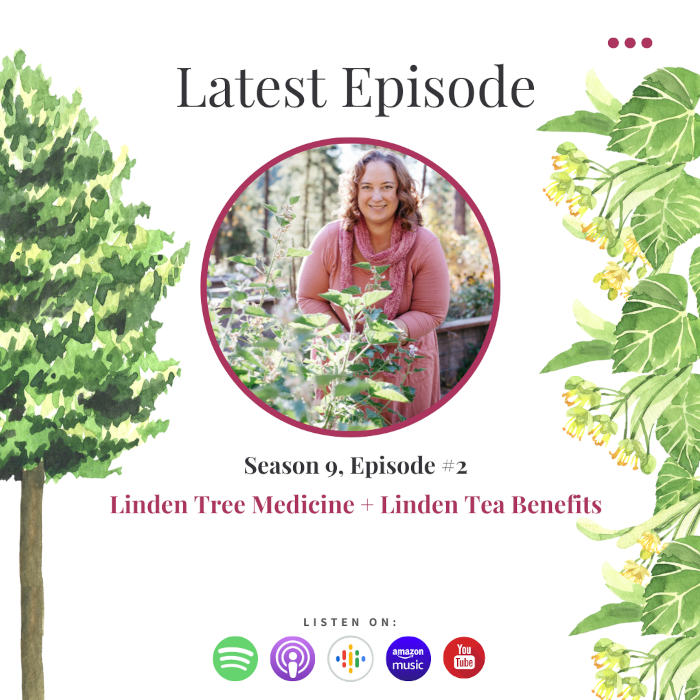 Would you prefer watching or reading this episode? If so, click here for the 'Linden Flower Tea Benefits' video and transcript.
Episode Summary
Herbal medicine from the beautiful and fragrant linden tree (Tilia cordata) is a powerful way to soothe your nervous system, heal your gut, and support your heart. That's a lot, but linden has even more to offer.

Join me in this episode for a deep dive into linden tree medicine. I also share my favorite recipe so you can enjoy the medicinal benefits of delicious linden tea. My handsome French husband and I drink this tea all summer long and I know you're going to love it!
After listening in, you'll know:
► What kind of person most benefits from linden tree medicine as a digestive aid
► The juxtaposition of qualities that makes linden such a unique ally for irritated, inflamed mucus membranes
► An herb that makes a wonderful, synergistic partner for linden to support cardiovascular health
► What species of linden has especially aromatic and sweet flowers
---

Linden's cooling, relaxing, and moistening qualities are a soothing relief for a variety of symptoms associated with heat, excess stimulation, and dryness. Linden's gifts are often appreciated by those who are feeling overly stressed, tense, and hot.
l

---
What You'll Learn from This Episode
[01:10] Introduction to linden (Tilia cordata)
[03:39] Linden tree medicine energetics
[04:15] Linden tree medicine soothes the nervous system and supports the heart
[06:01] Linden tree medicine relieves dryness
[07:21] Linden tree medicine promotes healthy digestion
[08:13] Linden tree medicine relieves symptoms of cold and flu
[09:12] Linden tree provides nourishing food
[09:42] How to identify linden trees
[10:51] Safety considerations for linden tree medicine
[11:17] How to get linden tea benefits
[15:31] Linden tidbit



Download Your Recipe Card!

Connect with Rosalee
Resources Mentioned