Season 9 Episode 1:
Natural First Aid Kit

---
---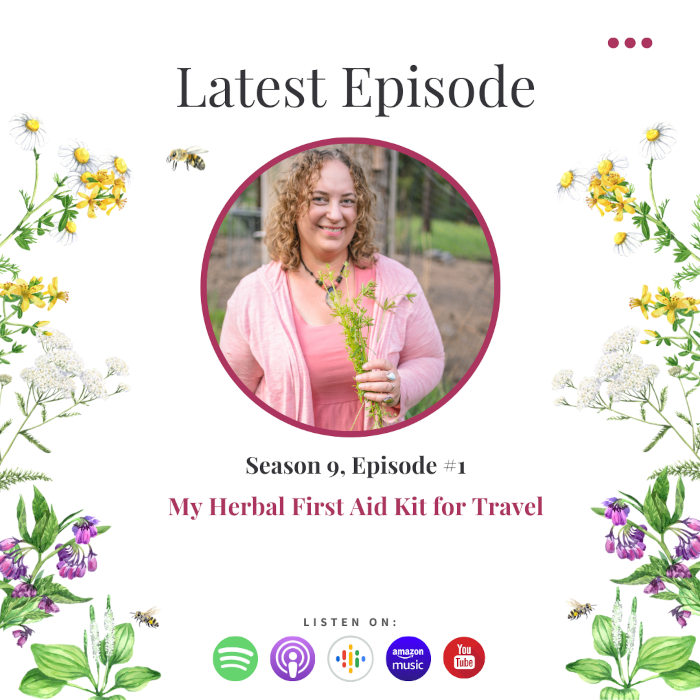 Would you prefer watching or reading this episode? If so, click here for the 'Natural First Aid Kit' video and transcript.
Episode Summary
A compact, easy-to-travel-with herbal first aid kit is a wonderful way to be prepared for everyday health concerns when you're away from home.
With that in mind, my question for guests in Season 9 of the podcast is, "What would you include in your herbal first aid kit?"

I'm getting the ball rolling by giving you a peek into my travel kit. I hope it will serve as a useful springboard for creating your own.

After listening in, you'll know:
► Principles to rely on when creating an herbal first aid kit for travel
► Seven herbalist-tested and -recommended products to support the big three systems in your body that are often impacted by travel
► What to look out for when you're reading labels and choosing products
---

I like to have something that's really readily convenient that I know is going to work for me because if I have anything off… I don't want to have to go spend time looking for something. I just want to have it with me.
l


---
What You'll Learn from This Episode
[01:10] Introduction
[02:40] Two things to think about when deciding what to include in an herbal first aid kit for travel
[03:57] Herbs to soothe an upset tummy
[11:07] What if you catch a stomach bug away from home?
[11:55] Calming your nervous system while traveling
[14:54] Be prepared for upper respiratory infections
[20:40] Staying open to what you find where you are



Download Your Recipe Card!

Connect with Rosalee
Resources Mentioned