Season 7 Episode 9:
Cottonwood Benefits

---
---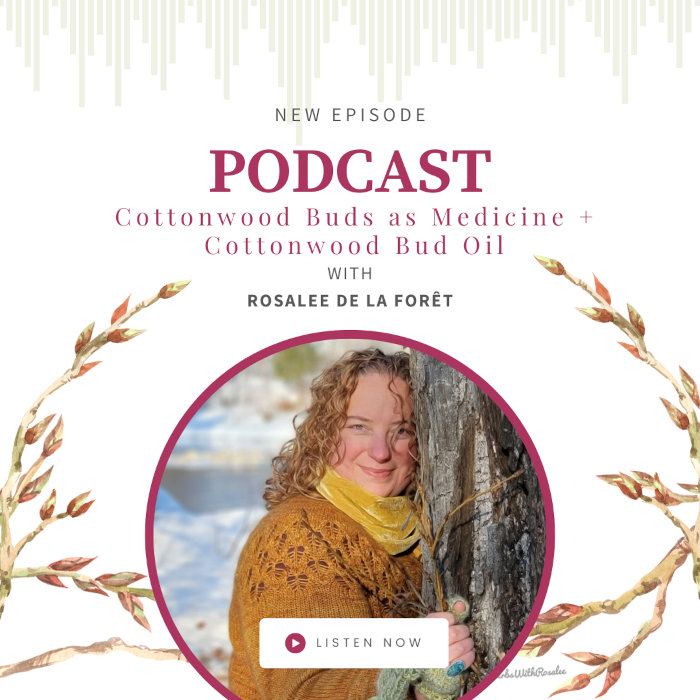 Would you prefer watching or reading this episode? If so, click here for the 'Cottonwood Benefits' video and transcript.
Episode Summary
While many swoon over its amber balsamic scent, the cottonwood tree (Populus spp.) is more than just a pretty smell. For thousands of years, cottonwood has been used as medicine and to make a variety of tools.

I honestly can't imagine my life without this powerful tree and cottonwood bud oil (also called Balm of Gilead oil), which I use in practically all of my herbal salves, creams, and body butters.

With this episode you'll also receive FREE access to a downloadable recipe card you can refer to again and again for how to make cottonwood bud oil of your own.

After listening in, you'll know:
► How to work with cottonwood bud oil medicinally
► How I discovered that cottonwood is an amazing preservative
► The super-cool way researchers studied Poplar trees as a potential treatment for warts… and the intriguing results
► What you need to know to ethically harvest cottonwood
---

Cottonwood trees are water sentinels that offer healing gifts to all those around them including bees, mammals, fish, birds, and even the soils and waters they grow in.
l


---
What You'll Learn from This Episode
[01:09] Introduction to cottonwood (Populus spp.)
[05:03] Cottonwood energetics
[06:10] Common ways herbalists use cottonwood today
[09:19] Interesting scientific studies about cottonwood
[13:31] How to identify cottonwood
[15:26] Working with cottonwood medicine
[18:36] Safety when working with cottonwood
[19:17] Cottonwood bud oil recipe (Balm of Gilead oil)
[25:20] Cottonwood herbal tidbit



Download Your Recipe Card
Connect with Rosalee
Resources Mentioned