Episode 6: Roses with Damiana Calvario

---
---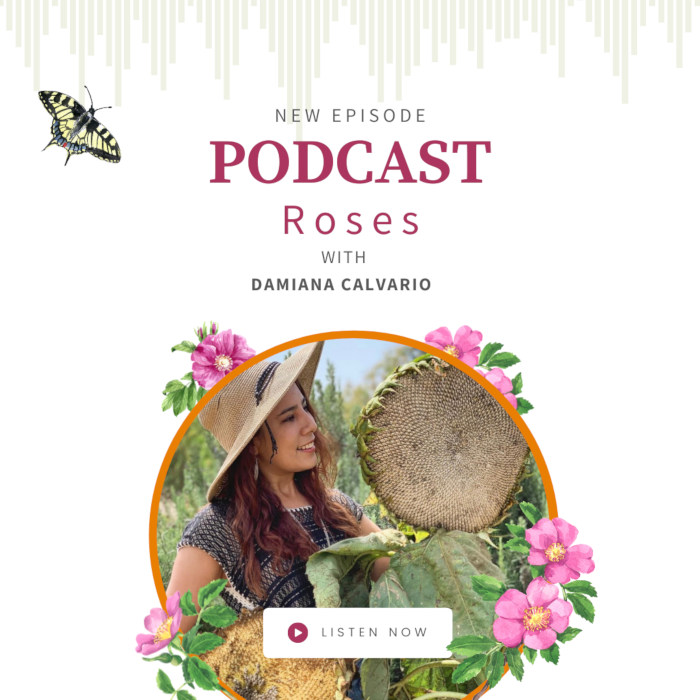 Would you prefer watching or reading this episode? If so, click here for the 'Benefits of Roses with Damiana' video and transcript.
Episode Summary
I'm thrilled to be joined today by Damiana Calvario. I've known Damiana for a couple of years now, and we've had the opportunity to share and support each other's work in a variety of ways.

Damiana is a mixed woman of color, daughter, sister, caregiver, community member, and 1st generation immigrant. Born and raised in Mexico City to a large family, she inherited both her mother's and father's lineages. Currently living as a guest in Chumash land, Damiana's practice blends together her Mexican roots, family's kitchen remedies, Curanderismo studies, and western herbal training.

Damiana's heart-centered offerings have always impressed me, and I'm so grateful that she's here on the podcast.
---

Every day was a feast in my parents' and my grandparents' house, and herbs were included as an everyday practice. It's a beautiful part of growing up in that way, and I treasure it deeply, but it's also not the only way, you know. I also want to say that it's never late. It's never like, 'Oh, I didn't grow up like that, so I don't have it in me.' Like, no. We got this. We can pick up wherever we left off, even like our ancestors left off, and we can begin today. Even if we feel like we don't know anything, we can be in today, and there's already so much knowledge that we have.


---

What You'll Learn from This Episode
[02:03] How Damiana's love for the plant world started

[07:20] The qualities and characteristics of roses

[11:49] How to harvests and use roses 

[18:57] Rose horchata recipe

[25:20] Damiana's current herbal projects

[27:11] Damiana shares her thoughts on how herbs instill hope

Download Your Recipe Card
Connect with Damiana

Connect with Us
Resources Mentioned

Are Your Ready for More Herbal Inspiration?

The best way to get started is by joining my herbal community and weekly newsletter where I share my best herbal tips and insights.

When you join you'll also get access to The Herbal Jumpstart Course which helps you figure out the best herbs for you.