Season 5 Episode 6: Benefits of Hawthorn Flowers and Leaves

---
---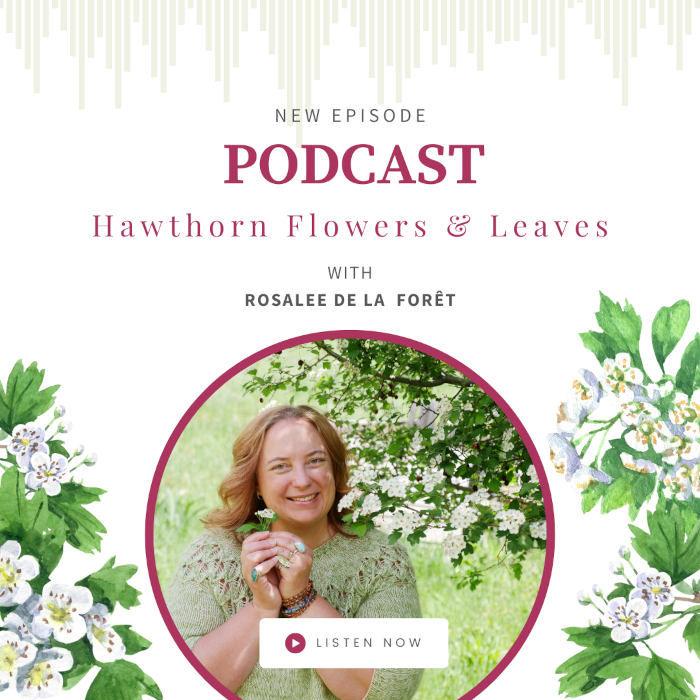 Would you prefer watching or reading this episode? If so, click here for the 'Benefits of Hawthorn Flowers and Leaves' video and transcript.
Episode Summary
The medicinal flowers and leaves of hawthorn (Crataegus spp.) offer so many gifts, especially for nourishing our hearts. In this episode I share the benefits of hawthorn flowers and leaves, along with a few cautions to know about. I also share a proven way to make hawthorn tea so you can enjoy the best health benefits.
After listening, you'll know:
► Why hawthorn is such a powerful herb to support heart health
► Who should NOT work with hawthorn
► The most effective way to brew potent tea with hawthorn leaves and flowers
---

While we can classify hawthorn with a handful of medicinal herbal actions, such as astringent, antispasmodic, cardiotonic, diuretic, hypotensive… a better understanding is simply that hawthorn nourishes and protects the heart.
l

---
What You'll Learn from This Episode
[00:00] Introduction to hawthorn (Crataegus spp.)
[03:22] Hawthorn for the heart
[05:04] How to identify hawthorn
[07:08] Working with hawthorn
[08:51] Special considerations: hawthorn side effects
[09:17] Hawthorn tea: best way to make tea with hawthorn leaf and flowers
Download Your Free Recipe Card!

Connect with Rosalee
Resources Mentioned