Season 5 Episode 5: Health Benefits of Elderberry and Elderflower

---
---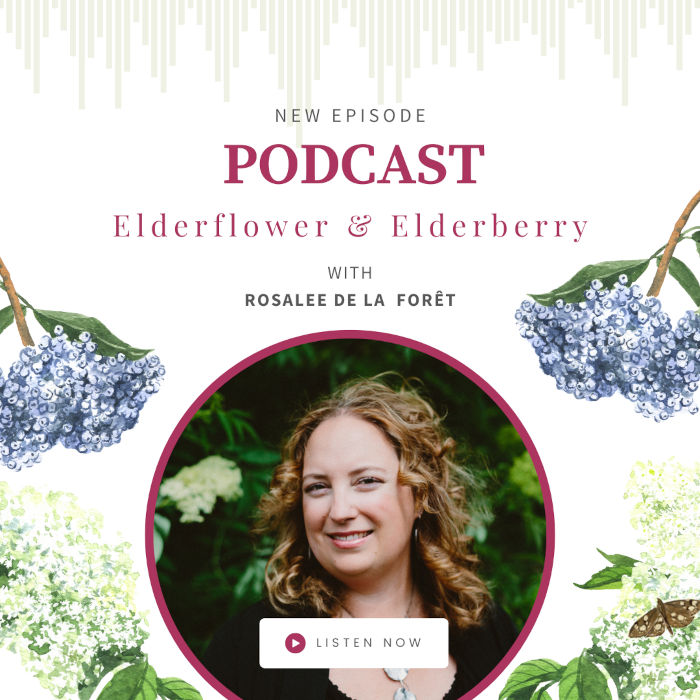 Would you prefer watching or reading this episode? If so, click here for the 'Health Benefits of Elderberry and Elderflower' video and transcript.
Episode Summary
The elder shrub is two medicines in one! The health benefits of elderberry and elderflower are distinct from one another. Learn how you can get the best health benefits of elderberry and elderflower and receive easy-to-make recipes for elderflower tea, elderberry syrup, and elderberry tea.
After listening, you'll know:
► When to call on elderflower and/or elderberry, depending on your particular situation
► How to brew a potent elderflower tea
► How to make your own elderberry syrup (and save lots of money at the same time!)
With cold and flu season right around the corner (at least here in the Northern Hemisphere), this is a great time to revisit all the wonderful gifts of the elder shrub!
---

Elderberries modulate inflammation and can be a great addition to your diet as food as medicine. They are also often used as medicine, especially as a preventive remedy at the onset of a cold or flu.
l

---
What You'll Learn from This Episode
[00:00] Introduction to elderflower and elderberry
[02:57] Health benefits of elderflower
[05:56] Health benefits of elderberry
[08:40] Summary of the health benefits and uses of elderflower vs. elderberry
[09:27] Recipe for elderflower tea
[10:01] Recipe for elderberry syrup
Download Your Free Recipe Card!

Connect with Rosalee
Resources Mentioned