Season 5 Episode 3:
How to Help a Migraine with KP Khalsa

---
---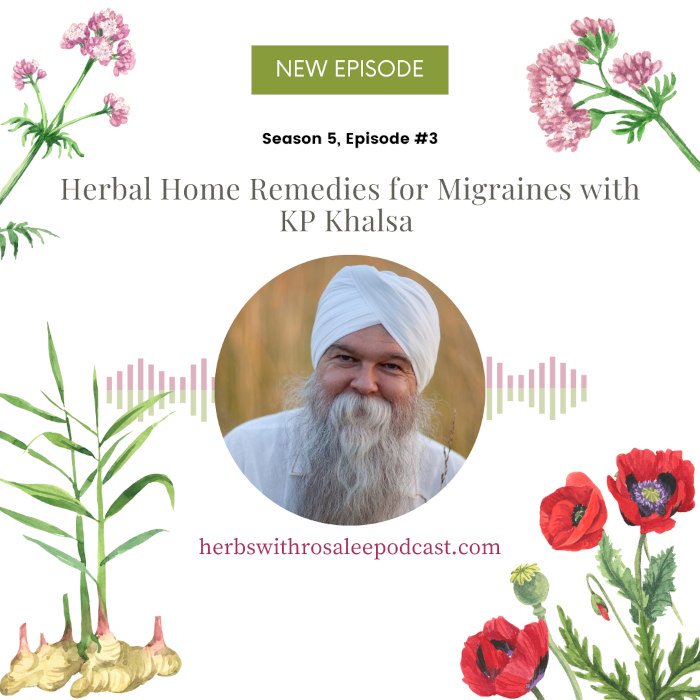 Would you prefer watching or reading this episode? If so, click here for the 'How to Help a Migraine with KP Khalsa' video and transcript.
Episode Summary
In this episode, KP Khalsa will be sharing herbal home remedies for migraines.
If you or someone you know suffers from migraine headaches, you know exactly how miserable and life-disrupting they are…and what a difference it would make to find a permanent solution to the upheaval they create.
KP shares a comprehensive approach to the treatment of migraines. This includes herbs to abort or suppress migraines so that you can be free of the pain they cause while you address and heal underlying factors.
You'll also receive instant FREE access to KP's handout, Herbal Treatment of Migraine.
If you don't already know him, Karta Purkh Singh Khalsa, A.D., D.N.-C., R.H., is an herbalist, nutritionist, yoga teacher and educator who has been making holistic health approaches palatable to the modern mind for over 50 years. He was the first person to be professionally certified in both herbalism and Ayurveda in the U.S. He is president emeritus of the American Herbalists Guild, and director emeritus of the National Ayurvedic Medical Association. You can find more from KP at InternationalIntegrative.com.
Listen in for:
► Common contributing causes of migraine – and the strategy needed to balance them
► The herbs KP commonly recommends for aborting or suppressing migraines and for addressing common root causes – along with dosage information
► What to expect on a healing journey from migraines
KP is my personal mentor and really is a teacher's teacher and I'm so honored and delighted to share our conversation with you today!
---

It's cognitive dissonance that people are willing to think of herbalism as being powerful and dangerous, and yet mild and ineffective, and both of those are true at some level, but we're trying to figure out and educate people about what the benefits are of herbal medicine at what level.
l

---
What You'll Learn from This Episode
[01:08] Introduction to KP Khalsa

[03:20] How KP got started on an herbal path

[07:26] How the Herbal Renaissance has benefited migraine sufferers

[09:03] The gray area along the spectrum between epilepsy and a classic migraine

[10:29] The factors KP considers when he consults with a client about migraine headaches

[12:32] The different ways migraines can present

[15:14] A few herbs KP commonly recommends in his clinical practice for aborting or suppressing migraines

[23:40] Addressing common root causes of migraine headaches

[29:09] Average timeline for healing from migraines

[33:50] Why it's important to support the liver as you heal from migraines

[36:08] KP's current projects

[37:36] How KP would like to see the general public's understanding of herbalism mature
Download Your Free Handout!

Connect With KP

Connect with Rosalee
Are You Ready for More Herbal Inspiration?

The best way to get started is by joining my herbal community and weekly newsletter where I share my best herbal tips and insights.

When you join you'll also get access to The Herbal Jumpstart Course which helps you figure out the best herbs for you.
Sign up below!