Season 5 Episode 1: The Cleavers Herb

---
---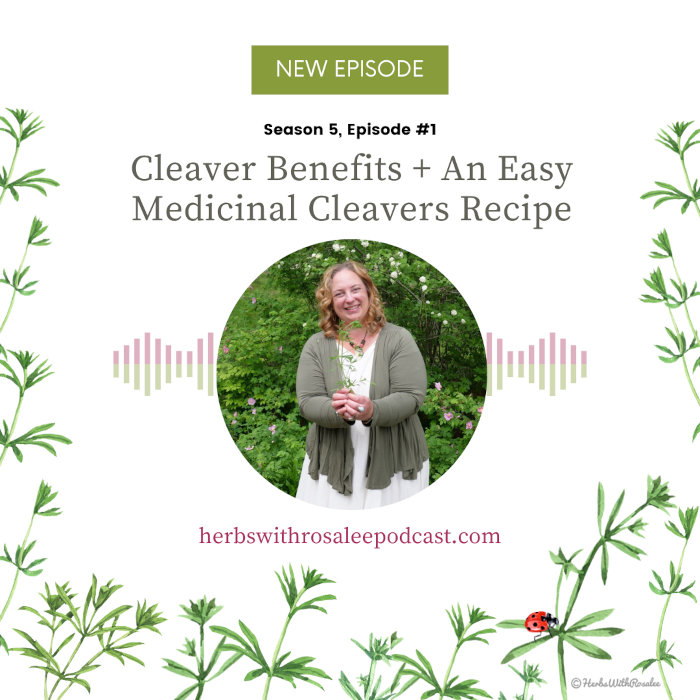 Would you prefer watching or reading this episode? If so, click here for the 'Cleavers Herb' video and transcript.
Episode Summary
The cleavers plant gives us so many benefits! It's a weed you can eat plus make excellent medicine with. One of my favorite things about cleavers is that this plant gives us medicine you can't find the equivalent of at a drugstore. What drug provides minerals while also moving lymph!?  (And that's just one of its many gifts!)
In this episode, I'll also be showing you a favorite simple recipe for cleavers juice (or succus). It's nutrient-dense, with a fresh, green flavor. You can sip it straight or blend it into other juices or smoothies. It can also be frozen or preserved, so even in winter, you'll have it handy to soothe a sore throat or get a boost of extra vitamins, minerals, and phytonutrients. There are so many tasty and beneficial ways to enjoy it! This is one you won't want to miss.
After listening to this episode, you'll know:
► When cleavers is good to eat (and when to avoid eating it)
► What types of health complaints cleavers is especially well-suited to help with
► When to check with a medical professional to rule out serious issues
---

Cleaver is a healing medicine, a nutrient-dense food, and a clingy herb that entices you to be playful.

l

---
What You'll Learn from This Episode
[01:09]

Introduction to cleavers

(Galium aparine)

[05:31]

Benefits of cleavers for the lymph

[

07:03

]

Cleavers is a gentle, effective diuretic

[

07:26

]

Cleavers for soothing inflamed skin

[08:57] Other gifts from cleavers

[

09:33

]

Cleavers plant identification

[

11:07

]

Cleavers recipe for a juice (or succus)

[13:50] Cleavers fun fact
Download Your Free Recipe Card!

Connect with Rosalee
Resources Mentioned