Season 4 Episode 8:
What is Arnica Used For

---
---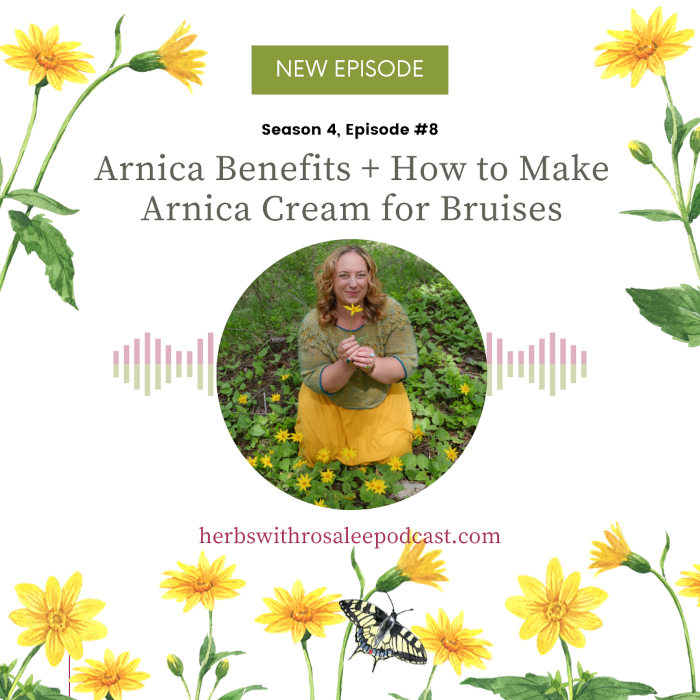 Would you prefer watching or reading this episode? If so, click here for the 'What is Arnica Used For' video and transcript.
Episode Summary
One of my favorite arnica benefits is for bruises! In this video, I'm going to show you how to make an arnica cream using Arnica montana. Once you start making this cream, you'll never want to be without arnica's benefits again because it is so effective at relieving the pain, swelling, and inflammation caused by bruises, contusions, and sprains!
I'm also going to share why arnica is way better than ice for injuries and give you a step-by-step guide on how to make arnica cream for bruises.
You'll come away from this episode knowing:
► Why arnica is so effective at decreasing swelling and accelerating the healing process of bruises and sprains… even in bringing some relief to swollen arthritic joints!
► Safety information you need to know when working with arnica
► Why it's so important to source your arnica carefully
---

Early on, I gave Arnica salve to a friend who danced professionally. Not long after she called to tell me that the salve magically erased her daily bruises. I couldn't send her too much!
l

---
What You'll Learn from This Episode

Connect with Rosalee
Resources Mentioned