Season 4 Episode 5:
What is Oregano Good For

---
---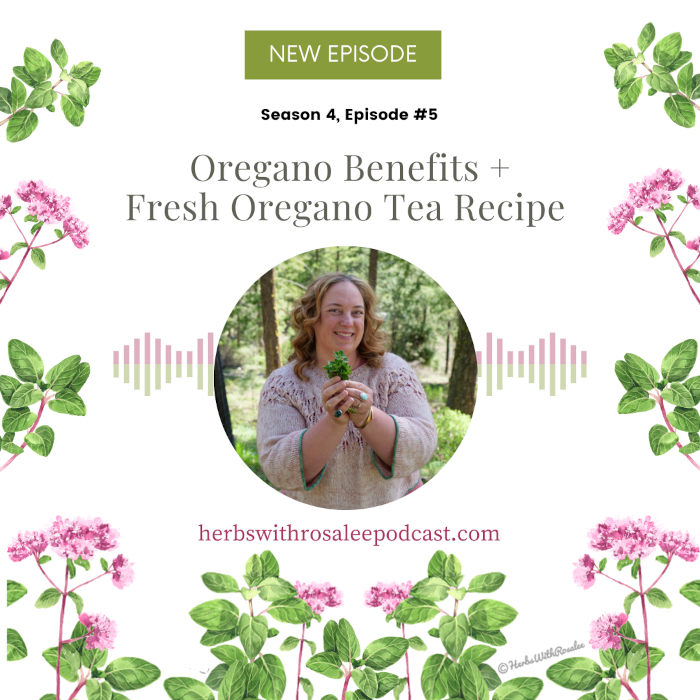 Would you prefer watching or reading this episode? If so, click here for the 'What is Oregano Good For' video and transcript.
Episode Summary
For an herb with so many gifts, oregano rarely gets the attention it deserves. In this episode, all about the health benefits of oregano tea, I aim to fix that.

Oregano is also underrated as a tea! I'll show you how to make an oregano tea recipe brewed with fresh oregano leaves and another made with the dried herb.

Imagine this… Ever had a meal that sat heavy in your stomach for hours or worse, been plagued by chronically slow, sluggish digestion? What if you had a trusty friend in your spice cabinet or your garden that you could turn to for some relief? Well, oregano brewed into tea can be that friend.
The health benefits of oregano tea don't stop there, but there are some cautions you need to be aware of when working with this herb.
You'll come away from this episode knowing:
► How to work with oregano safely so you can avoid unwanted side effects
► How to figure out whether making oregano tea with fresh leaves or with the dried herb is right for your situation (be sure to stick around to the end for the recipes)
► Five situations when oregano might just be the herb you want to reach for yourself or a loved one
---

Oregano leaves are wonderful for people who have a tendency to feel cold and damp. They are also great for the short term for anyone who has acute cold and damp symptoms.
l

---
What You'll Learn from This Episode
[01:08]

Introduction to the health benefits of oregano tea

[02:36]

Energetics of oregano

(Origanum vulgare)

[

04:27

]

Oregano for digestion

[

05:35

]

Oregano as an antimicrobial

[06:36] Oregano for colds and the flu

[08:46] Oregano for delayed menses

[

09:07

]

Oregano essential oil vs. oregano tea

[

10:29

]

How to identify and harvest oregano

[13:43] Oregano tea recipes with fresh oregano leaves vs. dried oregano leaves

[15:53] How to make a cold-brewed oregano tea recipe with fresh oregano leaves

[16:37] How to make a hot oregano tea recipe with dried oregano leaves

[18:30] Where to get five more delicious and effective oregano tea recipes

[18:40] Oregano Fun Fact

Connect with Rosalee
Resources Mentioned