Season 3 Episode 7:
Grindelia with Lisa Ganora

---
---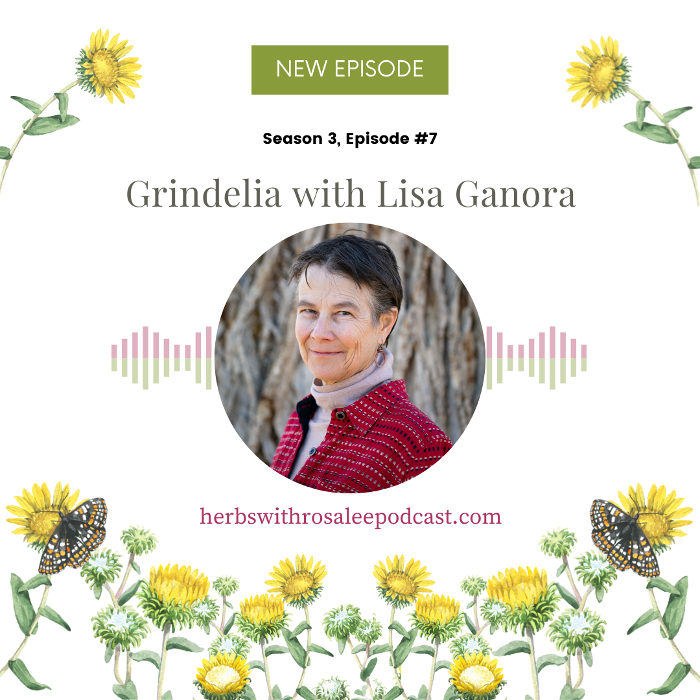 Would you prefer watching or reading this episode? If so, click here for the 'Grindelia with Lisa Ganora' video and transcript.
Episode Summary
Grindelia, or gumweed as it's sometimes known, is a warming, aromatic expectorant, a smooth muscle relaxant that can soothe a spasmodic cough, and it's abundant in many landscapes. Please join me for a discussion about this plant of many gifts with Lisa Ganora, who is delightfully energetic and obviously thrilled to share her abundant wisdom. You'll also receive Lisa's detailed recipe for Grindelia Respiratory Elixir.
For those of you who don't know her, Lisa began studying herbal medicine in the early 80s. After practicing as a Wise Woman tradition community herbalist, wildcrafter, and medicine-maker for a decade, Lisa returned to school at UNCA and graduated summa cum laude with multiple awards in biology and chemistry. After graduation, she focused on exploring herbal constituents; pharmacognosy and phytochemistry, in the context of Western clinical herbalism and Vitalist therapeutics. In addition to founding and directing the Colorado School of Clinical Herbalism from 2012 to 2020, and managing Elderberry's Farm, a Rocky Mountain herbal education center in Paonia, Colorado, Lisa has also served as Adjunct Professor of Pharmacognosy at the Southwest College of Naturopathic Medicine, and has lectured and taught classes at numerous schools and conferences around the world.
She is the author of Herbal Constituents, in its 2nd edition, a popular textbook on herbal phytochemistry for natural health practitioners, which is used by schools and universities worldwide. Lisa also teaches distance learning courses on herbal constituents and pharmacy and formulates botanical and CBD products for the dietary supplements industry.
Listen in for:
► How the cacao tree, a friend's advice, and dandelion root got Lisa started on her herbal path
► Why Lisa uses Grindelia in respiratory formulas and how it can serve as an alternative to oshá

► Why it's valuable to know the constituents of a plant and how to extract them
► How we are all inextricably connected, from the standpoint of chemistry


I was so thoroughly enjoying all that she had to say that I let the conversation meander longer than usual. As you listen to Lisa's many pearls of wisdom, I think you'll agree it was a good choice. I'm delighted to bring  our conversation to you today!
---

Instead of thinking, 'This herb is good for this condition,' I like to think, 'What actions does the herb have? And then what actions do you need with this condition?

l

---
What You'll Learn from This Episode
[00:01:08]

Introduction to Lisa Ganora

[00:03:03]

How Lisa was first introduced to herbs

[

00:

07:32] How Lisa's first herbal experience as an adult led to her returning to college

[00:

11:29

]

Lisa and Rosalee discuss

Grindelia spp.

(or gumweed)

[00:

12:52

]

Why Lisa uses

Grindelia

in respiratory formulas and how it can serve as an alternative to oshá

[

00:

16:50] What is the sticky substance excreted by

Grindelia

buds and how does it function?

[

00:

18:52] When to harvest

Grindelia

[00:

19:11

]

How

Grindelia

"goo" works in our bodies

[00:

22:51

]

Formulating digestive formulas and how these formulas interact with the nervous system

[

00:

27:12] Why Lisa works with elixirs for certain strong-tasting herbs

[

00:

30:57] Lisa's Grindelia Respiratory Elixir recipe

[

00:

40:32] How you might mix and match herbs when making elixirs

[

00:

42:49] Why it's best to get your Vitamin C from whole-food sources

[

00:

45:28] How honey and alcohol complement each other's qualities in elixirs

[

00:

45:58] Ideas for working with elixirs

[

00:

47:33] There's always something new to learn about herbs

[

00:

48:29] How Lisa likes to think about working with herbs

[

00:

50:53] Lisa's book,

Herbal Constituents, 2nd Edition: Foundations of Phytochemistry

[

00:

55:07]

Why it's valuable to know the constituents of a plant and how to extract them

[

00:

59:05] What is an herbal ally?

[

01:

00:30] Why embracing individuality is one of the keys to getting results when working with herbs

[

01:

04:00] How we are all connected to each other and the world around us

[

01:

08:02] Changing habits of perception about plants

[

01:

08:52] Becoming a part of your environment

[

01:

13:48] Never say what a plant can't do

[

01:

14:37] Lisa shares her current projects and expands on the value of understanding herbal constituents and how to extract them
Download Your Grindelia Elixir Recipe Card!

Connect With Lisa
Connect with Rosalee
Are You Ready for More Herbal Inspiration?

The best way to get started is by joining my herbal community and weekly newsletter where I share my best herbal tips and insights.

When you join you'll also get access to The Herbal Jumpstart Course which helps you figure out the best herbs for you.
Sign up below!