Season 3 Episode 2:
Cinnamon Benefits with Dominique Jermyn

---
---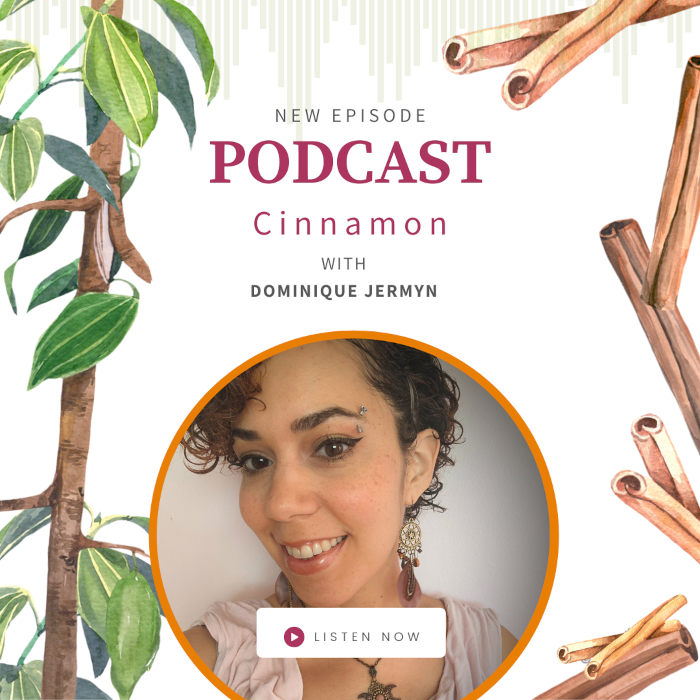 Would you prefer watching or reading this episode? If so, click here for the 'Cinnamon Benefits with Dominique Jermyn' video and transcript.
Episode Summary
Cinnamon (Cinnamomum verum) is one of those ubiquitous spices that everyone has in their cupboard. Pairing equally well with sweet and savory dishes, cinnamon is delicious, but it's also packed with powerful healing gifts.

Listen in as I discuss all things cinnamon with first-year Rooted Medicine Circle graduate Dominique Jermyn, The Nourishing Mystic. You'll also receive Dominique's wonderful recipe for gluten-free, vegan Cinnamon Banana Pancakes. Yum!
Listen in for:
► How Nature can serve as a template for creating change 
► What makes cinnamon's energetics special
► A caution to be aware of when working with cinnamon
I thoroughly enjoyed spending time with Dominique and I'm delighted to share our conversation with you!
---

When we find herbs, when we find all of those different ways to use herbs, they bring more aliveness to life. And I think it's because they bring us more into the present moment.

l

---
What You'll Learn from This Episode
[01:08]

Introduction to Dominique Jermyn, The Nourishing Mystic

[02:20]

Dominique's path to herbalism

[

08:48

]

Cultivating a sense of connection with herbs

[

16:41

]

Why Dominique loves cinnamon

(Cinnamomum verum)

[17:52] How Dominique likes to work with cinnamon

[27:51] Dominique's recipe for Gluten-Free Vegan Cinnamon Banana Pancakes

[

31:21

]

Dominique shares her current projects

[

35:11

]

How Dominique's approach to herbalism has evolved from seeing herbs as potential problem-solving tools to having a relationship with herbs
Download Your Recipe Card
Connect With Dominique
Connect with Rosalee
Are Your Ready for More Herbal Inspiration?

The best way to get started is by joining my herbal community and weekly newsletter where I share my best herbal tips and insights.

When you join you'll also get access to The Herbal Jumpstart Course which helps you figure out the best herbs for you.
Sign up below!