Season 2 Episode 13:
Cleavers with Angela Rahim
---
---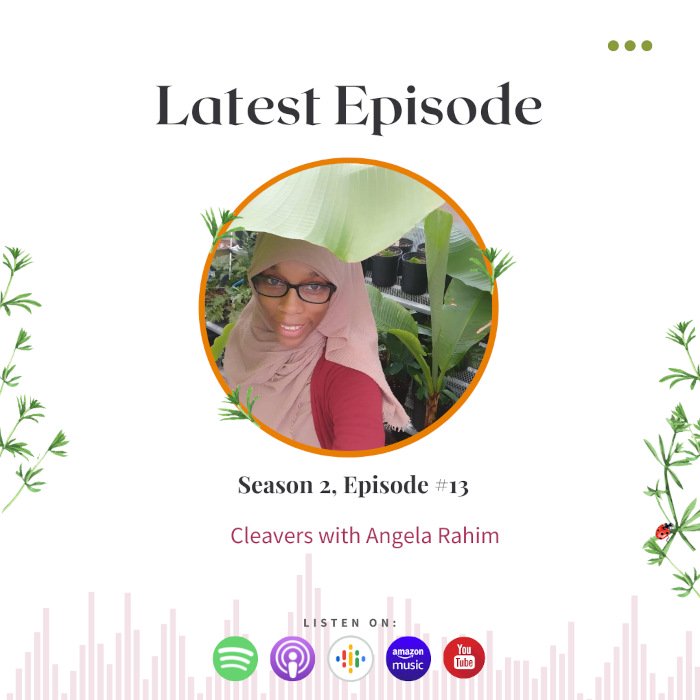 Would you prefer watching or reading this episode? If so, click here for the 'Cleavers with Angela Rahim' video and transcript.
Episode Summary
Cleavers (Galium aparine) is fun to play with, fun as a bracelet, fun to stick on somebody's back…yet it has gentle but powerful medicinal gifts as well. Listen in as I explore the many benefits of cleavers with Angela Rahim. You'll also receive Angela's kid-friendly recipe for a cleavers omelette.

Angela Rahim is an herbalist, permaculturist and the author of the children's herbal adventure series called Sam: The Junior Herbalist. She's the mother of seven and resides in Ohio.
Listen in for:
► Making it fun for children to work with herbs 
► Soothing irritated skin with cleavers  
► Getting to know easily overlooked herbs
It was a joy to connect with Angela and I'm delighted to share our conversation with you!
---

You don't have to live on 10 acres of land or you don't have to be out in the country – there are herbs all around us. And if we take time to get to know them, you'll find that they have so much to offer us and for us to offer them in return.

l

---
What You'll Learn from This Episode
[01:09]

Introduction to Angela Rahim

[01:49]

The role of family and community in Angela's start as an herbalist

[

03:09

]

Angela shares how she introduced herbs to her children

[

05:32

]

Why Angela loves cleavers

(Galium Aparine)

[06:24] How to identify cleavers

[07:27] How Angela works with cleavers medicinally

[

11:36

]

Angela's Cleavers Omelette recipe

[

14:21

]

How the Sam: The Junior Herbalist book series was born

[21:09] Herbalism in an urban environment

[

22:04] Getting to know herbs on a deeper level
Download Your Recipe Card
Connect With Angela
Connect with Rosalee
Are Your Ready for More Herbal Inspiration?

The best way to get started is by joining my herbal community and weekly newsletter where I share my best herbal tips and insights.

When you join you'll also get access to The Herbal Jumpstart Course which helps you figure out the best herbs for you.
Sign up below!