Season 2 Episode 10:
Benefits of Thyme
with Maia Toll
---
---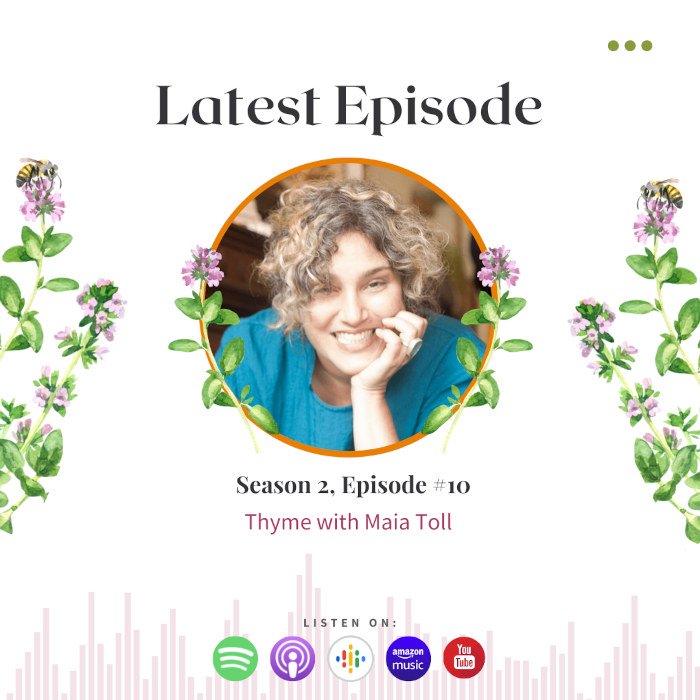 Would you prefer watching or reading this episode? If so, click here for the 'Benefits of Thyme with Maia Toll' video and transcript.
Episode Summary
Thyme is a potent antibacterial and antiviral herb, one of my favorites for respiratory congestion, and I am so excited to bring you this conversation about thyme with Maia Toll. You'll also receive Maia's recipe for thyme za'atar, which is a delicious way to enjoy thyme with eggs, bread, fish, pasta, veggies, salads… almost anything, really.
Maia is the author of the best selling and award-winning Wild Wisdom Series including The Illustrated Herbiary, The Illustrated Bestiary, The Illustrated Crystallary and The Wild Wisdom Companion. The seed for this series was planted when Maia apprenticed with a traditional healer in Ireland where she spent extensive time studying the growing cycles of plants, the alchemy of medicine making, and the psycho-spiritual aspects of healing. Maia's books build on this foundation, eloquently translating patterns and metaphors from the natural world to help modern seekers understand and grow within their own lives. She also owns an herb shop called Herbiary, with locations in Asheville, Philadelphia, and online.
Listen in for:
► How thyme saved Maia's mom from having to cancel her travel plans
► Tips for working with thyme 
► The benefits of embracing a cyclical timeline 
► Maia's advice for finding the middle ground as an herbalist 
I loved spending time with Maia and I'm delighted to share our conversation with you!

---

I was a clinical herbalist for over a decade, and the more you are working in something, the deeper your knowledge goes... Thyme is kind of the regular friend and anytime anything comes up, that's what I reach for.


---
What You'll Learn from This Episode
[01:08]

Introduction to Maia Toll

[02:55]

Maia's path to herbalism and how a home sale acted as a catalyst on her journey

[

08:12

]

A quick overview of thyme (Thymus vulgaris)

[

09:18

]

Lessons about sustainable herbalism from a traditional healer in Ireland

[10:12] Maia shares why she loves thyme as an antibacterial and antiviral herb

[18:11] Maia's thyme za'atar recipe

[

23:00

]

Safety considerations when working with thyme

[

27:31

]

Maia shares thoughts about her latest book and personal evolution

[33:21] What is healing and wellness, really? Maia shares her thoughts.

[

35:29] A mistake to avoid as an herbalist and how to find the middle ground

[43:02] Maia shares how herbalism has surprised her
Download Your Recipe Card
Connect With Maia
Connect with Rosalee
Are Your Ready for More Herbal Inspiration?

The best way to get started is by joining my herbal community and weekly newsletter where I share my best herbal tips and insights.

When you join you'll also get access to The Herbal Jumpstart Course which helps you figure out the best herbs for you.
Sign up below!