Season 10 Episode 8:
Rosemary Oil and Rosemary Water for Hair Growth: What are the Facts?
---
---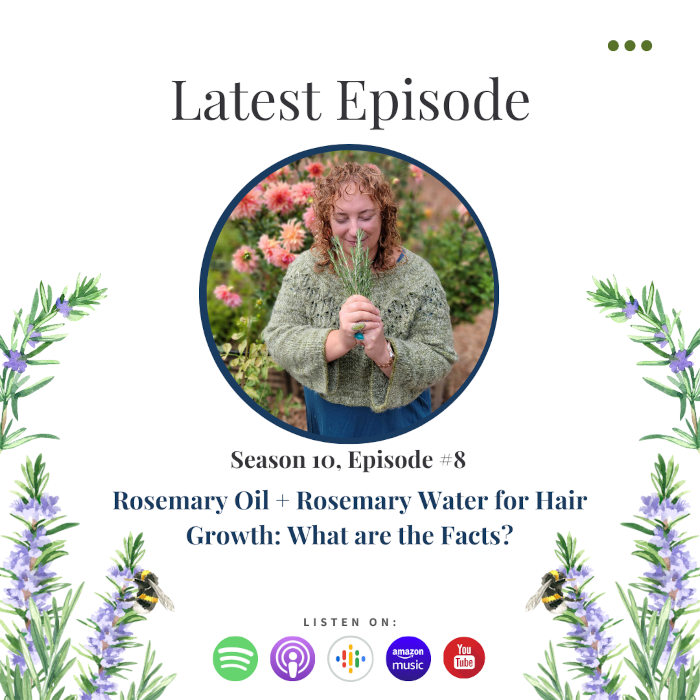 Would you prefer watching or reading this episode? If so, click here for the 'Rosemary Oil for Hair Growth' video and transcript.
Episode Summary
In the last few years, there has been a lot of talk about rosemary for hair growth. When an herb gets a lot of attention, you often see some people show up who just want to sell you something. As a result, they may exaggerate or misrepresent the benefits of that herb. In an environment like that,  rosemary for hair growth might, understandably, sound too good to be true and leave you asking yourself, what are the facts?
Luckily, when it comes to knowing the facts about rosemary for hair growth, we can pull from a lot of reputable sources. And that's what I'm sharing in this episode, along with two DIY rosemary recipes for hair growth including an infused rosemary oil recipe plus a rosemary water recipe for hair growth.
After listening in, you'll know:
► What a randomized, double-blind human clinical trial demonstrated about rosemary for hair growth
► What to beware of when it comes to products for hair loss
► Whether rosemary water or rosemary oil is the better preparation for you – and why
► How to work with rosemary oil or rosemary water for hair loss – and how long it takes to know whether it's working for you
► What else you can use rosemary oil for – and why you might want to
► What else to consider if hair loss is an issue for you – and what action you can take to identify and start addressing possible underlying causes
► and much more
What You'll Learn from This Episode
[01:10] Introduction to rosemary
[02:57] Rosemary for Hair Growth  
[07:10] Rosemary Water for Hair Growth
[08:49] Rosemary Oil Recipe for Hair Growth
[11:07] How to use rosemary oil for hair growth
[15:52] Herbal tidbit



Download Your Recipe Card!

Connect with Rosalee
Resources Mentioned