Season 10 Episode 7: Sage with Maia Toll

---
---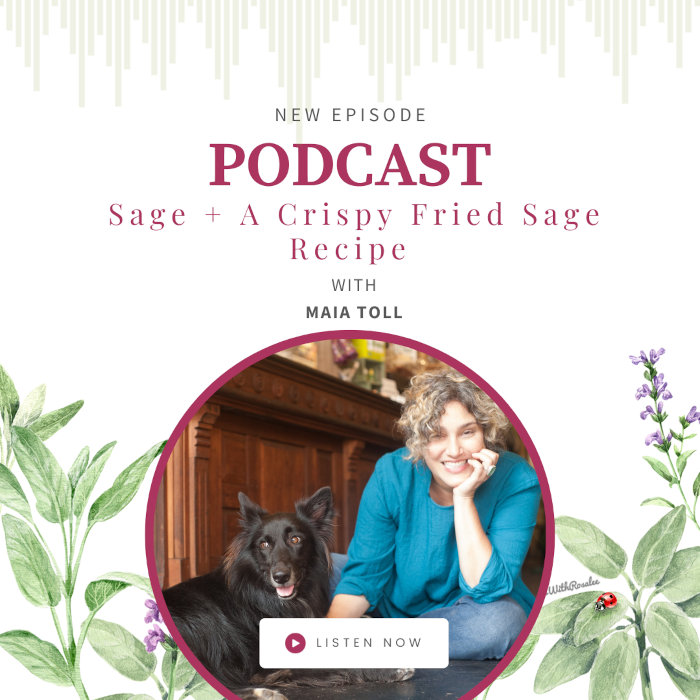 Would you prefer watching or reading this episode? If so, click here for the 'What is Sage Used For' video and transcript.
Episode Summary
This was a really fun interview for me as today's guest, Maia Toll, touched on many themes that are important to my own life, like nature connection and working with medicinal plants daily, both as food and simply as a part of life. She also shared interesting back stories on what her book writing process has been like. And, of course, we talked about sage (Salvia officinalis)!
So, when might you reach for sage? Just to name a few…
► A cup of sage tea can be just the thing on one of those raw, damp days when the cold gets into your bones
► Sage honey can be powerfully healing and soothing to a sore throat
► When you want a delicious topping for eggs, savory soups, pasta, or just a yummy snack, try Maia's crispy fried sage leaves. (Don't forget to download your free, printable recipe card!)
By the end of this episode, you'll know:
► What it means to invite magic into your life (and what Maia means when she says "magic")
► How plants tell us about themselves
► How you can foster a daily connection with plants
► Why understanding place is a key to gardening success
► and more…
For those who don't already know her, Maia Toll is the award-winning author of Letting Magic In, The Night School, and the Wild Wisdom Series. After pursuing an undergraduate degree at the University of Michigan and a master's at New York University, Maia apprenticed with a traditional healer in Ireland where she spent extensive time studying the growing cycles of plants, the alchemy of medicine making, and the psycho-spiritual aspects of healing. She is the co-owner of the retail store Herbiary, with locations in Asheville, NC and Philadelphia, PA.
I'm thrilled to share our conversation with you today!
What You'll Learn from This Episode
[01:10] Introduction to Maia Toll
[03:04] Letting Magic In
[12:56] How plants communicate
[15:41] The importance of understanding where you're gardening
[16:35] Maia's writing journey
[23:25] What stepping into a nature-based way of living did for Maia
[24:44] Working with white sage
[27:57] Learning to appreciate culinary sage
[28:46] Crispy Fried Sage recipe
[30:46] Interacting with herbs companiably
[32:54] Sage is beautiful!
[37:33] Other ways Maia works with sage
[39:45] Herbal foot baths and other self-care
[42:10] Herbiary and the Wild Wisdom Series
[49:50] The Night School
[53:41] What Maia has in her herbal first aid kit
[1:03:51] Herbal tidbit



Get Your Free Recipe!

Connect with Maia

Connect with Rosalee
Are You Ready for More Herbal Inspiration?
The best way to get started is by joining my herbal community and weekly newsletter where I share my best herbal tips and insights.

When you join you'll also get access to The Herbal Jumpstart Course which helps you figure out the best herbs for you.
Sign up below!