Season 10 Episode 3:
Goldenrod Benefits: Medicinal Uses of the Goldenrod Plant (Solidago)

---
---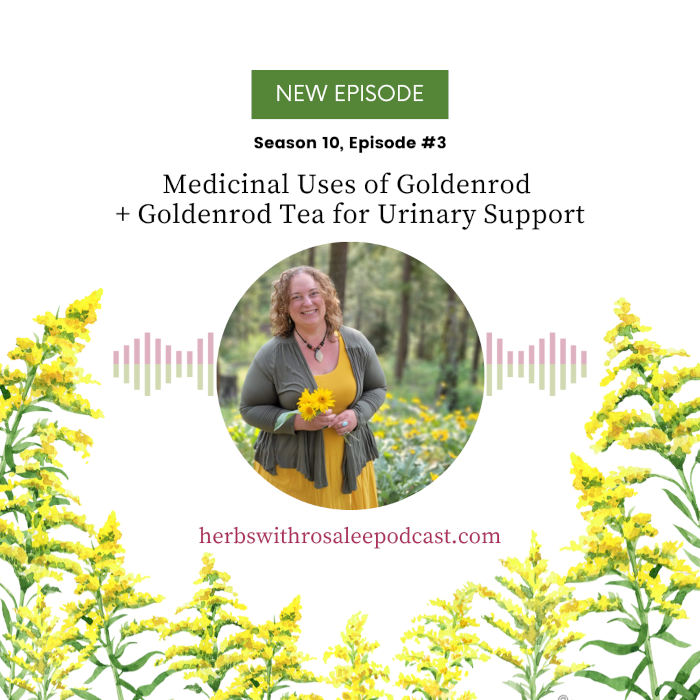 Would you prefer watching or reading this episode? If so, click here for the 'Medicinal Benefits of the Goldenrod Plant' video and transcript.
Episode Summary
In this episode, I'm sharing the 6 medicinal uses of the goldenrod plant in the Solidago genus. Far from being a likely culprit behind seasonal allergies, goldenrod is brimming with benefits, some of which may surprise you! (Plus I'll also share what may be causing your seasonal allergies.)

Finally, as always, I love to share recipes that empower you to experience working with plants for yourself…and goldenrod is no exception. Be sure to download your free, printable recipe card for Goldenrod Tea for Urinary Support below.
When might you reach for goldenrod?
► To soothe sore muscles or pain from arthritis. In the episode, find out which herbalist (and former guest on this show) recommends goldenrod for "pains nothing else has touched."
► To relieve seasonal allergies. (Surprise! Not only does goldenrod not typically cause allergies, it can actually play a role in alleviating allergic rhinitis or seasonal allergy symptoms.) You can find out the two herbs I like to pair goldenrod with for this purpose in the episode!
► To support heart health, capillary strength, and healthy circulation throughout the body. Who doesn't want that? And a simple goldenrod tea is tasty, too…
These are just a few of the occasions when the uniquely pungent yet astringent goldenrod can be your ally… But there are more, so tune in to the entire episode for all the details on the many medicinal uses of the goldenrod plant!
After listening in, you'll know:
► What type of infection the German Commission E has officially approved goldenrod to treat
► What type of preparation to use when working with goldenrod to address seasonal allergy symptoms and how to determine your best dosage
► The ideal time to harvest goldenrod for medicine-making
► When to drink goldenrod tea cold and when to drink it warm for best results
► and much more
What You'll Learn from This Episode
00:00 - Introduction to goldenrod (Solidago spp.)
02:31 - Goldenrod energetics  
03:47 - Goldenrod for the urinary system
05:25 - Goldenrod for seasonal allergies
06:47 - Goldenrod for muscle pain and arthritis
07:52 - Goldenrod for healing wounds
08:32 - A tasty tea high in antioxidants
10:36 - Goldenrod for relieving colds and the flu
11:30 - How to identify goldenrod
13:39 - Goldenrod plant preparations
18:32 - Herbal tidbit
Download Your Recipe Card!

Connect with Rosalee
Resources Mentioned