Season 9 Episode 8:
Health Benefits of Chamomile Tea

---
---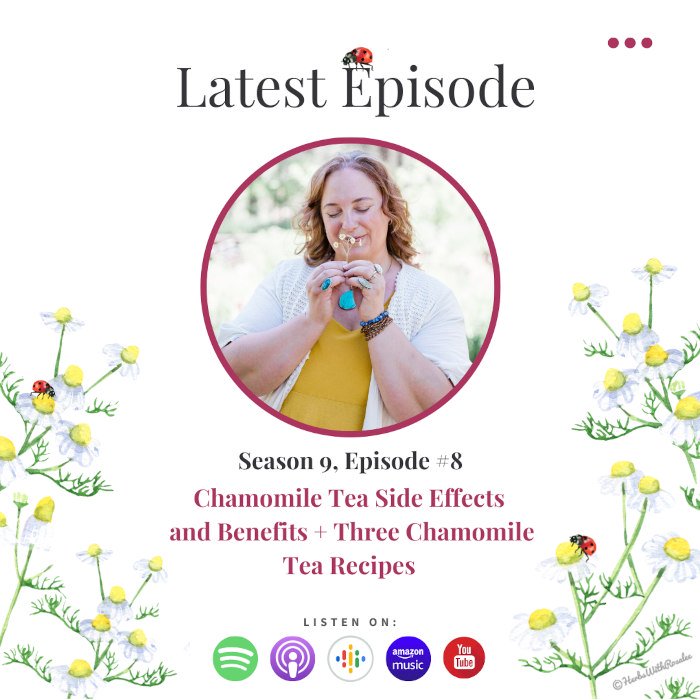 Would you prefer watching or reading this episode? If so, click here for the 'Health Benefits of Chamomile Tea' video and transcript.
Episode Summary
In this episode, you'll find out how to avoid unwanted chamomile tea side effects. I also show you how to be sure your chamomile is high quality so you can get the most benefits from your tea. PLUS I'm sharing three chamomile tea recipes with you.
Chamomile, or Matricaria chamomilla, is like having an entire apothecary at your fingertips! I reach for chamomile tea to soothe an upset tummy, to relieve stress and tension, and even to promote sleep. And, of course, chamomile tea is a lovely way to relax and promote digestion after a meal.
But you need to know how to prepare it so that it matches your intended purpose…and that's where this episode and the recipes I'm giving you come in. (Be sure to download your free, printable recipe cards!)
After listening in to this episode, you'll know:
► How to approach chamomile tea if you're sensitive to plants in the aster family
► The advantages to buying your chamomile in bulk 
► WHEN to reach for a simple versus a strong versus a blended chamomile tea (and how to make them)
► and more…
---

Chamomile is not only gentle and powerful, it seemingly does a thousand and one different things, from soothing the nervous system, relieving muscle tension, and addressing cold and flu symptoms, to promoting digestion and modulating inflammation. Best of all, regularly reaching for chamomile preparations can bring some comforting sunshine to your life.
l

---
What You'll Learn from This Episode
[01:10] Introduction to chamomile (Matricaria chamomilla)
[02:51] How to avoid chamomile tea side effects
[05:04] How to choose the best chamomile
[08:46] How to make chamomile tea
[10:20] Simple chamomile tea
[10:50] Strong chamomile tea
[11:56] Rest and Digest tea blend
[15:44] Herbal tidbit



Download Your Recipe Cards!

Connect with Rosalee
Resources Mentioned