Musculoskeletal System

---
---
The most common health complaints involve the musculoskeletal system, from back pain to arthritis, to osteoporosis and joint pain. Musculoskeletal problems can stem from chronic diseases and syndromes such as fibromyalgia and rheumatoid arthritis to acute injuries like a pulled muscle or sprained ankle.
Keeping this system healthy will improve your quality of life for the rest of your life! Healthy muscles and bones keep you moving and vibrant. You can read more about the anatomy of the musculoskeletal system here.

And now, here are 7 tips to keep you moving with ease.


1. Yoga

Yoga is phenomenal for supporting the health of muscles, bones and connective tissues. Through different asanas or poses, yoga helps to gently stretch muscles and connective tissue, resulting in more flexibility. It helps to build bones and promote bone flexibility through weight-bearing exercises. It increases your ability to balance and of course it builds muscles.

Yoga is a lifelong practice that not only benefits the physical body but also supports your mental and emotional body. Yoga relieves stress, induces relaxation and strongly supports the nervous system.

There are many types and styles of yoga out there. If you are starting yoga look for a beginning yoga class but also shop around to find a teacher and style that suits you. I especially like yoga instructions that integrate core strength and breath into their yoga practice.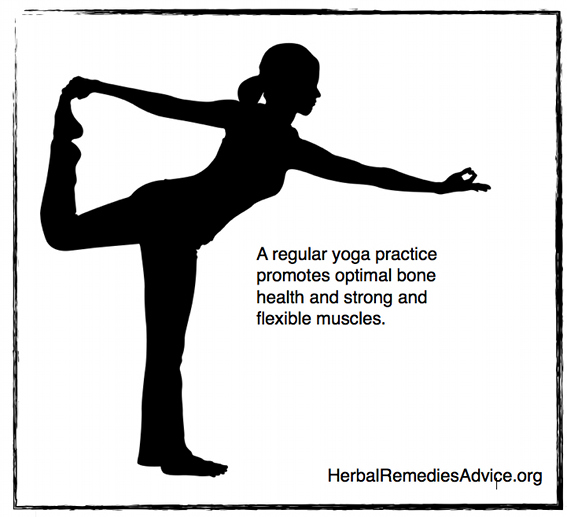 2. Exercise

Exercise, when done properly, can offer many of the same benefits as yoga.

I believe exercise is a key aspect of health and there is no substitute for it! I work with many people to get them started on an exercise program. It's amazing to me how many people think they hate exercise because it doesn't feel good or because they don't have enough time.

If you've had these same excuses I've got great news for you. Exercise should feel good! And long gone are the days when we think that proper exercise is an hour of time spent on the elliptical machine at the gym.

Functional exercise is an emerging field of exercise that promotes strength training using functional movement and body weight. Workouts are often 20 minutes or less.

High intensity interval training is a type of exercise that has been proven to be incredibly more effective at building cardiovascular endurance than regular low intensity aerobic exercise.


3. Warm up, cool down, and stretch correctly

Never stretch "cold muscles". I see this all the time in people preparing to engage in exercise. The first thing they do is stretch their muscles by holding a pose for 20 - 30 second. This is a great way to get an injury!

Instead, learn the principles of dynamic stretching. The body is first warmed up aerobically, then stretching is done while moving at the same time. Studies repeatedly show that dynamic stretching better prepares the body for exercise and increases both strength and flexibility.

Static stretching, when you stretch and hold the pose for 20 - 30 seconds can prevent injuries and support the health of the muscles, if it is done after your exercise, not before!


4. Structural Integration
Structural integration is a specialized type of massage. It is very effective at addressing both chronic and acute pain. Practitioners use body posture and sometimes muscle length testing to determine the root cause of problems for individuals.

Sessions are generally focused on one area (rather than the standard whole body massage of a spa massage) and practitioners often have advanced training in how to address particular pain patterns in the body.

If you have any type of chronic pain then I highly recommend finding a practitioner of Structural Integration.
5. Herbs for a Healthy Musculoskeletal System

Many different herbs can be used to support the musculoskeletal system.

Turmeric has long been called the herbs of the yogis and is used to increase flexibility. It is strongly anti-inflammatory and can be used to reduce overall inflammation in the body, thus relieving both chronic and acute pain.

Gotu kola is an herb that has a special affinity for the connective tissue.

Bones and cartilage can benefit from mineral-rich herbs and decoctions such as nettle leaf, bone broth soup, seaweeds, burdock root and dandelion root.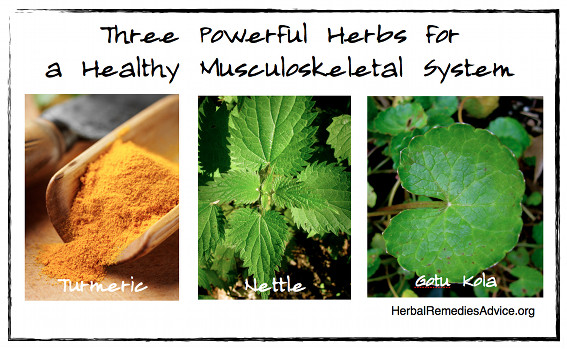 6. Nutrients for a Healthy Musculoskeletal System
Many nutrients are needed to keep the musculoskeletal system healthy. Here are three especially beneficial nutrients for the musculoskeletal system that many people are deficient in.

Vitamin D3
Vitamin D3 is essential for the health of your bones. Low vitamin D3 levels puts women at an increased risk for osteoporosis. Also research has shown that women with osteoporosis need higher levels of vitamin D3 than is currently recommended.

Magnesium
Magnesium performs over 300 different actions in the body, including supporting the nervous system, bone health and muscle health. An estimated 80 - 90% of people in the United States are deficient in magnesium. In a perfect world magnesium can be found in green leafy vegetables; however, much of our soil has become deficient in magnesium and if it isn't in the soil it's not in the food! Many people find that supplementation is necessary.

Calcium (found in foods, not pills!)
Calcium is undoubtedly important for musculoskeletal health. The best way to get calcium is through food such as dairy products, leafy green veggies or even stinging nettle infusions. Calcium, taken in supplement form has been repeatedly linked to cardiovascular disease so I never recommend calcium supplements. Food is definitely best in this case!


7. Warmth and Blood-Moving Herbs for Injuries (NOT ICE!)
When an injury happens such as a sprain or strain many people's first reaction is to put ice on the injury. This is an antiquated practice that does more harm than good in the long term.

Move over, R.I.C.E. and make way for M.E.A.T.
Rest, Ice, Compression and Elevate used to be the gold standard in all musculoskeletal injury treatment. The main goal of this method is to reduce the rate of swelling. However, these actions have been shown to actually slow down the rate of overall healing, especially for injuries to the ligaments and tendons.

Healing after an acute injury is dependent on blood supply to the area. Ice stops the flow of blood to the area, thus impeding healing. You can read all about why icing a tendon or ligament injury is detrimental to the healing process here.

Movement, Exercise, Analgesics and Treatments (M.E.A.T.)
Moving the area, using gentle exercises, using pain relief besides anti-inflammatories, and treatments such as massage, myofascial release and physical therapy are far more beneficial to tendon and ligament injuries.

With their long traditions of martial arts, Traditional Chinese Medicine has very advanced methods of treating acute injuries. This generally includes applying heat to the area as well as herbs that "move the blood". Instead of congealing the fluids around the injury, the fluids which contain the ability to heal and repair tissues are encourage to move in and out of the place of injury.


Summary
You can maintain and improve musculoskeletal health by moving appropriately and by getting the right nutrients and supportive herbs in your body. A lot has changed in the world of fitness in the past decade or so. Many practices like static stretching and icing all injuries have been shown to have long term negative effects. New principles such as dynamic stretching, M.E.A.T. and traditional food-based nutrition are pointing the way to a healthier musculoskeletal system.


Musculoskeletal Disorders