7 Enticing & Flavorful Herbs to Plant in Your Garden This Spring
By Maria Noel Groves, Clinical Herbalist & Author


---
---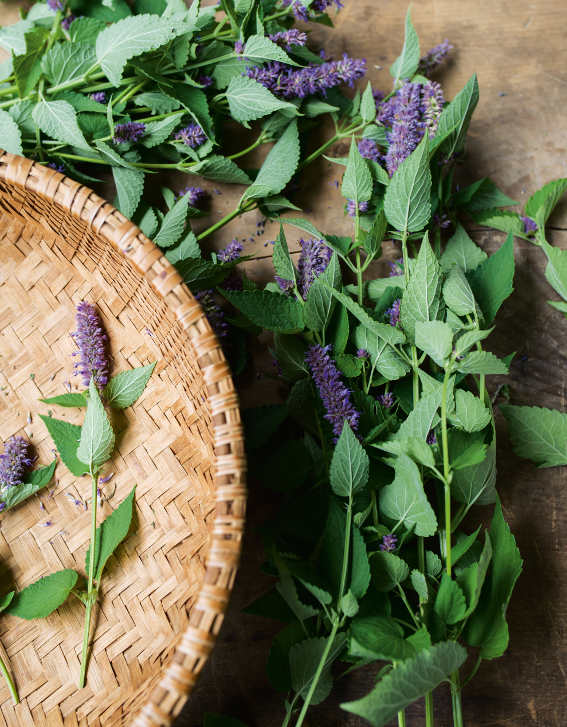 Photography © by Stacey Cramp, used with permission from Storey Publishing.
Growing your own herbs allows you to infuse your life with deliciousness and healing goodness to enjoy throughout the year. In my new book, Grow Your Own Herbal Remedies, I introduce you to more than 60 easy-to-grow, safe, and incredibly useful herbs organized by health benefits to allow you to customize a garden perfect for your very own needs. But if I had to start with just a handful of herbs, the Flavor Garden would be it.
These herbs bring joy to life with flavor, aroma, and color! While each plant possesses its own healing properties, we primarily use them in daily life because they taste and look so good. Korean mint, anise hyssop, lemongrass, lemon verbena, holy basil, mints, and calendula all do best in pampered garden beds — they need good soil and drainage, full sun, and regular watering. Treat most of these plants as annuals. They taste fabulous in beverages, from tea to bubbly. Other tasty garden herbs to explore include stevia, bee balm, lemon balm, chamomile, fennel, and roses.
Korean Mint (Agastache rugosa) and Anise Hyssop (A. foeniculum)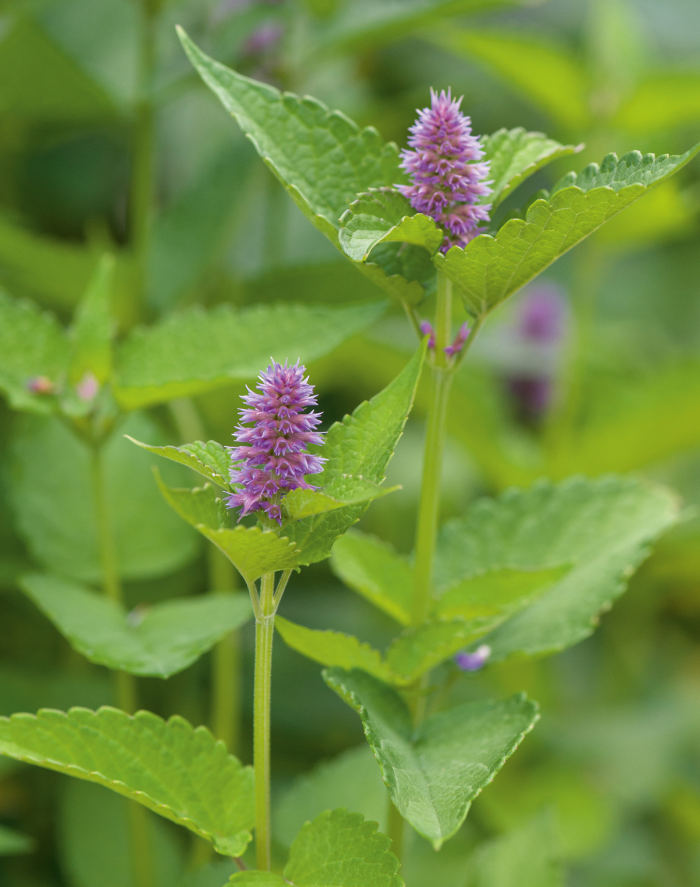 Photography © by Stacey Cramp, used with permission from Storey Publishing.
The beautiful, tall, purple blooms of Korean mint (also called Korean licorice mint) and the closely related anise hyssop brighten the late-summer garden. All parts taste like honey-anise-fennel, sometimes with a hint of mint. Korean mint is less minty than anise hyssop, but they're nearly indistinguishable and can be used interchangeably. They're delicious in seltzer — adding vanilla shifts the flavor to posh root beer (sugar-free!). Enjoy these short-lived perennials in teas, cordials, salads, and other recipes in place of fennel. Korean mint–infused honey pairs well with chive blossom vinegar and sesame oil for Asian dressings, marinades, and dipping sauces. They're excellent fresh or dry. I have no idea why these plants aren't more popular in commerce! See my book for detailed profiles on these and the following herbs.
Best in: tea, water, seltzer, cordial, food, honey.
Lemongrass (Cymbopogon spp.) and Lemon Verbena (Aloysia citriodora)
Photography © by Stacey Cramp, used with permission from Storey Publishing.
The tender perennial tropical herb lemongrass has a delicious citrus aroma and flavor. You may recognize its zingy, bright flavor from Thai cuisine. I use the tightly wrapped stalks fresh or fresh-frozen to make cordials, seltzer/soda, curry paste, and broth. Dry and snip up the grassy tops for tea and potpourri; it keeps its flavor longer and better than any other lemony herb. Also consider lemon verbena, which hints at lemon cake, even more so when combined with vanilla. Dried verbena leaves lose their flavor within 6 to 9 months. Pack fresh leaves in sugar for a sweet verbena sprinkle. Though best fresh, they are still nice when freshly dried. Most of the dried lemongrass and lemon verbena you find in commerce have lost all their flavor in storage, but your own freshly dried herb will be superb for six to 12 months.
Best in: tea, water, seltzer/soda, cordials, broth, hydrosol.
Mint (Mentha spp.)
Photography © by Stacey Cramp, used with permission from Storey Publishing.
You'll thank yourself later if you plant your mints outside your formal garden beds, where they can roam free, or if you rein them in with a large pot. These "garden brutes" spread rampantly by root runners. In spite of mint's bad behavior, every respectable herbalist has it somewhere in the yard because it tastes so good. Go for peppermint or the chocolate mint variety (a fave for tea and chocolate), spearmint (delish with lime, in tea blends, and in Mexican cooking), and/or apple mint (superb in seltzer/soda, with fruit, and in Asian, Mexican, Indian cuisine). Spread out your mints to prevent cross-breeding. Excellent fresh or dry and widely available in commerce.
Best in: tea, seltzer/soda, food, tincture, glycerite, hydrosol.
Holy Basil (Ocimum tenuiflorum, syn. O. sanctum)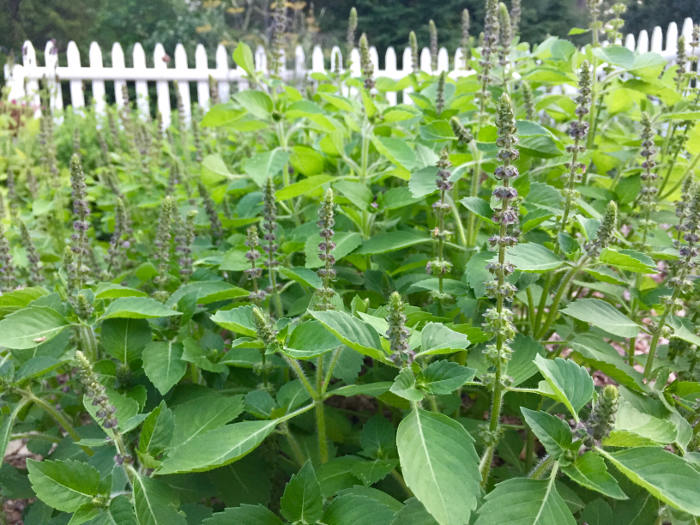 Photography by Maria Noel Groves, used with permission from Wintergreen Botanicals.
This delicious herb also fits in well with any of the Energy and Relaxation gardens in my book — it's delightful and versatile. Also called tulsi and sacred basil. The highly aromatic flavor's reminiscent of mint, clove, basil, and bubble gum. It's a calm-energy adaptogen-nervine that lifts mood, eases anxiety, improves focus, reduces blood sugar and stress-related food cravings, decreases inflammation, and more. A classic garden herb, it prefers full sun, hot weather, and good drainage. Treat it as a tender perennial; it won't survive frost. Several different species and varieties are used relatively interchangeably. My favorite is the "Kapoor" or "temperate" variety (often simply sold as "sacred basil" by seed sellers) because it's the most productive in temperate climates. New research from Christopher Hobbs and Richo Cech suggests that Kapoor is actually a variety of O. africanum, but it's used similarly. Excellent fresh or dry, though most dry herb on the market is poor quality unless it's direct from a United States farm.
Best in: tea, tincture, vinegar, honey, capsule, glycerite, hydrosol, water, seltzer.
Calendula (Calendula officinalis)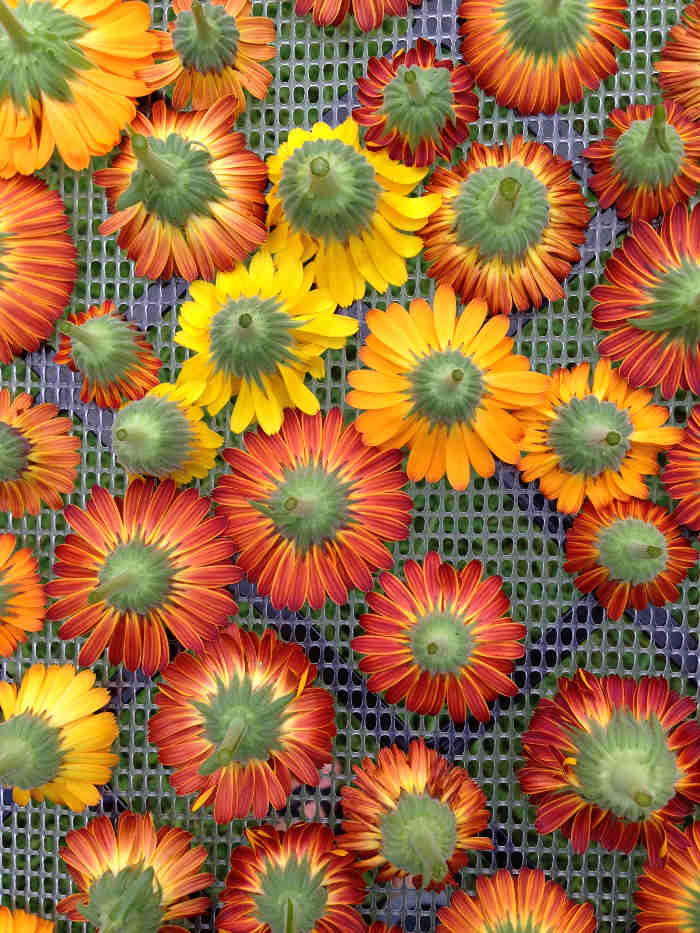 Photography by Maria Noel Groves, used with permission from Wintergreen Botanicals.
Truth be told, calendula isn't actually very flavorful, but it's gorgeous. As an accent, it brings a joyous burst of color to your recipes and garden. My favorite varieties glow orange so brightly they practically vibrate with color, including "alpha" and "erfurter orangefarbige." Other varieties including "flashback" and "resina" range from yellow to red-streaked. Sprinkle the bland fresh petals in salads, baked goods, scrambled eggs. Dried petals perk up tea blends and turn broth golden. If you overdo calendula (especially whole dried flowers), the flavor becomes bitter and vitamin-y. Medicinally, it also helps move the lymph and heal the gut. It makes an excellent topical remedy for rashes and wounds as well. Some people with daisy family flower allergies might react to calendula. The dried herb loses its color and potency over six to 12 months, and most of the dried herb on the market is poor quality unless direct from the farm.
Best in: food, tea, broth, ice cubes, as a decorative accent.
Yummy Teas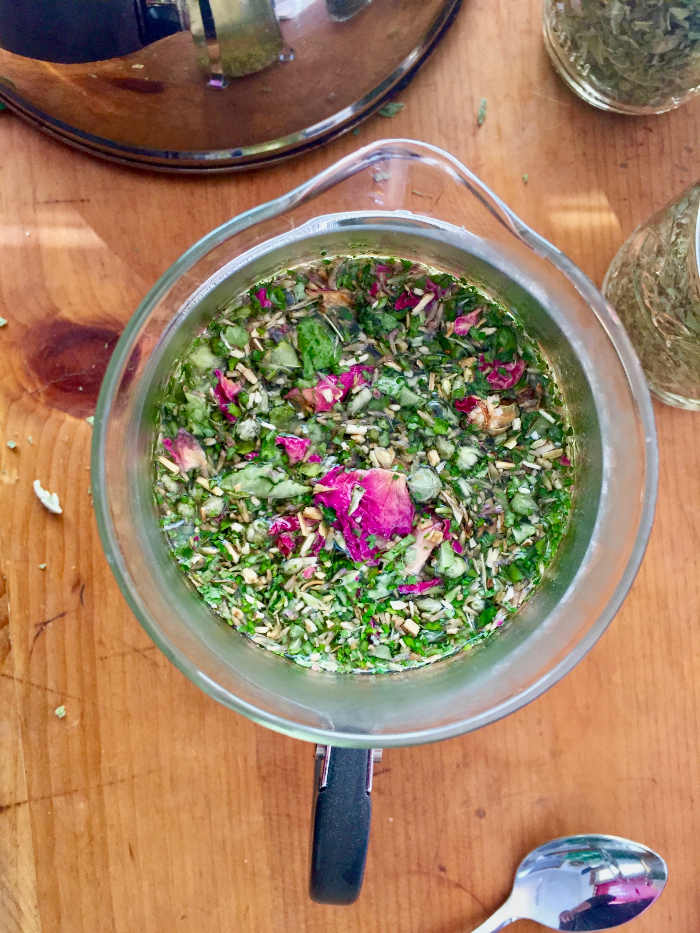 Photography by Maria Noel Groves, used with permission from Wintergreen Botanicals.
First and foremost, many delicious herbs can be enjoyed as tea. Whether they are the stand-alone ingredient or used to boost the flavor, color, and joy of your blends, you'll quickly find these herbs indispensable in the tea pantry. Use these simple, tasty blends to get your imagination going. Unless specified, you can use 1 heaping tablespoon of the dry herb blend per 16-ounce mug and steep 10 minutes or longer. Feel free to add honey or other natural sweetener as desired, but they also taste nice unsweetened. These blends can be enjoyed simply for their flavor, but they also provide healing properties.
Garden Aromatics Blend: 1 part each lemongrass, Korean mint, rose petals. 
Benefits: Gently calming and uplifting, antioxidant-rich, supports digestion.
Holy Basil Blend: 2 parts holy basil, 2 parts lemon balm, 1 part rose petals. 
Benefits: Calming yet energizing, brain-boosting, digestion-enhancing. Unsweetened, it may promote healthy/lower blood sugar when sipped after a meal, but it does taste quite nice with honey.
Lemon Cake Tea: 1 part each lemongrass, lemon verbena, lemon balm (optional: 1/4 vanilla bean, snipped into small pieces, or a 1/4 teaspoon of vanilla extract). 
Benefits: Gently calming and uplifting, antioxidant rich, supports digestion.
Chocolate Mint Tea: 1 part each peppermint and/or chocolate mint with 1 part cacao nibs (best steeped 20–40 minutes; optional addition of vanilla, as described above).
Benefits: Energizing, invigorating, mood-boosting, brain-boosting.
Nettle-Peppermint-Marshmallow Tea: 1 part each nettle leaf, peppermint, and marshmallow leaf, plus a sprinkle of calendula petals for color if desired (optional: 1 part violet leaf). 
Benefits: Nutrition-rich, soothes and heals gastrointestinal tract, promotes good digestion, supports respiratory health and allergies, gently energizing.
Tea Base Notes

Like base notes in aromatherapy and the bass of a song, some of our most beloved tea herbs have mild, bland flavors, which form the backbone of a blend, grounding and balancing flavorful herbs while offering supportive medicinal properties. 

Nettle Leaf: Green, vegetal flavor. Mineral-rich. Forage for this weedy (stinging!) herb or plant it in an out-of-the-way spot with rich soil, dappled sun, and decent moisture.
Marshmallow Leaf, Flower, Root: Very mild, soft flavor (leaf and flower). Sweet, woody (roots). Velvety, soothing, mucilaginous mouthfeel. Pretty pale pink flowers. This lovely garden herb gets quite tall once established.
Oatstraw: Haylike, slightly sweet, delicate. Mineral-rich. Plant it in rich soil (for the most nutrient density) in full sun in a plot that's not being used that season, or behind shorter plants without too much competition.
Violet Leaf, Flower: Mild, green, slightly sweet flavor. Velvety mouthfeel. Rich in vitamins, minerals, mucilage. Pretty flowers. Tuck this into your lawn and edges of the garden to greet you in spring. Use the flowers to decorate seltzer and cold-infused water.
Raspberry Leaf or Lady's Mantle: Mild, slightly astringent (tannic), similar to green or white tea without caffeine. Mineral-rich, tightens and tones tissues. Forage wild raspberry leaf and plant the lovely lady's mantle in partial shade with rich, semi-moist soil (think: Ireland) without too much competition from nearby plants.
Lemon Balm Leaf: Mildly tannic with a hint of citrus. Lifts mood, calms, improves focus. This (occasionally unruly) perennial will grow almost anywhere but prefers rich, semi-moist but well drained soil in partial sun.
Infused Seltzer, Soda, and Water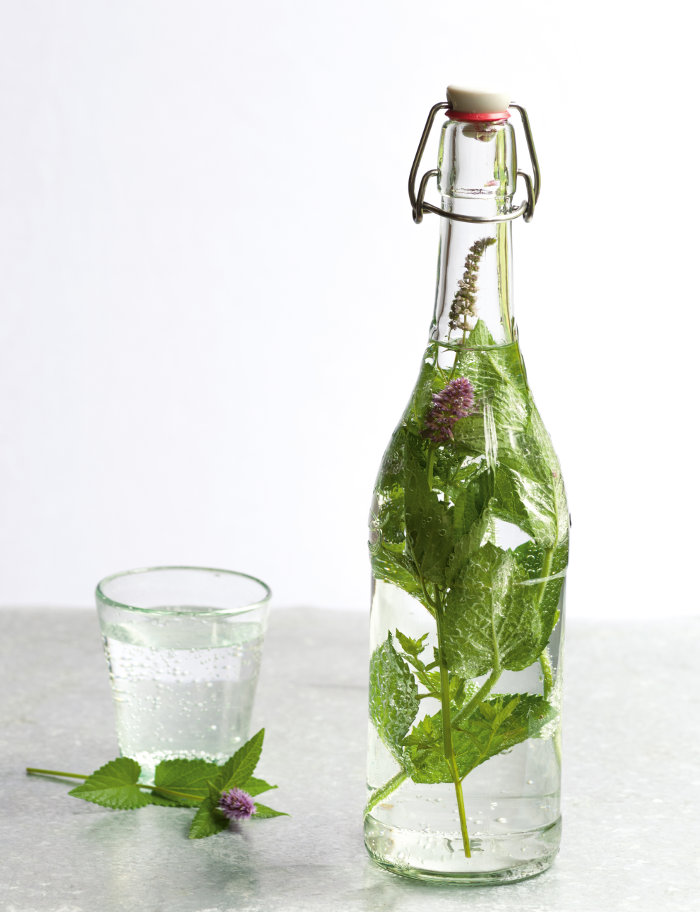 Photography © by Stacey Cramp, used with permission from Storey Publishing.
One of my favorite ways to enjoy the flavorful herbs in summertime is to steep them fresh in sparkling or still water. This extracts their aromatics without many other constituents and the result is wonderfully enjoyable and refreshing to drink and beautiful to look at. Great for parties (posh, yummy, and calorie- and alcohol-free!) and as a conversation starter. If desired, add simple syrup or other liquid sweetener to taste to turn your seltzer into soda — I prefer them sugar-free. Use about two small sprigs for 16 ounces of water or three large sprigs for a liter. Use clear bottles and add eye-catching flowers — roses, violets, heartease pansy, Korean mint, calendula, mallow — for visual beauty. Drink the beverage within the day.
Rose blossom: steep at least 1-2 hours
Bronze fennel: steep 30+ minutes
Korean mint with a little vanilla extract: steep 15+ minutes
Holy basil: steep 5+ minutes
Lemongrass stalks: steep 30+ minutes
Apple mint: steep 10+ minutes
Spearmint or apple mint with lime wedge: steep 5+ minutes
Floral Ice Cubes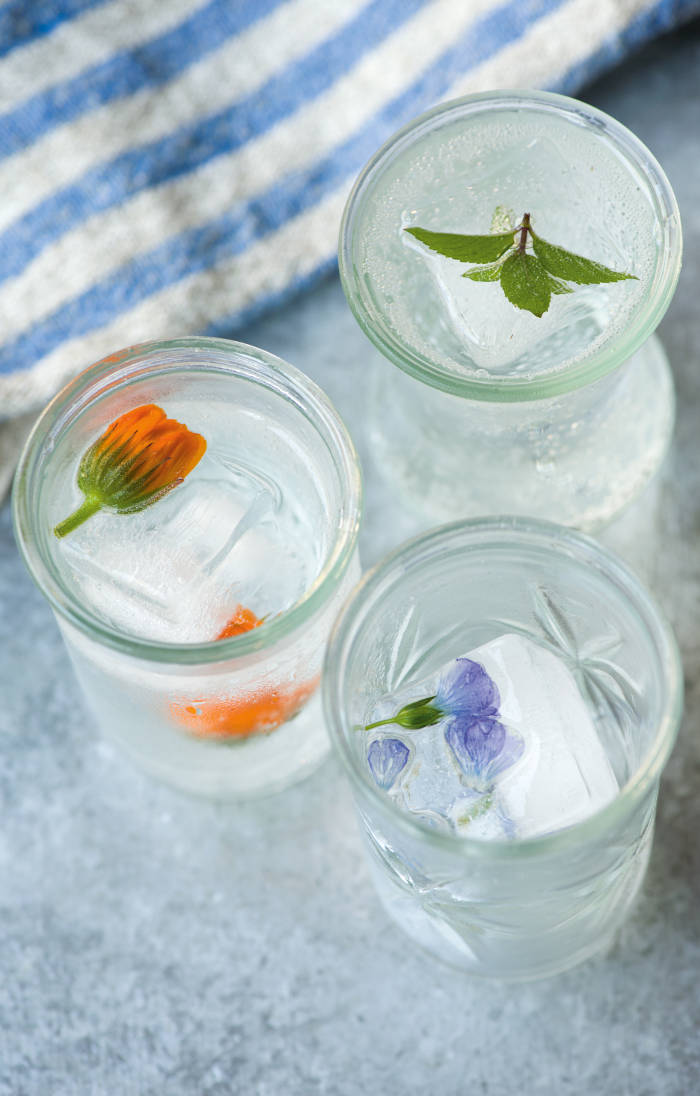 Photography © by Stacey Cramp, used with permission from Storey Publishing.
These ice cubes are more for show than flavor. Serve water, punch, cocktails, and seltzer with extra panache that'll put a smile on your face and wow your guests. Super easy to make!

1–2 flowers per cube (or a couple petals)
Water
Suggested tools: ice cube tray
Place your herbs in the ice cube tray, cover with water, freeze. Pop out as desired.
Tip: If you want the herbs to stay centered in the cub, fill the tray only halfway with water, freeze, then fill the rest of the way, and freeze again.
Decorative Edible Herbal Flowers
Mallow (bland)
Violet (bland/sweet)
Calendula (bland)
Korean Mint and Anise Hyssop (licorice-y)
Fennel (licorice-y)
Flax (bland)
Borage (bland/cucumber)
Bee balm (oregano-thyme/citrus)
Peppermint (candy cane)
Spearmint (Doublemint gum)
Apple mint (mojito mint)
New England aster (bland/resinous)
Chamomile (apple-y)
Purple basil (spicy basil)
Hibiscus (tart)
Special Limited Time Offer: Book Bonus Goodies!
Order Maria's new book Grow Your Own Herbal Remedies at https://wintergreenbotanicals.com/book/ and you'll receive these special book bonus items:
Juicy e-book bonus filled with additional plant profiles, a guide to the medicinal uses of common culinary herbs, a medicinal mushroom "garden," and useful charts
Exclusive remedy-making videos featuring recipes from the Brain-Boosting, Tummy Soothing, and Immune SOS gardens: Brainiac Bonbons, Gut-Healing Tea, Elderberry Syrup, Elder-Rosehip Oxymel, and two memory-boosting teas.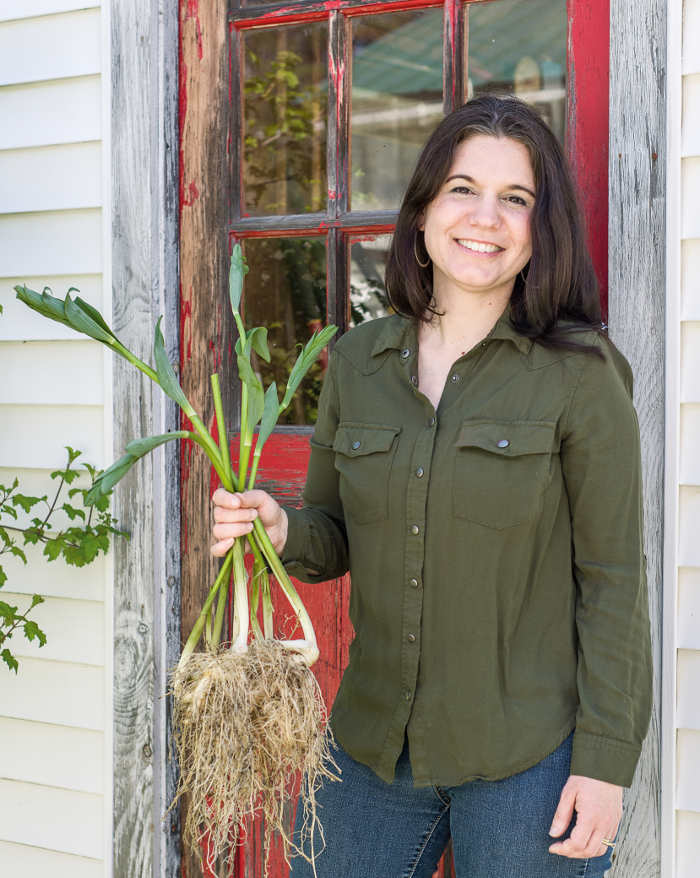 Photography © by Stacey Cramp, used with permission from Storey Publishing.
Maria Noël Groves is the bestselling author of Grow Your Own Herbal Remedies and Body into Balance: An Herbal Guide to Holistic Self Care. She is a clinical herbalist and herbal medicine teacher with more than two decades of experience, as well as a registered professional member of the American Herbalists Guild. She writes for numerous publications including Herbal Academy's Herbarium, Taste for Life, Remedies, Herb Quarterly, and Mother Earth News. She sees clients and teaches classes both distance and on location at her Wintergreen Botanicals in Allenstown, New Hampshire. Learn more at WintergreenBotanicals.com.
---
Return to HerbalRemediesAdvice.org
---