The Chinese Medicinal Herb Farm: A Book Review
---
---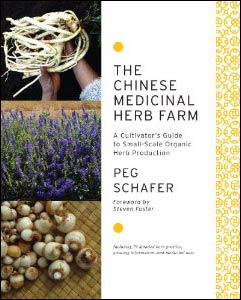 The Chinese Medicinal Herb Farm: A Cultivator's Guide to Small-Scale Organic Herb Production by Peg Schafer
Over the past few years I've started to grow some Chinese medicinal herbs. Astragalus, codonopsis and baical skullcap were herbs I just couldn't imagine being without. This year was my first harvest and I was a little disappointed about the yield. Two years of effort brought forth very little roots. If only I had had this beautifully photographed and incredibly informative book to guide me, I would have easily avoided mistakes! 
This book is written for both the casual home gardener interested in growing a few plants and the farmer interested in entering the market of Chinese Medicinal Herbs. 
The book is authored by Peg Schafer, who is not only a pioneer and authority on the subject (after having been an organic Chinese medicinal herb farmer for over a decade), but also has a gift for writing in an engaging and very clear manner. 

Part I of this book starts off by addressing many common concerns about growing Chinese Herbs. Why would someone be interested in growing Chinese herbs? Are they as potent as plants grown in China? Will the grower be introducing invasive species? Is there a market for these herbs? 
In her concise yet thorough manner, Schafer addresses all these concerns. 
Why Grow Chinese Plants?
As Schafer points out, there are many reasons to grow Chinese herbs. First, there is a lot of concern about the quality of herbs coming from China. Plants in the wild are being over-harvested and all plants coming out of China could potentially be exposed to pesticides and other harmful chemicals. Secondly, there is a growing concern about the availability of herbs from overseas. By learning to grow our own we ensure our access to these plants no matter the political climate. 
Are Chinese Plants Cultivated in the West Medicinally Potent?
I often hear from practitioners that the most potent Chinese herbs only come from their native habitat. Peg Schafer has an interesting analogy about this hypothesis in relation to wine. Not too long ago it was thought that the best wines could only be grown in the French terroir. However, after years of experimentation, the western coast of the United States has proven its ability to grow wines just as coveted as the French. 
Moving beyond analogy, Schafer addresses the concern of cultivated vs. wild plants by sharing her specific ways of growing potent plants. (Tip: growing medicinal herbs is nothing like growing vegetable crops!) She backs up her claims with scientific testing (her herbs vs. imports) as well as organoleptic testing by Chinese Medicine Practitioners. 
Covering the Basics
Although this book is mainly geared towards Chinese herbs, any herb gardener will find the first part of this book full of interesting tips. From building the soil, to managing the crops, to harvesting, to seed collecting, Schafer expertly covers many areas of organic herbal gardening. 
Fresh Codonopsis Root
Specific Plants (79 of Them!)
In part 2 Schafer delves into specific cultivation techniques for 79 different Chinese plants. This section covers germination requirements, troubleshooting techniques, harvesting methods, processing methods, beautiful photos and even medicinal information for each plant. 
All of the information presented in the book comes from Schafer's years of direct experience on her own farm and is a treasure for western dwellers who have grown fond of Chinese herbs, although I wouldn't limit this book to strictly Chinese herb growers as the western herbalist will also find many familiar plants among the pages, such as Angelica sinensis and burdock (Arctium lappa). 
I've been pouring over this book the whole winter and dreaming of my spring garden and the Chinese plants I will grow there. With Schafer's informative book in hand I know I'll have a lot more success growing my favorite Chinese herbs. I am looking forward to a garden full of peonies and codonopsis and skullcaps and on and on. 
To purchase this book and support Schafer's important work (and farm), buy it from her directly at: http://chinesemedicinalherbfarm.com/index.html
Contents
Part One: Cultivating to Conserve Connecting with Quality Asian Botanicals
Chapter One: Farming to Be Part of the Solution
Evolving Herbal Traditions
Risks to the Future of Herbalism
Solutions for Continued Availability
Chapter Two: Herb Quality
Wild Quality
Assessing Herb Quality
Regulating Herbs
Like Fine Wines . . .
Chapter Three: Cultivation in the Nursery, Garden, and Field
Planning
Seed Starting and Propagation
Managing Your Soil
Planting
Seasonal Care
Managing Invasive Plant Risk
Chapter Four: The Harvest and Marketing

Harvesting Medicine
Drying Herb Crops
Storing Dried Herbs
Shipping Fresh or Dry Herbs
Collecting and Saving Seed for Sowing
Selling What You Grow
Good Agricultural Practices
Make Alliances
Chapter Five: Conservation and Global Trade in Medicinal Plants
Current Status: Factors and Reasons for Concern
Who Needs Protection?
Protective Measures
How Effective Are the Protective Strategies?
Cultivate to Conserve
How to Be Part of the Solution
Part Two: 79 Medicinal Herb Profiles
Baical skullcap
Book Data
ISBN: 9781603583305 

Year Added to Catalog: 2011

Book Format: Paperback

Book Art: Full Color Throughout

Dimensions: 8 x 10

Number of Pages: 336

Book Publisher: Chelsea Green

Pub Date: December, 2011

Retail Price: U.S. $34.95 / Canada $38.50

Category: Gardening & Agriculture